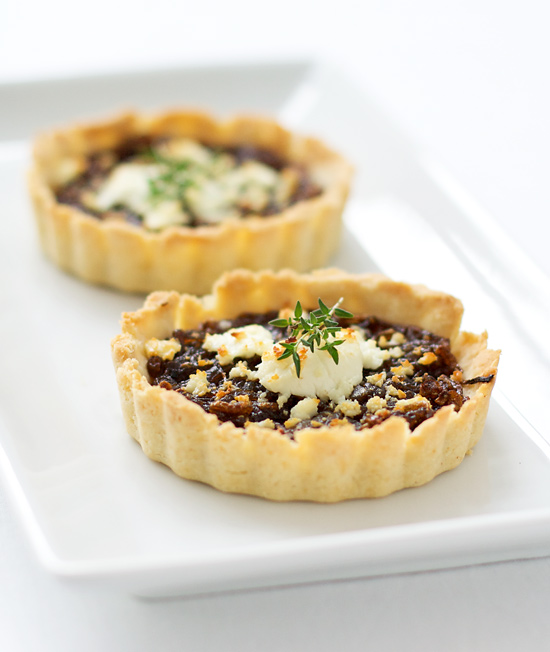 I can't remember when we actually made this dish (obviously before daylight savings time kicked in, judging from the summery light in this photo – oh how I covet thee…) But I do remember just how tasty these little tartlets were. A buttery pastry crust, rich onions cooked down with balsamic vinegar until they are so sweet you could almost mistake them for candy, and of course the goat cheese topping (because everything is better when sprinkled with goat cheese). A true delight that is not to be forgotten.
For what it's worth, my pastry crust was rather ornery. Rather than rolling into perfectly smooth sheets, I did my best to press the crumbs of the dough-that-never-came-together into the pans. More like a graham cracker crust than a pie dough. But hey, it worked. Maybe next time I make these I'll substitute the One Pie Dough to Rule Them All, whose sugarless goodness would be perfectly suitable in a savory application. We shall see.
Balsamic Onion Tart with Goat Cheese and Thyme
Makes 1 large (9 or 10 inch) tart or 8 small (4 inch) tartlets.
Recipe from Fisher & Paykel.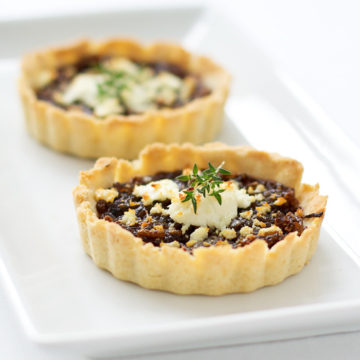 Ingredients:
Crust:
2 cups (225g) all-purpose flour
Pinch salt
½ teaspoon mustard powder
Pinch cayenne pepper
115g butter
4 tablespoons iced cold water
Filling
2 tablespoons butter
4 white or yellow onions, very finely sliced
1/3 cup balsamic vinegar
1/4 brown sugar
Salt and freshly ground black pepper
Stem of fresh thyme
5 oz. soft goat cheese
2 tablespoons fresh thyme leaves or sprigs of fresh thyme
Directions:
To prepare filling, melt the butter in a large, heavy-based frying pan. Add the onions, salt, pepper and thyme and cook gently for about 30 mins until the onions are soft and transparent but not browned, stirring occasionally.
Add the sugar and balsamic vinegar and continue cooking for another 30 mins or so until the onions are almost dry. Don't rush this stage; the longer and slower the cooking, the better the marmalade will be. Remove the thyme. Set aside.
To make crust, in a food processor blend the flour, salt, mustard, pepper and butter until the mixture looks like fresh breadcrumbs. Add the cold water and pulse the food processor until the pastry just comes together. Don't over-process. Gently pull the pastry together with your fingers, wrap the ball in plastic film and chill in the fridge for at least 15 minutes to allow the pastry to relax.
Preheat the oven to 375 degrees F.
Roll the pastry thinly and use to line a 9 or 10 inch tart pan in diameter or several mini tart pans. If your dough is exceptionally crumbly, you can also press it into the tart pan rather than rolling it. Line the uncooked crust with foil or parchment paper, fill with 'baking beans' or pie weights. It is essential to support the sides of the tart in this way to prevent them falling in and to stop the base rising. Bake for 15 minutes or until the pastry is 'set'. Remove weights and lining and return the pastry to the oven for another 10 mins or until the crust is cooked and golden brown.
Spoon the onion mixture into the cooked pastry cases and top with crumbled goat cheese.
Reduce the oven temperature to 350 degrees, and bake filled tart for 15-20 minutes or until the filling is hot. Garnish with thyme leaves. Serve warm with balsamic-dressed salad leaves and fresh crusty bread.
Did you make this recipe?
Let us know what you think!
Leave a Comment below or share a photo and tag me on Instagram with the hashtag #loveandoliveoil.