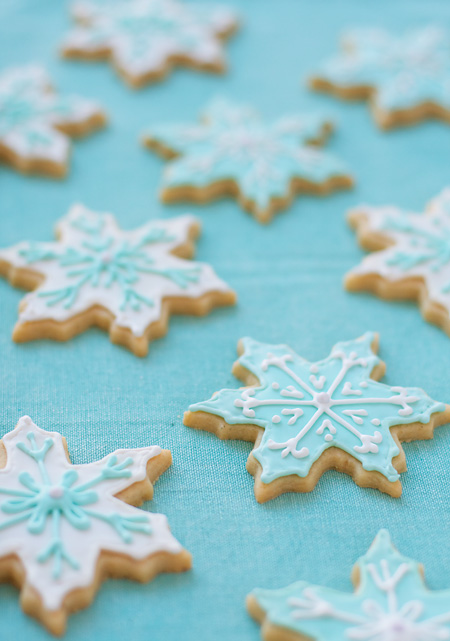 Does anyone else feel like the perfect sugar cookie is a mythical creature? You know exactly what I'm talking about, the kind of cookie that melts in your mouth, is perfectly soft and tender and full of a rich and buttery flavor?
I have good news and I have bad news.
The good news is I've found it.
The bad news is that I gave them all away and didn't save more for myself. Note to self: next time, be more selfish.
These cookies are the be-all and end-all of sugar cookies. I love the addition of almond (as you well know I am a sucker for anything almond). Plus, it's a perfect use for that vanilla sugar you've been storing (or in my case, a wee bit leftover from that delicious peach pie I made this summer). Rolled nice and thick, they stay soft and hold their shape when baked.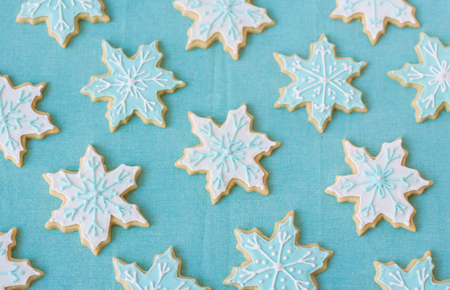 This is also the 3rd royal icing recipe I've tried (so far I've made it with egg white, royal icing mix, and now meringue powder). While I loved the consistency and pipe-ability of this batch the most, I did have a small issue with it slightly separating a day or two after decorating the cookies (after I had taken photos, luckily). It was very subtle, but there was a slightly off-colored border around the edges of the cookies. Did I not beat it enough? Beat it too much? Only one way to know for sure… make more cookies!
Vanilla Almond Sugar Cookies
Makes about 3 dozen 3-inch cookies. Recipe from Bake at 350.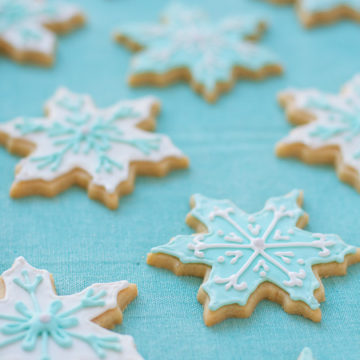 Ingredients:
3 cups unbleached, all-purpose flour
2 teaspoons baking powder
1 cup sugar
1 cup (2 sticks) salted butter, cold
1 egg
3/4 teaspoon vanilla extract
1/2 teaspoon almond extract
1 batch royal icing
Directions:
Preheat oven to 350 degrees F.
Combine the flour and baking powder, set aside. Cream the sugar and butter. Add the egg and extracts and mix. Gradually add the flour mixture and beat just until combined, scraping down the bowl, especially the bottom.
The dough will be crumbly, so knead it together with your hands as you scoop it out of the bowl for rolling.
On a floured surface, roll out dough to 1/4″ thick sheet, and cut into desired shapes. Place shapes on parchment or silpat lined baking sheets. Place entire baking sheet in the freezer for 5 minutes (this step is important in helping the cookies keep their shapes nice and clean). Remove and bake in preheated oven for 10-12 minutes or until edges are just barely starting to turn golden. Allow to cool for a few minutes on the baking sheet, then transfer to a cooling rack and cool completely prior to decorating.
Did you make this recipe?
Let us know what you think!
Leave a Comment below or share a photo and tag me on Instagram with the hashtag #loveandoliveoil.