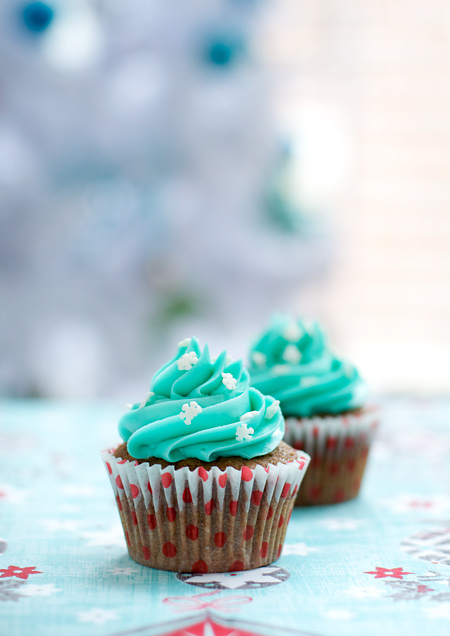 With my obsession with gingerbread cookies, I am very surprised I hadn't attempted these before. Gingerbread cupcakes. But not your standard gingerbread cupcakes (if there is such a thing), these are spiked with beer. I am not a beer lover, in fact I can't even drink the stuff, but the addition of it to these cupcakes added another layer and depth of flavor that made them truly unique. You'd think getting a cake to taste just like a cookie would be hard, but these do just that.
Taylor liked them too, although he wasn't too happy when I stole one of his beloved Dos Perros for the batter. Sorry dear, it had to be done. Let us all thank Taylor for his great sacrifice made in the name of these cupcakes.
I frosted these wintry treats with white chocolate buttercream leftover from the infamous rainbow cake. I had frozen the remaining frosting, and after thawing and a brief re-whipping, it was as good as new. And just as delicious. The creamy sweetness of the buttercream was the perfect compliment to the spicy cake. Like they were made for each other.
Gingerbread Stout Cupcakes with White Chocolate Buttercream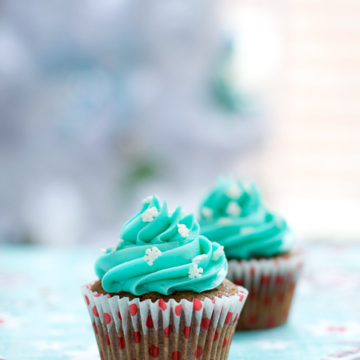 Ingredients:
For Cupcakes:
1 1/8 cup flour
1/4 cup almond meal
2 teaspoons ginger
1 1/2 teaspoons cinnamon
1 teaspoon allspice
1/4 teaspoon ground cloves
1/2 teaspoon salt
1/2 teaspoon baking powder
1/2 teaspoon baking soda
1/2 cup coconut milk
1/4 cup dark/stout beer
1/4 cup molasses
1/2 cup brown sugar
1/3 cup vegetable oil
For Frosting:
3/4 cups sugar
3 large egg whites
1 cup (2 sticks) unsalted butter, room temperature, cut into tablespoons
1/2 teaspoons pure vanilla extract
4 oz best-quality white chocolate, melted and cooled
Directions:
Preheat oven to 350 degrees F. Line a muffin pan with paper liners.
In a large bowl, sift together flour, almond meal, spices, baking powder, baking soda, and salt.
In a separate bowl, whisk together coconut milk, beer, molasses, sugar, and oil. Make a well in the center of the dry ingredients and pour in the wet ingredients. Mix until relatively smooth. Fill cupcake liners with a scant 1/4 cup of batter (cups should be just under 2/3 of the way full). Bake for 18-22 minutes or until set, and toothpick inserted in the center comes out clean. Transfer to cooling rack and allow to cool completely.
To make frosting, put sugar and egg whites in the heatproof bowl of an electric mixer (or another large heatproof bowl), and set over a pan of simmering water. Whisk constantly until sugar is dissolved and mixture registers 140 degrees on an instant-read thermometer.
Transfer bowl to an electric mixer fitted with the whisk attachment; beat on medium-high speed until fluffy and cooled, about 10 minutes. Continue beating until stiff peaks form.
Reduce speed to medium-low; add butter by the tablespoon, beating well after each addition. If at any point in this process the mixture starts to separate, even slightly, stop adding butter and increase mixer speed to high. Mix until frosting comes together and appears smooth and fluffy. Then continue adding remaining butter. Beat in vanilla and white chocolate. Pipe or spread onto cooled cupcakes.
Did you make this recipe?
Let us know what you think!
Leave a Comment below or share a photo and tag me on Instagram with the hashtag #loveandoliveoil.