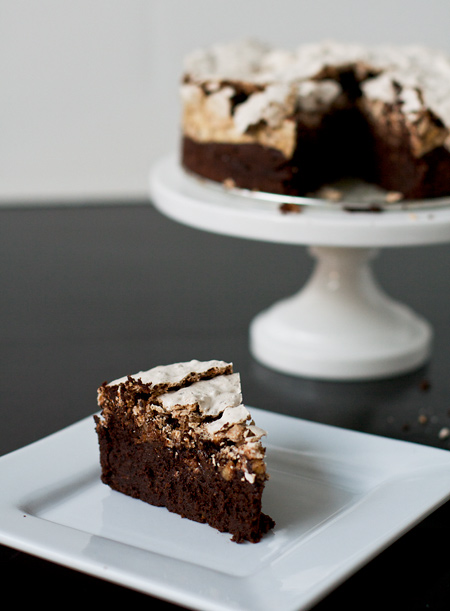 Sometimes you see a recipe, and you know you have to make it. Immediately. This was one of those recipes. No special occasion, no dinner guests, just an ordinary weeknight made extraordinary by this cake.
To be fair, we did use this as an opportunity to break in our new mini-springform pan. An adorable little thing that makes a perfect size pastry for two. I found a 7″ pan, which I determined, after doing some kind of crazy math I hadn't seen since 7th grade, required 2/3 of the original recipe. I think a 6″ pan would be perfectly half (but that would have been too easy). Despite the complicated math required to scale the recipe just perfectly (2/3 of 4 egg whites? Really?) the resulting cake was just delightful. The perfect size for the two of us to finish off in a few days, before it had a chance to go stale. Sorry neighbors, this one was not meant to share!
The cake itself was perfectly imperfect. My meringue was anything but pretty, and it crumbled to bits when cut. No matter, it tasted divine. And that is what really counts. The contrasting textures of the light meringue and the densely rich flourless cake combine in perfect harmony. Perfect, decadent harmony.
Chocolate & Hazelnut Meringue Cake
Ingredients:
For the cake:
10 tablespoons unsalted butter, plus more for pan
3/4 cup firmly packed light-brown sugar
6 large whole eggs, separated
12 ounces bittersweet chocolate, melted and cooled
1 1/2 tablespoons espresso
1 1/2 tablespoons rum
1/4 teaspoon salt
For the meringue:
4 ounces bittersweet chocolate, roughly chopped (1 cup)
1 cup hazelnuts (about 4 ounces), toasted, skinned, and roughly chopped
1 tablespoon cornstarch
4 large egg whites
3/4 cup sugar
Directions:
Preheat oven to 350 degrees. Butter a 9-by-3-inch springform pan. Line bottom with parchment paper. Butter parchment and set aside.
In the bowl of an electric mixer fitted with the paddle attachment, whip the butter and brown sugar until pale and smooth at medium speed, about 3 minutes. Add egg yolks, one at a time, beating well after each addition and scraping the bottom and sides of your bowl if necessary. Add the melted chocolate, espresso (or vanilla), rum, if using, and salt. Beat until combined. Transfer to a clean bowl and wash your mixing bowl thoroughly.
In a clean mixer bowl fitted the whisk attachment, beat the 6 egg whites on high speed until soft peaks form, about 2 minutes. Fold one-third of the egg whites into chocolate mixture. Fold in remaining egg whites and pour batter into prepared pan, and bake 25 minutes.
While cake base is baking, prepare the meringue. Combine the chopped chocolate, nuts and cornstarch in a small bowl, and set aside. Place remaining 4 egg whites in a clean mixer bowl fitted with the whisk attachment, beat on high speed until frothy. With the mixer running, slowly add the sugar and continue beating until stiff peaks form, about 8 minutes. Fold in hazelnut mixture.
After 25 minutes, remove cake from oven. Using a large offset spatula, quickly spread meringue mixture on top of cake using as little strokes as possible not to deflate the meringue, and return to oven. Bake until meringue is lightly browned and crisp, 25 to 35 minutes. Transfer pan to a wire rack; let stand 10 minutes. Run a knife around the edge of the cake to loosen, and release sides of pan. Let cool, about 30 minutes, before slicing and serving.
Did you make this recipe?
Let us know what you think!
Leave a Comment below or share a photo and tag me on Instagram with the hashtag #loveandoliveoil.