Fact: even cookie dough can't save bad ice cream.
It only took one bite of that flavorless and icy mistake for me to learn this valuable lesson. I hate seeing a perfectly good batch of cookie dough go to waste, but this ice cream wasn't even edible. It went into the trash after just a spoonful.
But I'm not one to give up.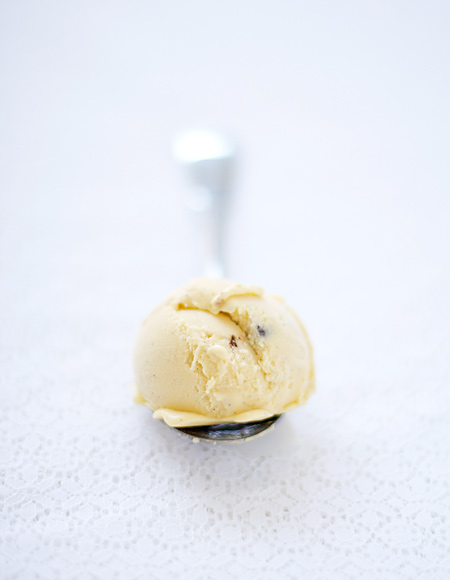 Take two, this time starting with a rich brown sugar and vanilla custard that would be plenty decadent on its own. The simple swap of brown sugar for white in a basic vanilla recipe makes the ice cream itself taste like cookie dough. Once you have a delicious foundation, then, and only then, do you add in the chunks of cookie dough.
The only thing that could make this ice cream better was if it was chocolate ice cream with cookie dough (um, yum?!). Don't give me any ideas, though, it's not like I have even a square inch of free space left in the freezer. I need to start eating more ice cream before I can make more. I envy those of you with space for a second freezer, though maybe it's a good thing I don't, I'd probably fill it full of ice cream and frozen balls of cookie dough.
Chocolate Chip Cookie Dough Ice Cream
Ingredients:
Ice Cream:
1 cup whole milk
2 cups heavy cream
1 vanilla bean, split and seeded
A pinch of salt
3/4 cup brown sugar
4 large egg yolks
Cookie Dough (this makes twice as much as you need, but I don't think you'll have any problem using up the leftovers!):
2 1/2 cups all purpose flour
1 teaspoon salt
1/4 teaspoon baking soda
1 cup (2 sticks) butter or margarine, room temperature
3/4 cup granulated sugar
3/4 cup packed brown sugar
1 teaspoon vanilla
1/3 cup milk or soy milk
1 cup mini semi-sweet chocolate chips
Directions:
Warm the milk, sugar, 1 cup of the cream, vanilla bean and seeds, and salt in a medium saucepan. Mixture should be warm and steaming but not boiling. Cover, remove from the heat, and let steep at room temperature for 30 minutes.
Pour the remaining 1 cup of cream into a medium size metal bowl, set on ice over a larger bowl. Set a mesh strainer on top of the bowls. Set aside. Return milk mixture to burner, and heat until just barely steaming.
In a separate medium bowl, whisk together the egg yolks. Slowly spoon 1/3 of the warm milk mixture into the egg yolks, whisking constantly so that the egg yolks are tempered by the warm milk, but not cooked by it. Scrape the warmed egg yolks back into the saucepan and whisk to incorporate with the rest of the milk mixture.
Stir over medium heat with a heatproof spatula, scraping the bottom as you stir, until the mixture thickens and coats the spatula, about 10 minutes. Pour the custard through the strainer, pressing out and solids, and stir it into the cream. Return strained vanilla bean to custard. Stir until cool.
Cover and chill the mixture thoroughly in the refrigerator (at least 3-4 hours, overnight is better).
To prepare cookie dough. Beat butter and sugars and in large bowl with electric mixer on medium speed until light and fluffy. Add soymilk and vanilla. Stir in flour, baking soda and salt and mix on low speed (or by hand) until incorporated. Stir in chocolate chips. Cover and chill until ready to use.
Freeze thoroughly chilled custard (remove vanilla bean prior to freezing) in your ice cream maker according to the manufacturer's instructions until it is the consistency of soft serve. Stir in bite-sized chunks of cookie dough before transferring to a freezer-safe container. Freeze until firm.
Did you make this recipe?
Let us know what you think!
Leave a Comment below or share a photo and tag me on Instagram with the hashtag #loveandoliveoil.