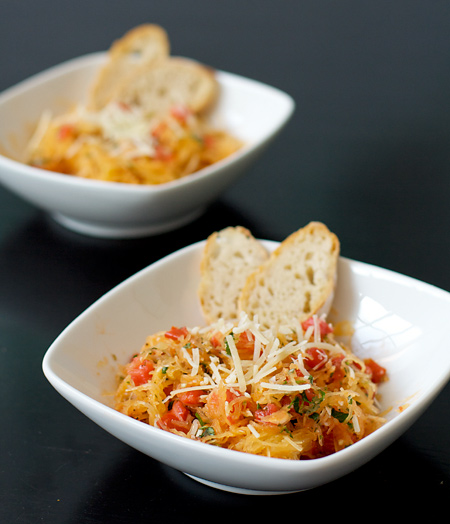 Fall is in the air.
The days are getting shorter…
The nights are crisp (by Nashville standards, anyway)…
The first winter squash appeared in our CSA…
Yep, it's fall all right. And I can't say that I'm sad about it, either. We've had an incredibly hot summer here, and I'm looking forward to the relief of the cool fall nights. I know I'll probably be grumbling about the lack of daylight in a month or so, and then complaining about how cold it is the month after that… but right now, I'm resigned to the fact that fall is here and I'm ok with that.
That first winter squash was a spaghetti squash, quite possibly the cutest little spaghetti squash I've ever seen. Spaghetti squash is one of those things… it may sound like a silly name, but once you actually take one apart it makes complete sense, because it looks exactly like spaghetti. Spaghetti squash may just be the most logically named vegetable out there. Not to mention that when tossed with fresh tomatoes, basil, and oregano, it makes a darn good replacement for spaghetti. It's like faux-pasta. The Parmesan doesn't hurt, either.
Spaghetti Squash with Tomatoes, Basil, and Parmesan
Makes 2 servings or 4 side servings. Recipe from Epicurious.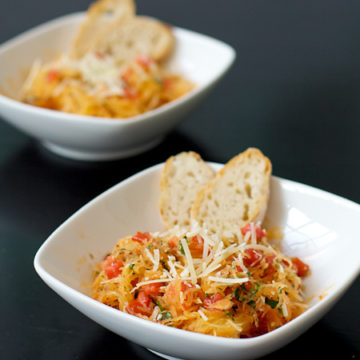 Ingredients:
1 small (1.5 lb) spaghetti squash, halved lengthwise, and the seeds discarded
2 tablespoons olive oil
1/4 cup shredded fresh basil leaves plus additional for garnish
1 teaspoon chopped fresh oregano
3 tablespoons freshly grated Parmesan
1 cup thinly sliced cherry tomatoes
Directions:
Preheat oven to 350 degrees F.
In a glass baking dish, arrange the squash cut side down in about 1/2 inch of water. Cover with aluminum foil. Bake for 20-30 minutes (depending on the size of the squash) or until it is tender and easily pierced with a fork. Remove from oven and allow to cool slightly.
In a large bowl whisk together the oil, 1/4 cup of the basil, the oregano, and 2 tablespoons of the Parmesan, stir in the tomatoes, and season the mixture with salt and pepper.
When the squash is cool enough to handle, scrape it with a fork to form strands, add the strands to the tomato mixture, and toss the mixture until it is combined. Divide the mixture between 2 bowls, sprinkle the remaining 1 tablespoon Parmesan over it, and garnish it with the additional basil.
Did you make this recipe?
Let us know what you think!
Leave a Comment below or share a photo and tag me on Instagram with the hashtag #loveandoliveoil.