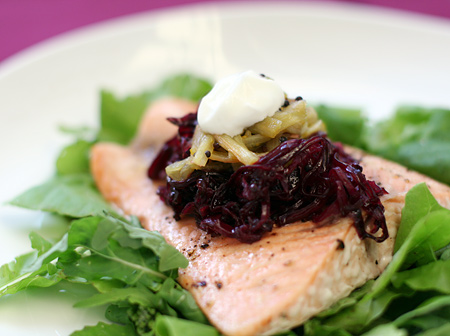 First, take one of the strangest combinations of ingredients you've ever seen. Then spend way too much time slicing and dicing and prepping and sauteing. And when you finally (90 minutes later) sit down to eat, the final product is good. But not hour-and-a-half good. The flavor combinations are unique, and to be honest, quite tasty, but not waste-my-3-precious-stalks-of-rhubarb on this tasty.
Ever had one of those meals?
I'm intrigued by this recipe; it's one I'd been wanting to make since the April issue of Bon Appetit arrived in like, March (yeah right I'm going to be able to get fresh rhubarb then… psshh). So when we actually got 3 stalks of rhubarb in our CSA, my mind turned to this recipe. I debated whether or not I should actually post it, because it wasn't BAD, but I doubt it's one we'll ever make again. I think this recipe needs adapting. Heavily. Starting with cutting the sugar in half. Because 1 cup of sugar belongs in dessert, not dinner; the resulting topping was way too sweet. I think the recipe could be made and would be delightful with just one of the toppings, either just the rhubarb or just the cabbage. Both are really overkill, not to mention complicated as heck to prepare. But there is potential here, I'm just not sure what exactly it is.
Roasted Salmon with Rhubarb and Red Cabbage
Makes 6 servings. Recipe from Epicurious.
Ingredients:
4 teaspoons black or yellow mustard seeds
1 1/4 cups fresh orange juice
1 cup sugar
1/3 cup water
2 tablespoons finely grated orange peel
4 teaspoons coriander seeds
1 tablespoon caraway seeds
1 tablespoon minced peeled fresh ginger
3 cups 2-inch-long 1/4-inch-thick matchstick-size strips rhubarb (from about 12 ounces trimmed rhubarb)
8 cups thinly sliced red cabbage (from about 1/2 medium head)
1/2 cup Sherry wine vinegar
1/2 cup dry red wine
6 6- to 7-ounce salmon fillets with skin
2 tablespoons olive oil
3 cups arugula
3/4 cup plain Greek-style yogurt
Directions:
Stir mustard seeds in small dry skillet over medium heat until beginning to pop, about 3 minutes. Transfer to small bowl; reserve.
Bring orange juice, sugar, 1/3 cup water, and orange peel to boil in large skillet, stirring until sugar dissolves. Reduce heat to medium; add mustard seeds, coriander seeds, caraway seeds, and ginger. Simmer until syrupy, 10 minutes. Add rhubarb; reduce heat to medium-low. Cover and simmer until rhubarb is tender but intact, 2 minutes. Using slotted spoon, transfer rhubarb to microwave-safe bowl; reserve.
Bring syrup in skillet to simmer. Add cabbage, vinegar, and wine; bring to boil. Reduce heat to medium, partially cover, and simmer until cabbage is soft and most of liquid is absorbed, stirring frequently, about 45 minutes. Season to taste with salt and pepper. Remove from heat.
Meanwhile, preheat oven to 425°F. Line rimmed baking sheet with parchment paper. Place salmon, skin side down, on prepared baking sheet. Brush salmon with olive oil; sprinkle with salt and pepper. Roast until salmon is just opaque in center, about 11 minutes. Rewarm reserved rhubarb in microwave just until warm.
Divide warm cabbage among 6 plates. Scatter arugula atop and around cabbage. Place 1 salmon fillet atop cabbage. Spoon dollop of yogurt atop salmon, then rhubarb.
Did you make this recipe?
Let us know what you think!
Leave a Comment below or share a photo and tag me on Instagram with the hashtag #loveandoliveoil.