What do you do when you get way too many green onions in your CSA? Because I don't know about you, but I see green onions as more of a garnish, an accent; 2 or 3 at a time are usually more than enough. But when we kept getting green onions, and more green onions, pretty soon we had a fairly large stash that I couldn't bare to waste.
So aside from the obligatory Scallion Pancakes (don't worry, I took a boatload of process shots of these and plan to post a step-by-step in the next week), a dish centered solely around green onions, we still had a ton to use.
So we searched. For recipes that used a ton. We're not talking 5 or 6 stalks here. Not even a dozen. Think two to three dozen. Of extra long, untrimmed, unwieldy green onions.
This recipe turned out to be just perfect.
This is simplicity at it's best: lightly marinated skirt steak (flank or flat iron would work as well), topped with grilled or broiled green onions in a warm corn tortilla. Lightly flavored with lime and garlic, and not overcomplicated with various salsas and toppings and mess that only covers up the delicious flavor of the beef itself. Plus it is easily adaptable for the grill-less among us.
Garlic-Marinated Steak Tacos with Cebollitas Asadas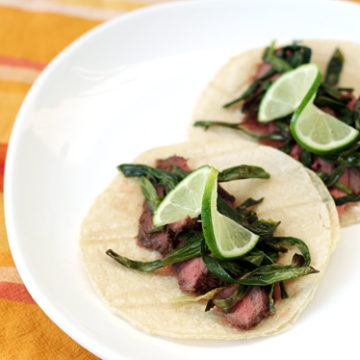 Ingredients:
3 pounds skirt steak (about 3 long steaks)
3 tablespoons finely chopped garlic
3 tablespoons olive oil
3 tablespoons fresh lime juice, or to taste
40 spring onions or large scallions (about 8 bunches)
2 tablespoons vegetable oil
coarse salt to taste
1 lime, cut into 4 wedges
24 corn tortillas, warmed
Directions:
If necessary, trim steaks, leaving some fat. In a shallow dish rub steaks with garlic and oil. Marinate steaks, covered and chilled, at least 30 minutes and up to 1 day.
Prepare grill.
Season steaks generously with coarse salt and grill on a rack set 5 to 6 inches over glowing coals 2 to 3 minutes on each side for medium-rare. (Alternatively, steaks may be broiled on rack of a broiler pan under a preheated broiler 3 inches from heat about 4 minutes on each side.) Transfer steaks to a cutting board and drizzle with lime juice. Let steaks stand, uncovered, 5 to 10 minutes and with a sharp knife cut diagonally across grain into thin slices.
Trim roots and ends from spring onions or scallions, leaving about 8 inches of stalk. Onions or scallions may be prepared up to this point 6 hours ahead and chilled in a sealed plastic bag.
In a sealable plastic bag or large bowl toss onions or scallions with oil and salt. Grill onions or scallions on a rack set 5 to 6 inches over glowing coals, turning them with tongs 3 or 4 times, 5 to 7 minutes, or until softened and lightly charred. (Alternatively, onions or scallions may be broiled on rack of a broiler pan about 3 inches from heat, turning them with tongs 2 or 3 times, 10 to 12 minutes.)
Transfer onions or scallions to a platter and squeeze 4 lime wedges over them. Assemble tacos with slices of steak on tortillas, and top with scallions. Squeeze a bit of lime juice over top if desired.
Did you make this recipe?
Let us know what you think!
Leave a Comment below or share a photo and tag me on Instagram with the hashtag #loveandoliveoil.