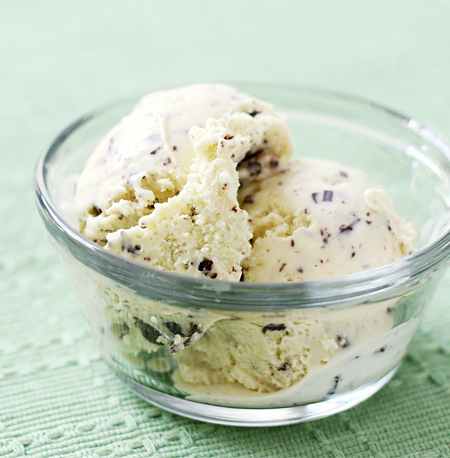 More ice cream. I just can't stop. Seriously. I'm going to have to take a break soon, at the very least to use up the hoards of egg whites sitting in the freezer. At this point I've moved on to snack size ziplocks to store them in because I've filled up all the small containers we have. So anyone who's got any delicious egg white recipes, please send them my way!
This particular ice cream, made with fresh mint from our 'garden', was an almost-disaster. When the custard first came off of the stove, it did not taste good. The flavor of the cooked mint was not bright and fresh like mint should be; rather, it tasted muddled and dull. Blech. I was about to throw it out, it was that bad. Of course, Taylor thought it tasted just fine, and I probably would have thrown it out if it weren't for him. I think that boy is missing a few tastebuds or something; he doesn't seem to taste things in the same intensity that I do. Though I guess in this situation that is a good thing?
I guess the moral here is: don't throw it away before it's even finished. Because once it was chilled and churned and chunks of chocolate mixed it, it tasted good. Different than your standard store-brand mint chip ice cream, for sure. If you like the pungent, almost medicinal quality of mint ice cream, you may be disappointed with the fresh mint variation. The flavor is softer, more subtle, and definitely not naturally green.
I'd be very interested in the result when different varieties of mint are used. I have 3 varieties of mint currently battling for dominance in one small pot on our balcony. Spearmint (which I think is your standard, garden variety mint), peppermint (think red and white candies), and (get ready for this) chocolate mint. Yes, chocolate mint. Which really does have a faint scent of chocolate. Seriously. Of course, I saw that at the garden store how could I NOT take it home with me? I'd love to figure out other ways of using such an unusual and delicious herb. Some sort of dessert-cocktail seems like the next logical step.
Anyway, I decided on a combination of spearmint and chocolate mint this go around. I think using peppermint would change the character of the ice cream entirely; it would give it a more Christmasy cheer than a summery savor. Maybe next time I'll give that a try.
Fresh Mint Chocolate Chip Ice Cream
Ingredients:
3 cups of fresh mint leaves (not stems), rinsed, drained, packed
1 cup milk
2 cups heavy cream (divided, 1 cup and 1 cup)
2/3 cup sugar
A pinch of salt
6 egg yolks
1/2 teaspoon vanilla
6 ounces semisweet chocolate or dark chocolate, chopped fine
Directions:
Put the mint leaves in a heavy saucepan with the 1 cup of milk and 1 cup of the cream. Heat until it starts to steam (do not let boil), remove from heat, cover, and let stand for 30 minutes. Reheat the mixture again until steaming, then remove from heat and let stand for 15 more minutes to steep.
Strain the cream mixture through a fine mesh seive, pressing against the mint leaves with a rubber spatula to squeeze all the liquid out of them. Return the cream mixture to the saucepan. Add sugar and salt to the mixture. Heat until just steaming again, stirring until sugar has dissolved. Remove from heat.
Whisk the egg yolks in a medium sized bowl. Slowly ladle about 1/3 of the heated cream mixture into the egg yolks, whisking constantly so that the egg yolks are tempered by the warm mixture, but not cooked by it. Scrape the warmed egg yolks back into the saucepan with the remainder of the cream.
Return the saucepan to the stove, stirring the mixture constantly over medium heat with a wooden spoon, scraping the bottom as you stir, until the mixture thickens and coats the back of the spoon, about 10 minutes.
While the custard is cooking, prepare an ice bath. Pour the remaining 1 cup of cream into a medium size metal bowl, set in ice water (with lots of ice) inside a larger bowl. Set a mesh strainer on top of the bowls.
Pour the thickened custard through the strainer and stir into the cold cream to stop the cooking. Add vanilla, and continue to stir until fully cooled. Cover with a double layer of cling wrap (one layer pressed down to the surface of the custard, and another pulled tight over the top of the bowl), and chill overnight (or at least a few hours).
Freeze the mixture in your ice cream maker according to the manufacturer's instructions until the consistency of soft-serve. Gently fold in the finely chopped chocolate. Spoon into an airtight container and freeze for at least an hour, preferably several hours, or until firm.
Did you make this recipe?
Let us know what you think!
Leave a Comment below or share a photo and tag me on Instagram with the hashtag #loveandoliveoil.