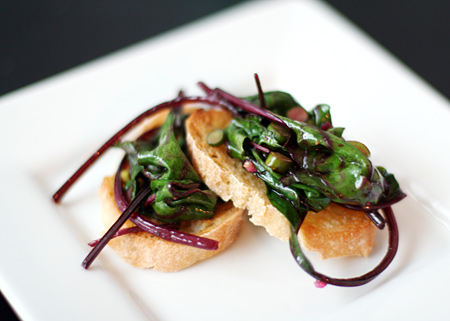 We picked up our first CSA yesterday. To say we were excited would be an understatement… you'd be better off describing us as giddy. Over produce. Local. Organic. Biodynamic. Incredible. Produce.
We've never done a CSA before, for various reasons. Moving. Out of town for too many weeks in the summer. Moving again. Farmers' market just down the street. Moving. You get the picture. But this summer we had no excuses.
You never realize just how limiting grocery store produce can be until you see the other side; the incredible variety of vegetables, fruits, and herbs that can be grown on a single farm. Talk about trying new things, this particular meal contained two things we had never eaten before, let alone cooked. I present to you: beet greens and garlic scapes.
The greens, the result of the farmer thinning his beet crop for a better harvest, were surprising. I expected a bitter green, something along the lines of Kale or collards. But what we got was not bitter at all; rather, a rich, earthy flavor; almost like swiss chard or a hearty spinach. The stems were a bit tough (maybe we should have read the recipe and removed them, but their vibrant purple hue was just too pretty to toss), but the leaves were tender and delightful.
The garlic scapes, which are actually the green tendrils that grow out of a baby garlic bulb, need to be trimmed in the spring to allow the garlic bulb to fully develop. While they may look like green onions gone awry, the scapes are solid rather than hallow, and have a lightly garlic flavor without being overpowering. They are just as delicious raw (we sprinkled some over a salad) as they are sauteed. We've got a lot left (we only used 2 of the bunch tonight), so I'm sure you'll see them popping up in our other meals throughout the week.
If you don't have access to beet greens or garlic scapes, this recipe could be adapted in a myriad of ways depending on what is available to you. Swiss chard, broccoli rabe, or even spinach could take the place of the greens. No scapes? Just increase the garlic and call it a day. I also think the bruschetta would be delicious smeared with a soft cheese, like ricotta or a mild goat cheese, and then topped with the garlicky greens.
Our first CSA meal was an immense success; despite the unfamiliar ingredients. We are greatly looking forward the challenge that each week will bring, in the form of new and unusual ingredients that are anything but ordinary.
Beet Green and Garlic Scape Bruschetta
Ingredients:
1/4 cup extra-virgin olive oil
1 teaspoon minced garlic
2 garlic scapes, sliced
8 ounces beet greens, stems removed, leaves sliced
16 1/2-inch slices french baguette
coarse sea salt
Directions:
Lightly brush baguette slices with 3 tablespoons of olive oil. Arrange in a single layer on baking sheet. Broil on high until lightly golden and toasted, about 1 minute. Remove from oven.
Meanwhile, heat remaining 1 tablespoon oil in heavy large skillet over medium heat. Add garlic and scapes and stir 15 seconds. Add greens and sauté until tender, about 3 minutes.
Place toasts on platter. Top with greens. Sprinkle with salt and pepper.
Did you make this recipe?
Let us know what you think!
Leave a Comment below or share a photo and tag me on Instagram with the hashtag #loveandoliveoil.