First of all, thank your for all the support and kind comments to our last post. As the flood waters recede, help is needed more than ever. If you are able to donate even a few dollars, every little bit counts. For those of you in Nashville, I am currently trying to organize a relief bake sale (possibly next weekend, date/location TBD). Please get in touch if you're interested in baking something or simply helping out.
I was baking these cupcakes as the rain was coming down. Little did I know that only a few days later we'd be under such tight water restrictions that baking anything (or, to be more accurate, baking anything and not driving Taylor crazy because he can't wash the dishes) is out of the question. I have a few recipes in the backlog I'll try to post in the meantime, because until these water restrictions are limited we're not going to be cooking anything interesting.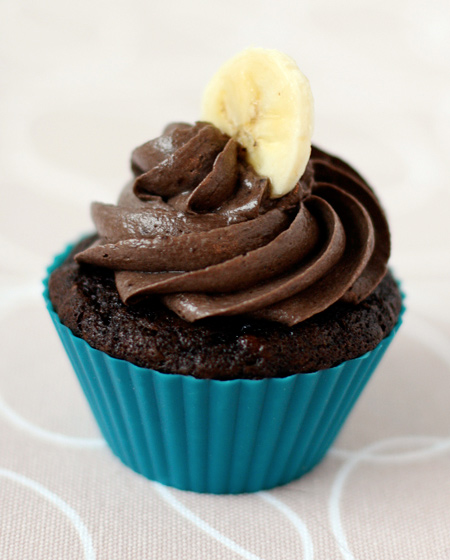 The cupcakes you see were actually my 2nd attempt. Because, yes, I actually have cupcake failures. I started batch #1 on Friday night, and less than 5 minutes after I popped them in the oven, our fire alarm went off (it's a recurring problem in our building – we're used to it by now). To avoid causing a REAL fire, I had to turn off the oven as we shoveled the cats into their carriers (harder to do now that there's two), and run outside. By the time the fire department came and deactivated the alarm and we were allowed back inside 20 minutes later, the cupcakes were sunken failures. Even turning the oven back on didn't help. They ended up tasting ok, but were dense, undercooked on the inside and crispy on the outside, more like a chocolate banana brownie of sorts. We ate them, of course, and they were too good to deny them a second chance.
Take 2, no fire alarm. And the result might just be one of my new favorite cupcakes. I neglect to remember just how well chocolate and banana go together. When you eat bananas for breakfast you forget these things sometimes. The frosting could very well be the best part… and I suggest popping your fresh cupcakes into the fridge for storage; the next day the frosting will be thick and almost fudgelike and even more delicious than it was when it was freshly piped. Yum.
Chocolate Banana Cupcakes
Ingredients:
1/2 cup coconut milk
1/2 cup ripe banana (about 1 banana)
1/3 cup canola oil
1 teaspoon vanilla extract
3/4 cup sugar
1 cup all-purpose flour
1/3 cup cocoa powder
3/4 teaspoon baking soda
1/2 teaspoon baking powder
1/4 teaspoon salt
1/8 teaspoon cinnamon
For Frosting:
1/2 cup butter or margarine, room temperature
1/4 cup ripe banana (about 1/2 banana)
2 tablespoons cocoa powder
2 1/2-3 cups confectioners' sugar
1 teaspoon vanilla extract
Directions:
Preheat oven to 350 degrees F. Line muffin pan with paper liners.
In a small bowl, mash the banana with a fork. Whisk in the coconut milk, sugar, oil, and vanilla extract until incorporated. Mixture will still be a little lumpy because of the nature of the banana, but whisk out as many large lumps as you can. In a separate bowl, sift together the flour, cocoa powder, baking soda, baking powder, cinnamon, and salt. Make a well in the center of dry ingredients and pour in banana mixture. Stir until just smooth (do not overmix).
Pour into liners, filling each with 3 tablespoons of batter (cups should be no more than 2/3 full). Bake 18-20 minutes, or until a toothpick inserted into the center comes out clean. Transfer to a cooling rack and let cool completely.
For frosting, cream butter until smooth and fluffy, 2-3 minutes. Add banana and mix on high speed until few lumps remain. Add cocoa powder and 1 cup powdered sugar and beat until combined. Continue adding sugar, 1/2 cup at a time, mixing well after each addition (depending on the temperature of your butter, you may need more or less sugar/cream to achieve the proper consistency). Mix in vanilla. Continue beating until light and fluffy, about 3-5 minutes, adding more sugar if necessary. Spread or pipe onto cooled cupcakes. Garnish with leftover banana slices if desired.
Did you make this recipe?
Let us know what you think!
Leave a Comment below or share a photo and tag me on Instagram with the hashtag #loveandoliveoil.