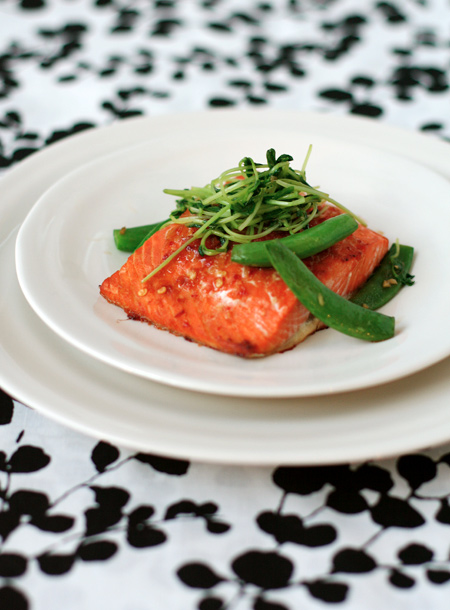 Pea tentrils are one of those ingredients that I assume I'll never be able to find. I was so optimistic about my chances that I wrote off this recipe immediately, knowing I would never be able to find those all-important greens. This particular issue of Bon Appetit had two delicious-sounding salmon dishes: this one, and one with rhubarb and red cabbage. So I picked the rhubarb one, thinking that Kroger just might carry rhubarb? If not, there's always Whole Foods. Wrote down the ingredients, and off to the store.
But to my surprise, as we were browsing the produce in Trader Joe's, there they were. A box of pea tendrils. What? No way. And knowing how TJ's inventory tends to change rather quickly, I wasn't about to pass up this opportunity. So I racked my brain, trying to remember the other ingredients for the recipe. On the fly, we scrapped one salmon recipe (since, ironically, TJ's had no trace of rhubarb), and subbed in another. For me and my usually-faulty memory, I'd say I did pretty good.
Only thing we forgot was the sweet chili sauce. I knew it was part of the recipe, but I also *thought* we had a bottle of it stashed in the fridge. Silly me forgot that two years (and a cross-town move) had passed since that bottle of chili sauce had been used, and we had since thrown it away. Guess it's one of those ingredients that you assume lasts forever. Oops.
Lucky for me Taylor is a genius. No sweet chili sauce? Simply mix some chili garlic paste (aka Sambal Oelek) with a spoonful of brown sugar and a wee bit of water to thin it out, and voila! Sweet chili sauce. Even better than the pre-made stuff in the jar, if I do say so myself.
Hooray for ingenuity.
The final dish was so worth the brain power it took to pull it off. If you can manage to find pea sprouts or pea tendrils in your neck of the woods, I'd highly recommend giving this recipe a go. No tendrils? Alfalfa sprouts, maybe. If I had to compare the pea tendrils to anything, that's what it'd be. They had a faint sprouty-ness to them that other greens or vegetables can't quite pull off. Paired with the sweetness of the snap peas and the spicy sweet heat of the chili glaze, it's like spring on a plate. A truly happy accident. Until next year, pea tendrils, when I'm sure we shall meet again.
Salmon with Sweet Chili Glaze, Sugar Snap Peas, and Pea Tendrils
Ingredients:
Nonstick vegetable oil spray
1/4 cup Asian sweet chili sauce
3 tablespoons soy sauce, divided
2 tablespoons finely grated peeled fresh ginger, divided
6 6-ounce salmon fillets with skin
2 tablespoons vegetable oil
3 garlic cloves, minced
8 ounces sugar snap peas, trimmed
1 1/2 tablespoons Chinese rice wine or dry Sherry
3 cups pea tendrils or pea sprouts (about 6 ounces)
1 teaspoon Asian sesame oil
Directions:
Line rimmed baking sheet with foil. Coat with nonstick spray. Whisk chili sauce, 2 tablespoons soy sauce, and 1 tablespoon ginger in small bowl. Place salmon fillets, skin side down, on prepared sheet. Spoon chili sauce marinade over and let stand at room temperature 30 minutes.
Preheat broiler. Spoon any marinade remaining on baking sheet over salmon fillets. Broil salmon without turning until browned in spots and almost opaque in center, 6 to 10 minutes, depending on thickness of fillet.
Meanwhile, heat vegetable oil in wok or heavy large skillet over medium-high heat. Add remaining 1 tablespoon ginger and minced garlic; stir until aromatic, about 30 seconds. Add sugar snap peas and stir until crisp-tender, about 2 minutes. Add remaining 1 tablespoon soy sauce, rice wine, and pea tendrils and stir just until wilted, about 1 minute. Drizzle with sesame oil.
Place 1 salmon fillet on each plate. Spoon warm pea mixture over salmon fillets and serve.
Did you make this recipe?
Let us know what you think!
Leave a Comment below or share a photo and tag me on Instagram with the hashtag #loveandoliveoil.