It's been over 3 years (that I can remember) since I've eaten cheesecake.
And I didn't miss it at all. I don't remember craving it. Yearning for it. Wanting to bake, order, or eat it. And I was fine with that; there were plenty of cookies and cupcakes to go around, I didn't need cheesecake, right?
Wrong. This week, I got an inexplicable craving for cheesecake. Chocolate cheesecake. With ganache and raspberries. Maybe it was my mom talking about the mini chocolate cheesecakes she made for Valentine's day. Or maybe it was, actually, that was definitely it. Let me start over. This week, I got an explicable craving for cheesecake. Thanks mom.
And so I decided, lactose be damned, I'm making cheesecake.
This particular recipe has always been a favorite of mine (back when, you know, I ate cheesecake on a regular basis). It's incredibly simple, and the fact that it can easily be adapted to mini-cupcake size bites makes it a perfect pastry for parties. I went ahead and made the original, cupcake-size cakes, which just so happen to be a perfect single serving (and unlike the little guys, you're not tempted to pop a few every time you walk by the fridge).
Cheesecake craving fulfilled. Stomach, please forgive me. It was totally worth it.
And remember! There is still one more day to enter the Chef'n Baking Tools Giveaway! Don't miss out on your chance to enter a fabulous set of baking gadgets from Chef'n! Get your entry in before midnight tomorrow (Saturday) for your chance to win.
Chocolate Mini Cheesecakes
Makes 24 cupcake-size cheesecakes or approx. 60 mini cheesecakes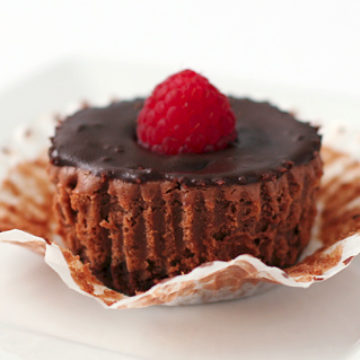 Ingredients:
For Crust:
1 1/2 cups vanilla wafer crumbs
6 tablespoons melted butter
6 tablespoons powdered sugar
6 tablespoons cocoa powder
For Filling:
1/2 cup cocoa powder
1/4 cup butter or margarine, melted
3 (8 oz.) packages cream cheese
14 oz. sweetened condensed milk
3 eggs
2 teaspoons vanilla extract
For Glaze:
2 cups semi sweet chocolate chips
1 cup whipping cream
1 teaspoon vanilla
1 pint fresh raspberries (optional)
Directions:
Preheat oven to 300 degrees F. Paper-line or spray with cooking spray 24 large muffin cups (or 60 mini muffin cups).
Stir together vanilla wafer crumbs, butter, sugar, and cocoa to make crust. Press 1 heaping tablespoonful of crumbs into bottom of each cup.
Stir together cocoa and meltedbutter. Beat in cream cheese until fluffy; beat in cocoa and butter mixture. Gradually mix in sweetened condensed milk; mix in eggs and vanilla and spoon into cups. Bake 35 minutes or until set. Cool.
Melt chocolate chips with whipping cream and vanilla. Stir until smooth. Spread over cooled cheesecakes and top with a raspberry (if desired). Refrigerate until set.
Did you make this recipe?
Let us know what you think!
Leave a Comment below or share a photo and tag me on Instagram with the hashtag #loveandoliveoil.