Would you all hate me if I all I had to say about this dinner was…
Yum.
Ok, maybe I have some more to say, because this meal was so incredibly simple I think Taylor and I were in a state of shock when we sat down to eat less than 15 minutes after we started. What? Seriously? That's unheard of! Usually we allot/assume/plan for around 45 minutes for dinner, sometimes it is closer to an hour. After prep, chopping, cooking, and cleaning, a solid hour is usually a safe bet. But 15 minutes? We were eating before 6 oclock. I mean, the news was still on, for gosh sakes!
To stumble upon a 15 minute meal, that ACTUALLY takes 15 minutes (and not one of those meals that is only 15 minutes when you've got a staff there to chop and prep all your ingredients, you know those meals). I can tell you we've made this twice since we first made it two weeks ago. That should tell you something.
The recipe called for green beans originally, but it must be anti-green bean season or something, because the last two times we've tried to buy them at the store they had none. Not even a sickly little limp one. So we sprang for something that WAS in season and available, asparagus. Just as tasty.
Before I go, I will leave you with this. Because you asked so nicely, and because the number of kitten photos on my computer are slowly gaining on the number of cupcake shots. It's a cupcake vs. kitten battle!
Salmon With Brown Butter, Almonds, and Asparagus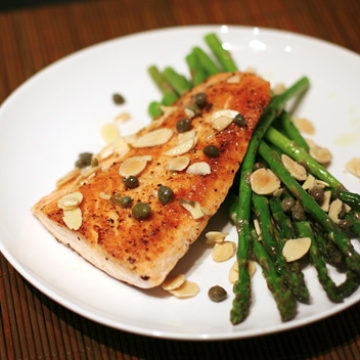 Ingredients:
4 tablespoons unsalted butter
1 1/4 pounds skinless salmon fillet, cut into 4 pieces
kosher salt and black pepper
1 pound green beans or asparagus, trimmed
1/4 cup sliced almonds
2 tablespoons capers
Directions:
Heat 1 tablespoon of the butter in a large nonstick skillet over medium heat. Season the salmon with ½ teaspoon salt and ¼ teaspoon pepper. Cook until opaque throughout, 3 to 5 minutes per side; transfer to plates.
Meanwhile, fill a second skillet with ½ inch of water, bring to a boil, and add ¼ teaspoon salt. Add the green beans, cover, and steam until just tender, 4 to 5 minutes; drain and transfer to plates.
Wipe out the green bean skillet and heat the remaining 3 tablespoons of butter over medium heat. Add the almonds and cook, stirring frequently, until the almonds and butter are golden brown (but not burned), 2 to 3 minutes. Stir in the capers. Spoon over the fish and green beans.
Did you make this recipe?
Let us know what you think!
Leave a Comment below or share a photo and tag me on Instagram with the hashtag #loveandoliveoil.