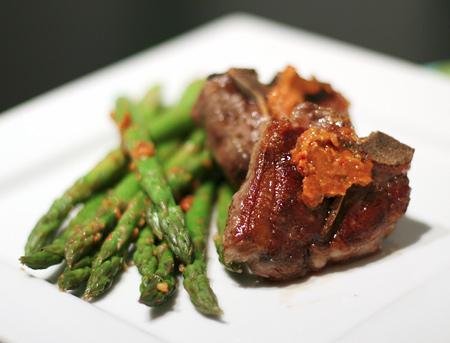 Christmas dinner. We always like to splurge just a little bit, since it is a special occasion, it's nice to cook something we don't normally get to eat. Last year we made ribs, same thing the year before that. This year, we thought we'd give lamb a try. It was either that or seafood (which we quickly voted down as our home tends to hold on cooking smells for far too long. Seafood isn't something I want to be smelling for the next five days straight).
This was a nice change from the labor-intensive Thanksgiving meal, as it literally took 25 minutes to bring together. We served the lamb with some nice asparagus (smothered in the same tomato butter as the lamb) and some of Taylor's signature potatoes.
It was truly a treat. And like Taylor said, seafood wouldn't have been nearly as satisfying.
And just wait until you see the dessert!
In other exciting Christmas news, Taylor was really paying attention this year… remember me talking about wanting some mini cake pans? He got me a set of three 6-inch pans, a perfect size for a layer cake for two. AND he managed to somehow prevent me from ordering a set on my own, which I was very close to doing multiple times this week. Sneaky boy! Though I think the REAL reason behind such a thoughtful gift is he just wants more cake, hehe. :)
Lamb Chops with Sun-Dried Tomato Butter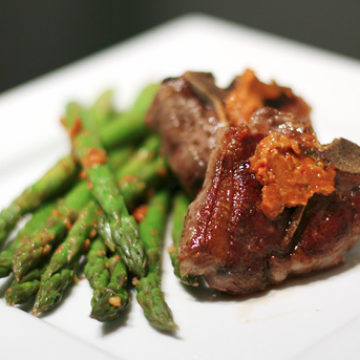 Ingredients:
1 garlic clove
1/4 cup chopped sun-dried tomatoes packed in oil, drained
1/2 cup walnuts
1/4 teaspoon ground coriander
1/4 teaspoon cayenne
1 tablespoon chopped flat-leaf parsley
1/2 stick unsalted butter
1/2 teaspoon fresh lemon juice
8 lamb rib or loin chops (3/4 inch thick; 2 pounds)
Directions:
Mince and mash garlic to a paste with 1/4 teaspoon salt. Transfer paste to a food processor and pulse with sun-dried tomatoes, walnuts, coriander, cayenne, parsley, and 1/8 teaspoon black pepper until finely chopped. Blend in butter and lemon juice, then season with salt.
Preheat broiler or heavy skillet. Lightly oil rack of a broiler pan.
Pat lamb chops dry and sprinkle with 1/2 teaspoon salt and 1/4 teaspoon pepper (total), then broil on rack of broiler pan 4 to 5 inches from heat, turning once, 6 to 7 minutes total for medium-rare or sear in skillet for approximately 5-6 minutes per side depending on thickness. Spread tomato butter over chops.
Did you make this recipe?
Let us know what you think!
Leave a Comment below or share a photo and tag me on Instagram with the hashtag #loveandoliveoil.