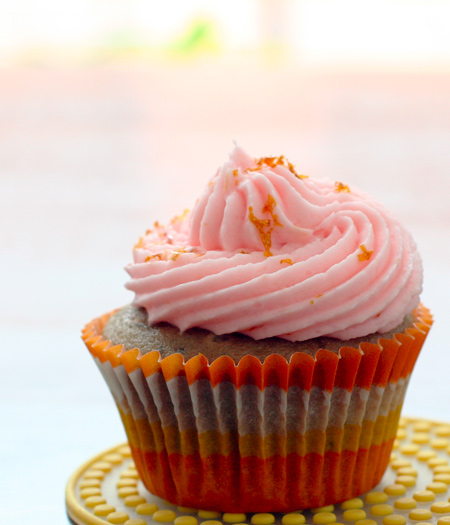 Ok, is it just me, or do I tend to bake cupcakes modeled after drinks? Chai Latte, Hot Chocolate, Strawberry Lemonade… see a pattern developing?
Well, I've got another one for you.
Tequila Sunrise cupcakes.
For those of you unaware of the concoction, it is simply orange juice, a dash of grenadine (sweet pomegranate syrup), and tequila. And it is those exact flavors that have been baked and frosted into this sweet cupcake.
While they were quite delicious, a perfect blend of citrus and sweet, they're not chocolate, and thus didn't do a lot to satisfy my sugar craving. I ended up baking (or, not baking) a batch of eggless cookie dough to snack on the very next day. Whoops. Guess that'll teach me not to try and substitute fruit in place of chocolate. My stomach knows when you're trying to pull a fast one.
Needless to say, it's a good cupcake. An interesting one too. Though next time I'd up the pretty factor by adding food coloring to the batter. See, I used blood oranges for my juice and zest. And when I mixed the batter, it was a beautiful shade of rosy pink. Lovely! I thought, how pretty will these be? Well, something must have happened in the oven, as my pretty pink cupcakes turned an odd shade, the precise color you get when you mix red with green and golden cupcake… not too pretty. So, I'd make my own pink by adding some red food coloring, plus a touch of yellow, to the batter next time. Overpower whatever chemistry it was that caused my cupcakes to cross to the dark side of the color wheel.
Tequila Sunrise Cupcakes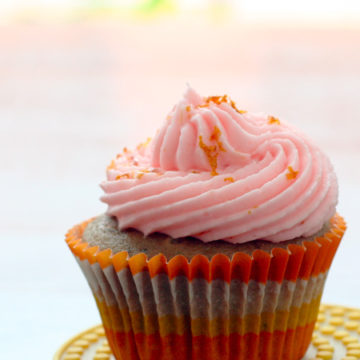 Ingredients:
1/4 cup orange juice
1 1/2 teaspoons finely grated orange zest
1 cup soy milk (plain or vanilla)
1/4 cup vegetable oil
2 tablespoons tequila
1 tablespoon grenadine
red+yellow food coloring (optional)
1/2 teaspoons vanilla extract
1 cup sugar
1 1/3 cup all purpose flour
1/4 teaspoon baking soda
1/2 teaspoon baking powder
1/2 teaspoon salt
Frosting:
1/2 cup butter or margarine, room temperature
3 1/2 cups confectioners' sugar
1-2 tablespoons soymilk
2 teaspoons tequila
1 tablespoon grenadine
1 teaspoon finely grated orange zest
Directions:
Preheat oven to 350?F. Prepare muffin tin with paper liners.
In a large bowl, combine flour, baking soda, baking powder and salt. In another bowl, whisk together orange juice, orange zest, soy milk, oil, tequila, vanilla, grenadine, food coloring, and sugar. Slowly stir in dry ingredients and mix until just combined (may be slightly lumpy). Fill cupcake liners with a scant 1/4 cup of batter (should be just under 2/3 of the way full). Bake for 20-25 minutes or until set, and toothpick inserted in the center comes out clean. Transfer to cooling rack and allow to cool completely.
For frosting, cream butter in electric mixer for 1-2 minutes. Slowly add confectioners' sugar, 1/2 cup at a time, until mixture is smooth and fluffy. Add 1 tablespoon soymilk, tequila, zest, and grenadine, and mix until combined. Add more soymilk and/or confectioners' sugar if needed to achieve proper consistency. Mix at medium-high speed until light and fluffy. Spread or pipe onto cooled cupcakes.
Did you make this recipe?
Let us know what you think!
Leave a Comment below or share a photo and tag me on Instagram with the hashtag #loveandoliveoil.