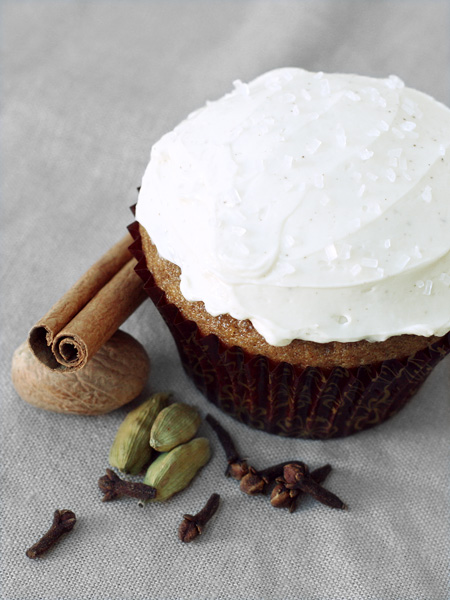 Folks, we have a winner. Hands down, no question about it, winner. This little gem will be joining lovely almond and rich chocolate on our wedding cupcake menu.
Holy cow they are delicious.
How they all came about:
Robin likes Chai. A lot. And upon hearing we needed a non-chocolate cupcake recipe for the wedding, suggested we try a chai cupcake. Sounds good, right? We first turned to our fail-safe book (though recently it has failed us), Vegan Cupcakes Take Over the World. Indeed, there is a Chai cupcake recipe in there. However, it uses yogurt in the base, which, if you read the disaster that was the Pistachio Rosewater Cupcakes last week, you'll know that the yogurt didn't fare so well. And I wasn't going to risk that happening again.
So we began with a basic vanilla cupcake recipe, and went from there.
Chai tea is sure a complicated beast – but after a good bit of research, I understood fairly well that most chai teas are comprised of a few key spices: cinnamon, cardamom, cloves, and ginger. Some used nutmeg as well, so we decided to toss some of that in the mix.
For the tea portion, we simply steeped some black tea, using the soymilk instead of water. This infused a rich tea flavor to the cupcake without needing any extra liquid – the soymilk was already in there.
The frosting was a challenge, but to me, no cup of chai is complete without a giant dollop of whipped cream. Short of frosting these with whipped cream, I wanted a frosting more silky and smooth than our standard buttercream. We decided to try, for the first time ever, a Swiss Meringue Buttercream.
Success. The frosting was to die for. The best frosting I have EVER made. Much less sweet than American Buttercream, but so much richer and with an incredible depth of flavor that almost makes you think there is more in it besides egg whites, sugar, and butter. It made me extremely nervous, making it, though. The frosting feels very fragile, like it can barely support it's own weight, and at the slightest hint of too much heat or even if you sneezed near it, it'd melt into oblivion. Has anyone worked with Swiss Buttercream before? It is so perfect in every way and I don't want to abandon it, but I don't want it to become a wedding-day disaster either.
Spiced Chai Latte Cupcakes with Cinnamon Swiss Meringue Buttercream
Makes 12 cupcakes. Adapted from Vegan Cupcakes Take Over the World. Frosting recipe adapted from Tartlette.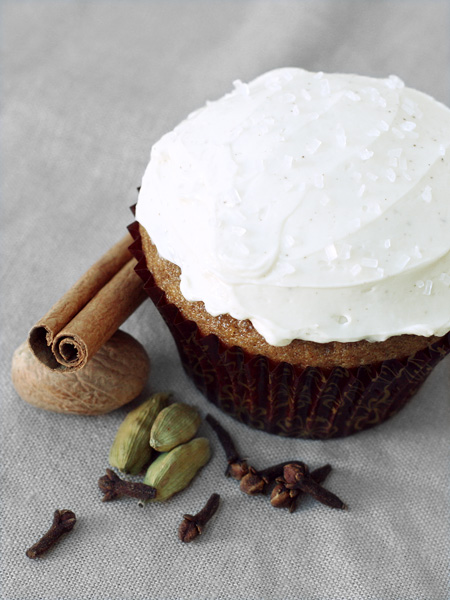 Ingredients:
1 cup soy milk
4 black tea bags or 2 tablespoons loose leaf black tea
1 teaspoon apple cider vinegar
1 1/4 cups all-purpose flour
2 tablespoons cornstarch
3/4 teaspoon baking powder
1/2 teaspoon baking soda
1/2 teaspoon salt
2 teaspoons ground cinnamon
1 teaspoon ground cardamom
1/2 teaspoon ground ginger
1/4 teaspoon ground cloves
1/4 teaspoon ground nutmeg
1/3 cup canola oil
3/4 cup granulated sugar
2 teaspoons vanilla extract
For frosting:
1/2 cup sugar
2 large egg whites
3/4 cup (1 1/2 sticks) unsalted butter, room temperature
2 teaspoons vanilla extract
1/4 teaspoon ground cinnamon
Directions:
Preheat the oven to 350ËšF.
Heat soymilk in a small saucepan or microwave until almost boiling. Remove from heat and add tea bags. Allow to steep for 10 minutes, then remove teabags, squeezing out as much soymilk as possible. Re-measure, and add more soymilk to make exactly 1 cup. Whisk in cider vinegar, and side aside until curdled.
In a large bowl, sift together the flour, cornstarch, baking powder, baking soda, salt, and spices. Pour in soy milk mixture, along with oil, sugar, and vanilla, and stir just until no large lumps remain.
Fill cupcake liners with 1/4 cup of batter (liners should be 2/3 full), and bake for 20-22 minutes or until puffed and golden. Transfer to a cooling rack and allow to cool completely before frosting.
For buttercream: put the sugar and eggwhites in a large heatproof bowl over a saucepan of simmering water and whisk constantly, keeping mixture over the heat, until it feels hot to the touch, about 3 minutes. The sugar should be dissolved, and the mixture will look like marshmallow cream.
Pour the mixture into the bowl of a stand mixer fitted with a whisk attachment and beat on medium speed until it cools and forms a thick and shiny meringue, about 5 minutes. Switch to the paddle attachment and add the butter, one tablespoon at a time, beating until smooth. Once all the butter is in, beat the buttercream on medium-high speed until is is thick and very smooth, 6-10 minutes. Add the vanilla and cinnamon and whip for another 30 seconds until incorporated. Spread or pipe on cooled cupcakes.
Did you make this recipe?
Let us know what you think!
Leave a Comment below or share a photo and tag me on Instagram with the hashtag #loveandoliveoil.