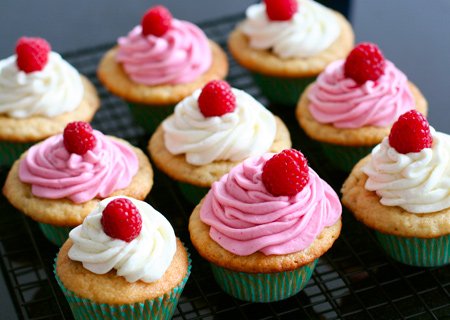 Happy National Cupcake Day! When I heard that there was, indeed, a holiday honoring my favorite confection, I knew I had to celebrate. I had been scheming about making some white chocolate raspberry cupcakes for some time now, and figured what better time to put it to the test.
Despite a bit of a fiasco with the frosting (see: I broke my buttercream), and a bit of an 'overflow' issue with the cupcakes, these turned out quite well. We made half of them with the raspberry filling and white chocolate frosting, and left the other half unfilled but flavored the frosting with the remaining raspberry, to see which one we liked better. The filled cupcakes are definitely the winners.
If you're brave I'd encourage you to try the fancy white chocolate buttercream that I attempted to do (supposedly not nearly as sweet as regular buttercream, but 10x as hard to make), but for the faint of heart and the cooked-sugar-phobes, these cupcakes are still plenty delicious with the good ole' fashioned sugary sweet American buttercream.
I love the fact that these cupcakes look like the iconic cupcake with a cherry on top. Whenever you see a cute representation of a cupcake, they always look just like this. Always. It cracks me up that I actually made a cupcake that fit that cliche. Rarely do you ever see an actual cupcake with a cherry on top – so in this case, a raspberry will just have to do!
White Chocolate Raspberry Cupcakes
Ingredients:
Cupcakes:
1 1/4 cups all-purpose flour
1 teaspoon baking powder
1/4 teaspoon baking soda
1/2 teaspoon salt
1/2 cup granulated sugar
1/4 cup brown sugar, packed
4 ounces white chocolate, melted
1/3 cup oil
1/2 cup soy milk
1/2 cup coconut milk
2 teaspoons vanilla extract
1/2 teaspoon finely grated lemon zest
Filling:
8 ounces frozen raspberries
1 tablespoon water
3 tablespoons sugar
1 teaspoon lemon juice
1 tablespoon cornstarch mixed with 1/4 cup water
Frosting:
If you're brave, try this recipe (and let me know how it turns out!). If you want something less complicated, use American buttercream, instructions below.
1/2 cup butter or margarine, softened
1/3 cup cream cheese or tofutti cream cheese
3 to 3 1/2 cups confectioners' sugar
1/2 vanilla bean, seeded, or 1 teaspoon vanilla extract
1 tablespoon soymilk
6 ounces white chocolate, melted
12 fresh raspberries
Directions:
Preheat oven to 350ËšF.
In a large bowl, sift together flour, baking powder, baking soda, and salt. Add sugar and brown sugar and mix. Slowly mix together melted chocolate and oil. Whisk together soy milk, coconut milk, lemon zest, and vanilla. Make a well in the center of the dry ingredients and pour in the wet ingredients. Mix until relatively smooth. Fill cupcake liners with a scant 1/4 cup of batter (should be just under 2/3 of the way full – my cupcakes overflowed, so err on the under-filled side here). Bake for 20-25 minutes or until golden, and toothpick inserted in the center comes out clean. Transfer to cooling rack and allow to cool completely.
To make filling, combine frozen raspberries with water, sugar, and lemon juice in a small saucepan. Cook over medium heat until raspberries begin to break down. Add 1 tablespoon cornstarch mixture and bring to a simmer. Remove from heat, and strain mixture through a fine mesh sieve, pressing as much through as possible. Return strained mixture to heat once again. Add another tablespoon of cornstarch mixture, and bring to a simmer. If mixture still seems thin, add more cornstarch as necessary. It will thicken more upon cooling. Remove from heat and allow to cool completely.
Cut out small cones from tops of cupcakes (holes should be approximately 1/2″ across and 1/2″ deep), saving removed cake. Fill holes with raspberry filling, and replace cake on top.
To make frosting, beat butter or margarine and cream cheese until fluffy. Slowly add confectioner's sugar, 1/2 cup at a time, until creamy. Melt white chocolate as before, and mix in vanilla seeds or extract. Add to frosting and mix well. Add extract and soy milk, and beat until fluffy (add more sugar and/or soymilk if you need it, until you get the right texture). Generously pipe or spread onto filled cupcakes. Top each cupcake with a single fresh raspberry.
Did you make this recipe?
Let us know what you think!
Leave a Comment below or share a photo and tag me on Instagram with the hashtag #loveandoliveoil.