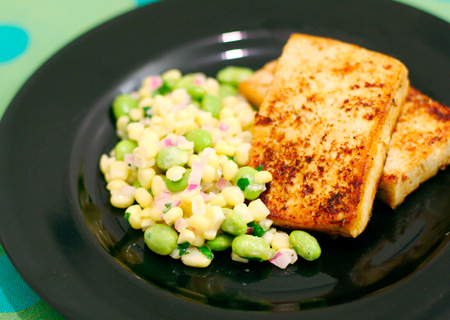 Salads can get old, fast. Sure you can add croutons, and various nuts and fruits and vegetables… mix up the dressing on occasion, but it's usually still just fancy lettuce.
But not this salad.
What a fresh, wonderful change of pace. So quick, so easy, and surprisingly refreshing. Colorful, healthy, and did I mention quick?
No recipe required for the tofu, really, just a quick marinate with some miso, soy sauce, sesame oil, ginger, garlic, and chili flakes.
No lettuce required.
Corn and Edamame Salad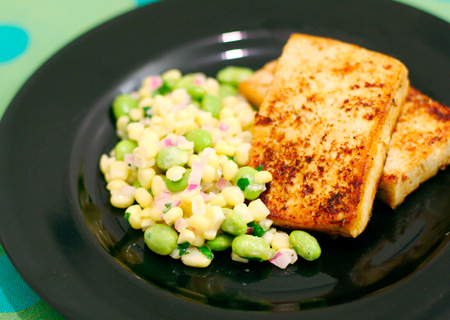 Ingredients:
2 ears fresh corn, unhusked, or 1 1/4 cups cooked corn kernels
1/2 cup shelled edamame
1/4 cup chopped red onion
1/4 cup small-diced red bell pepper
1 tablespoon finely chopped fresh cilantro
1 tablespoon light mayonnaise
1 tablespoon lemon juice
1 1/2 teaspoons finely chopped or grated ginger
1/8 teaspoon salt
1/8 teaspoon freshly ground black pepper
Directions:
To grill:
Soak fresh corn in cold water about 30 minutes. Heat grill on high. Grill corn in husk, 10 to 15 minutes, turning once. Let cool. Remove husks. When cool enough to handle, cut corn from cob into a medium bowl and let cool.
To boil:
Remove husks and silk from corn. Carefully cut kernels off of cob. Boil kernels in salted water for 3 minutes or until tender. Drain and transfer to a medium bowl.
Combine corn with remaining ingredients. Cover and chill in refrigerator until ready to serve.
Did you make this recipe?
Let us know what you think!
Leave a Comment below or share a photo and tag me on Instagram with the hashtag #loveandoliveoil.