Maybe my reason for lack-of-posts this last week has been the food itself. Yes, I took pictures. Yes, we actually DID eat something. But I hate sharing recipes and photos of things that I wouldn't necessarily make again myself.
But then I thought, why waste some pretty photos?
I'll link to the recipes in question as well, just in case you decide it's something you might like to try. And I guess it's not all bad, with some adjustments, they might be better.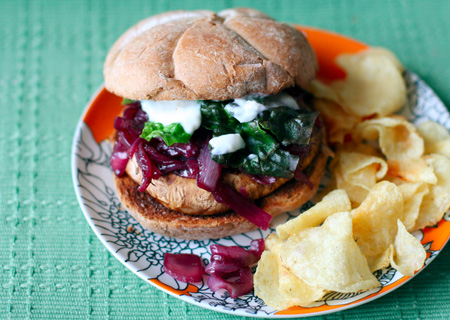 Grilled Portobello Burger with Red Onion Jam and Horseradish Sauce
Each element of this burger was good, and Taylor actually enjoyed it for the most part, but I just found the tastes combined into something I can only describe as 'funny'. The mushroom, red onion jam, and horseradish sauce were a strange combination. Or maybe I was just in a funny mood? It might be worth a try.
Recipe from Food Network
Broiled Chicken and Artichokes
This recipe just lacked… what do you call it… oh yes, flavor. The artichokes were the only thing that made the chicken edible. We even sprinkled some spicy moroccan berbéré, and that didn't even help. I was trying to give chicken a chance, but other than the dishes where it's shredded and soaked in flavor or caked in spice, it just tastes like, well, chicken. Chicken with no flavor whatsoever. Oh well.
Recipe from Gourmet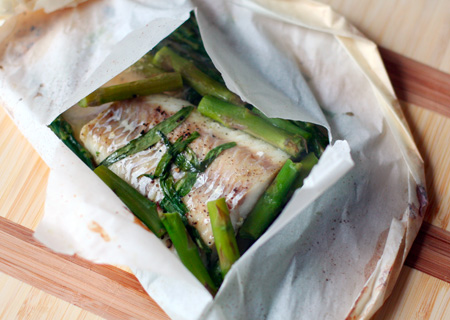 Fish Fillets in Parchment with Asparagus and Orange
This poor dish didn't even have the good fortune of a pretty photo. It just falls into the unfortunate category. I've done some "en papillote" (in a pouch) fish recipes before, and they can be quite good. It's a healthy way to cook fish, for one thing. Unfortunately, it's also a way to make some of the worst fish you've ever eaten, and completely slaughter some perfectly good asparagus while you're at it. The fish itself had no flavor. The wilted tarragon leaves and splash of orange juice did nothing to help it out. The asparagus was reduced to something akin to slightly fibrous baby food. Doesn't that sound appetizing?
Recipe from… well… I'm going to spare this poor recipe, and anyone who might have been tempted to try it by not linking to it. It's for the greater good, I promise.