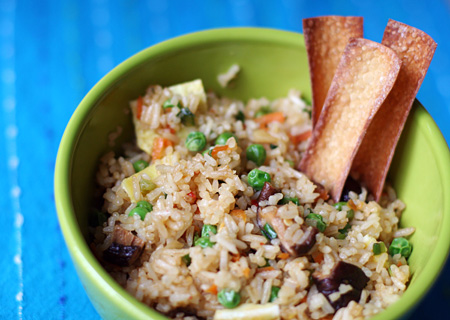 Surprisingly we'd never made fried rice before, so we thought we'd give it a try. We made a vegetarian version of this recipe, omitting the meat. It was decent fried rice, but if we made it again we might try to seek out a different recipe.
Taylor thought the egg was supposed to be scrambled in the rice, rather than before, then removed, cut into pieces, and stirred back in.
Definitely don't skip the mushrooms, this dish would have been lost without them (though strangely, while I can eat them fine, I can't stand the smell of them rehydrating.)
We also doubled the sauce (but we tend to do that more often than not).
For the wonton chips – we had some leftover wrappers, and didn't feel like wasting a quart of oil to fry them. So I cut them into strips, laid them on an oiled baking sheet, and baked them until they got crispy and golden (careful – they go from golden to burnt far too quickly, if anything, err on the side of less-than-golden when you take them out.) Pretty good, not as good as they'd be fried though! But they made for a nice 'scoop' for the fried rice.
Anyone have a kick-butt recipe for fried rice? This one is more like a nice pat rather than a kick good but could be so much better.
Fried Rice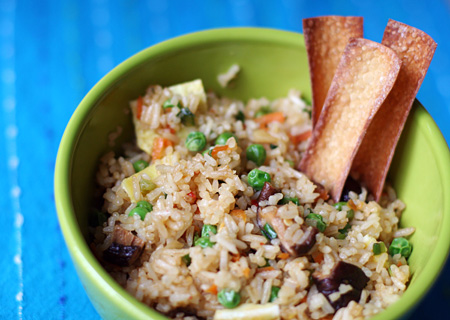 Ingredients:
8 dried shiitake mushrooms
3 tablespoons peanut oil
2 large eggs, lightly beaten with a pinch of kosher salt
4 scallions (white and green), thinly sliced
1/4 cup minced carrot
1 large clove garlic, minced
Pinch red chile flakes
1 teaspoon minced peeled fresh ginger
2 tablespoons soy sauce
1 teaspoon toasted sesame oil
3 cups cooked long-grain rice
1 cup cooked meat cut in 1/2-inch cubes, such as pork, ham, beef, or chicken (optional)
1/2 cup frozen peas, defrosted in a strainer at room temperature
Directions:
Put the mushrooms in a small bowl and cover with boiling water and soak until re-hydrated, about 20 minutes. Drain, squeeze dry, and cut mushrooms in quarters. Set aside.
Heat 1 tablespoon of the peanut oil in a well-seasoned wok or large non-stick skillet over medium-high heat. Swirl to coat the pan. Pour in the eggs, swirl the pan so the egg forms a large thin pancake. (Lift the edge of the egg to allow any uncooked egg to run to the center.) As soon as the egg has set, turn it out of the pan onto a cutting board. Cool, cut into 1 inch pieces.
Wipe out the pan with a paper towel and heat the remaining peanut oil over high heat. Add the scallions and carrots and stir-fry for 1 1/2 minutes. Add the mushrooms, garlic, chile, and ginger, stir-fry for 1 minute more. Add the soy sauce, sesame oil and rice and stir-fry for 2 to 3 minutes. Add the meat, peas, and reserved egg, cook, stirring until heated through, about 2 to 3 minutes. Serve immediately.
Did you make this recipe?
Let us know what you think!
Leave a Comment below or share a photo and tag me on Instagram with the hashtag #loveandoliveoil.