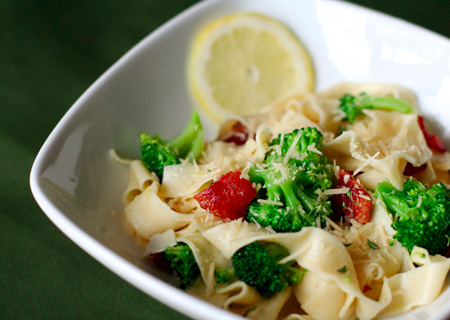 I swear, once you've gotten used to fresh, homemade pasta, it is awfully hard to go back to the dried stuff.
This recipe originally called for thick sliced pancetta, cubed and cooked until crispy, like croutons. Too bad for us the only pancetta in the store is paper thin and way overpriced. So we used some bacon, cooked until crispy. Not bad, though I do wonder how the pancetta croutons would improve it? It's a little short on flavor – and if it weren't for the fresh pasta, we might have deemed this one a failure. The potential is there, it just needs some work.
We make a good team in the kitchen, Taylor and I. For this recipe, you have Taylor at the stove dealing with the pasta water and bacon – anything cooked, boiled, or protein-packed. I sometimes call myself his sous-chef—I do all the chopping, dicing, slicing, washing, prepping, dressings, sauces, marinades, pasta-making… and he does all the heavy lifting. It works, and we're not stepping on each other's toes trying to man the same stations in the kitchen. Even more perfect is when the food is finished, I plate it and scurry away to photograph the dish by the sliding glass door (hello, natural light!). By the time I've got the money shot, he's got the dishes done and the kitchen cleaned and sparkling. Yes, a man who does the dishes. Isn't it a wonderful thing? I should get a photo of it to prove it's not a myth…
Lemon Fettuccine with Broccoli and Bacon

Recipe adapted from Bon Appetit. Makes 4 servings.

Ingredients
4 oz. bacon or thick sliced pancetta
5 1/2 cups 1-inch broccoli florets (from 1 pound broccoli crowns)
9 ounces fresh or dried fettuccine
1/4 cup (1/2 stick) butter, melted
1/4 cup olive oil
1 tablespoon finely grated lemon peel
2 teaspoons fresh lemon juice
2 teaspoons fresh thyme leaves
1/2 cup freshly grated Parmesan cheese

Directions
Sauté bacon or pancetta in heavy medium skillet over medium-high heat until almost crisp and brown. Transfer to paper towels.

Cook broccoli in large pot of boiling salted water until crisp-tender but still bright green, about 3 minutes. Using slotted spoon, transfer broccoli to medium bowl. Add pasta to same boiling water; cook until tender, stirring occasionally.

Drain pasta; return to same pot. Add next 5 ingredients. Toss over low heat to coat. Add pancetta, broccoli, and cheese; toss to blend. Season pasta with pepper.