The first official Love and Olive Oil Thanksgiving has begun! Needless to say, this is our favorite holiday of the year. We're not letting the fact that we're only two get in the way of a fabulous feast…
Starting with our 11.5 pound turkey. (we briefly contemplated the shrink wrapped packs of breast cutlets and turkey legs, but upon seeing the price per pound, our inner cheap-scapes came to life as we realized we could get a whole bird for not much more. and how many days of turkey leftover recipes will you be seeing next week? well, you'll just have to wait and find out!)
We've never cooked a turkey before. On our own. Sure, we've watched our parents and aunts and uncles do it countless times. But it's like driving somewhere… you never really know how to do it until you get behind the wheel yourself.
After researching recipes for a whole 2 1/2 minutes, brined turkey it is! Unfortunately, space in our fridge is very precious, and thus fitting a 5 gallon bucket? Not going to happen.
A better solution:


Tada! (I had a photo of the turkey in there, but it looked too much like a body bag… not appetizing).
In our meager effort not to be in the kitchen the entire day tomorrow, we made our cranberry sauce tonight.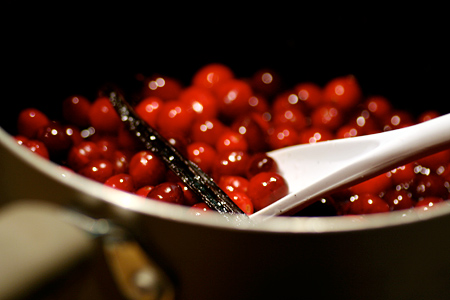 Cranberry sauce with vanilla bean and cardamom. How could you not read the title of that and not want to make it? And seeing that I had purchased a 1/4 lb of vanilla beans from ebay and had not yet found a place in which to use them, the temptation was even greater.
I've heard that Thanksgiving is the biggest day for the pizza business. Makes sense? But we were not to fall pray to the melty cheese… no siree! What did we have for dinner tonight?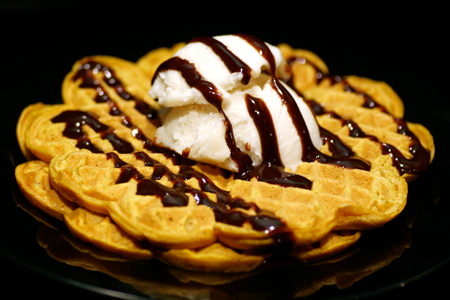 Pumpkin Waffles! (With ice cream and chocolate syrup, of course!).
So what if we originally planned these for Thanksgiving morning. After making cranberry sauce and battling a bag'o'brine, we just didn't feel like cooking, even if it was the easy Tomato and Olive Penne that takes a whole 12 1/2 minutes to make. Nope. Pumpkin waffles. And they were worth every bite. And they will be tomorrow as we made WAY too many.
Want to make your own Thanksgiving brunch?
The recipe is from Smitten Kitchen. Just add chocolate and ice cream. :)
*note: to make these waffles dairy free, simply add 1 tablespoon cider vinegar to 2 cups plain or vanilla soy milk. Let stand for 5-10 minutes; soymilk will curdle. Use this as a replacement for buttermilk.
For tomorrow, we're going to make like those super bloggers that blog LIVE from big events. So tomorrow, you'll get a play by play of our thanksgiving for two (or, at least we'll try… it may end up being a Friday morning thing, if our Turkey Hangovers are too debilitating…)