If you're looking for a super quick, super flavorful dish, this is it. It is amazing really, how a few carefully chosen ingredients can provide so much flavor. Even if you're not a big olive fan, you need to try this dish.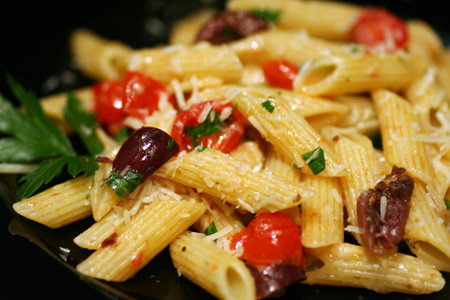 Tomato and Olive Penne

Makes 4 servings. Adapted from Everyday Food.

Ingredients
salt and freshly ground pepper, to taste
1 lb penne
1/4 cup olive oil
2 garlic cloves, thinly sliced
2 cups cherry tomatoes, halved or quartered
1 teaspoon dried oregano
1/4 teaspoon red pepper flakes
2 tablespoons tomato paste
1/4 cup kalamata olives, pitted and sliced
1/4 cup chopped fresh parsley
1/4 cup grated Parmesan cheese, plus more for serving

Directions
In a large pot of boiling salted water, cook the penne until al dente according to the package instructions. Drain.

Meanwhile, in a large skillet, heat the olive oil over medium heat. Add the garlic, and cook, stirring, until fragrant, about 30 seconds. Add the cherry tomatoes, oregano, red pepper flakes, 1/4 teaspoon salt, and 1/4 teaspoon pepper. Reduce heat to low, and cook, stirring, until the tomato juices run, about 1-2 minutes. Add the tomato paste and continue to cook another 2-3 minutes.

Add the penne, olives, parsley, and 1/4 cup parmesan to the skillet and toss to combine. Serve with more cheese if desired.