This is a quick and flavorful dish, not heavy like many pastas can be. The addition of fresh herbs and the breadcrumbs make this dish unique.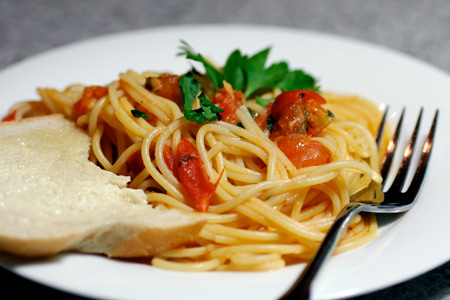 Spaghetti with Herb and Tomato
Makes 4 servings.
Ingredients
1 lb spaghetti
Olive oil
2 cloves garlic, minced
1/2 yellow onion, diced
3 tomatoes, diced
3 tablespoons tomato paste
1/4 cup white wine
a handful of freshly chopped herbs, such as basil and italian parsley
breadcrumbs, lightly toasted
parmesan cheese

Directions
Bring a large pot of salted water to a boil. Add spaghetti and cook until al-dente.

While pasta is cooking, preheat a few tablespoons of olive oil in a large skillet. Add onion and garlic and cook for 2-3 minutes or until fragrant. Add tomato paste and stir to combine. Add white wine and diced tomatoes, and simmer for 5-6 minutes or until tomatoes begin to break down. Stir in chopped herbs and cook for an additional 1-2 minutes. Season with salt and pepper, to taste.

Drain pasta, reserving some of the pasta water. Add pasta to sauce pan and stir until well coated, adding a bit of reserved pasta water if necessary.

Plate and top with a few tablespoons of toasted breadcrumbs, a sprinkle of parmesan, and a drizzle of olive oil.