While everyone else goes out and party-hardies on Saturday night, we stay home, rent some movies, and cook something special. I mean, we could go out for a nice seafood dinner, drop $40 for the two of us, or buy a nice $8 bag of frozen shrimp and a mango and make our own… and probably be more satisfied with the outcome too. Well, that's exactly what we did. And might I say the results were simply splendid?
(And look ma! New plates! While the lime green and blue ones are lovely, food just looks fancier when it's on a nice clean white plate.)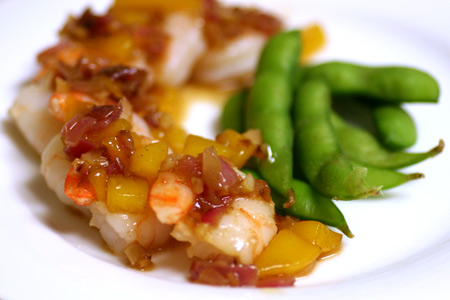 Mango Spiced Shrimp

You wouldn't believe the flavor in this dish. The combination of spices in the sauce is truly delicious, and would be fantastic over chicken or tofu even. And did I mention it's quick? Serve over jasmine rice or with edamame.
Makes 4 servings.
Ingredients
4 tsp canola oil
1/2 cup chopped red onion
2 cloves garlic, minced
1 tbsp fresh ginger, peeled and minced
3/4 tsp salt
1/4 tsp allspice
1/4 tsp ground cumin
1/8 tsp cinnamon
1 mango, cut into 1/2-inch pieces
1/3 cup cider vinegar
2 tbsp fresh lime juice
1 tbsp brown sugar
1 lb large shrimp, peeled, tails on
1/4 tsp red pepper flakes
1/4 tsp garlic powder

Directions
Heat 2 tsp oil in a 3-quart saucepan over medium-high heat. Cook onion, garlic, ginger, 1/4 tsp salt, allspice, cumin and cinnamon about 3 minutes. Add mango, vinegar, lime juice and sugar and gently boil, stirring occasionally, until sauce is thick; refrigerate in a bowl.

Toss shrimp with red pepper, garlic powder and remaining 1/2 tsp salt. Heat remaining 2 tsp oil in a large nonstick skillet over medium-high heat. Cook shrimp until no longer translucent, about 2 minutes on each side. Let cool; serve with sauce.