Extreme Green Dinner: part 2. Quick tip: buy pre-packaged or frozen gnocchi. You'll save a TON of time, as gnocchi are really hard to make and even harder to make well. We get ours at Trader Joe's. Mmmm!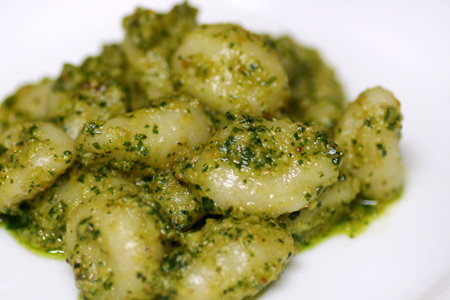 Gnocchi with Spring Herb Pesto
Recipe from Emeril. We didn't put arugula in the pesto, I'm not a big fan of it. But, it might have actually been pretty good! This recipe makes ALOT of pesto – I did about half this recipe and no arugula and there was plenty of sauce. Unless of course, you like a lot of sauce… then go for it!
Makes 4-6 servings.
Ingredients
4 cups baby arugula
4 cups basil leaves
1 cup pine nuts, toasted
1/2 cup grated Parmesan, plus more for garnish
1 tablespoon chopped garlic
1 cup extra-virgin olive oil, plus 1/4 cup
Salt and pepper
1 pound fresh gnocchi

Directions
In the bowl of a food processor, combine arugula, basil, pine nuts, Parmesan, and garlic. With the motor running, add 1 cup olive oil in a slow stream until emulsified. Season with salt and pepper, to taste.

In a large pot of boiling salted water, add gnocchi. Cook until they rise to the surface, just a few minutes for fresh pasta. Drain well, reserving 1/4 cup of the pasta water.

In a large pan or bowl, combine pesto with remaining 1/4 cup olive oil and reserved pasta water. Pesto should become a sauce-like consistency. Add gnocchi and toss to combine. Serve, garnished with extra cheese.