The city of Verona, despite being one of the most architecturally and historically significant cities in Northern Italy, seems to fly under the radar, with larger cities like Rome, Venice and Florence among the more popular stops for tourists. And that is a shame, because Verona is truly delightful, with its pedestrian-friendly streets, colorful houses, and balconies overflowing with foliage.
We had the opportunity to spend a few days in this lovely city, nestled along the Adige river in Northern Italy, last summer as part of our partnership with Giovanni Rana, whose factory headquarters lie just outside the city. We spent 4 days there, utterly charmed by the time we hopped on the bus to go to Venice (Verona is conveniently located between Milan and Venice, an easy 90 minute bus or train ride from either, making it particularly easy to get to from either city).
Of course, the main attraction in Verona is the Capulet house and Juliet's iconic balcony featured in Shakespeare's most famous work. This was the one area of the city that was packed with people, but otherwise the city itself was quite peaceful.
The historical area of Verona is very walkable, its small size makes it particularly pedestrian friendly, most of the historic center being entirely free of cars. There are shiny new streets (if you like high end shopping) and cobbled old streets (full of history everywhere you look), bustling piazzas and quiet strolls along the riverfront. Yes, you've got your cheesy souvenir shops filled with all manner of Juliet-themed merchandise, but there are also charming independent shops and restaurants and markets that you can tell locals frequent on a regular basis.
It's that kind of city: one that looks like a movie set but feels comfortable and lived in.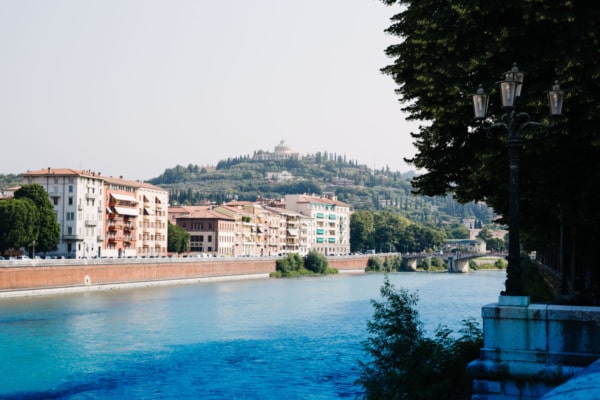 We spent most of our free time just wandering. Through the historic center but also meandering along the riverfront, matching the slow, serene pace of the water, taking in the stunning views of the hills surrounding the city and the soft blue green of the river.
The smaller size of the city makes for extremely pleasant wanderings, and after a day or two there I really felt like I knew my way around, although looking back now at a map I realize my perceptions were probably distorted. Still, I enjoy having enough time in a city that you start to feel like an insider, really getting to know a place rather than rushing through the "big ticket items" in a race to get to the next spot.
As is the case for many of our travels, what might seem like aimless wandering is actually our stomachs leading the way, sights and history only passing the time between snacks. Verona was ripe with culinary delights, focused more on rice than pasta, which widely cultivated in the area. But Verona is also known for its Amarone wine, a robust and potent sweet wine often served with dessert. Don't let the sweetness fool you though, this stuff is intense (and rather high in alcohol too… you've been warned).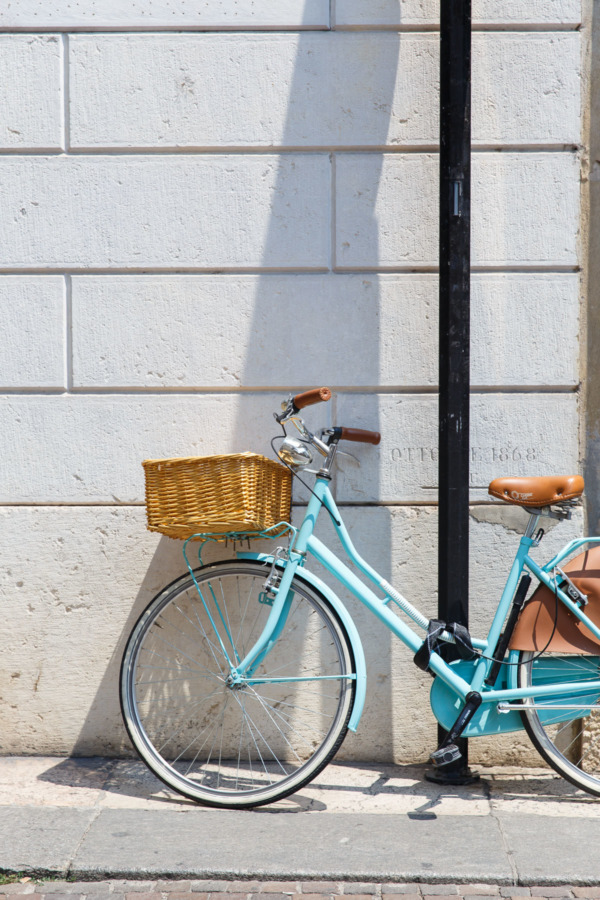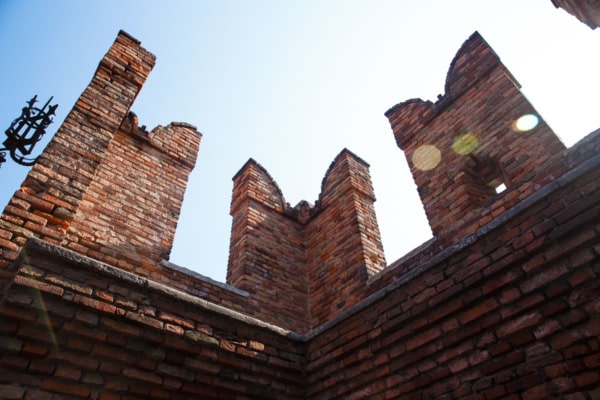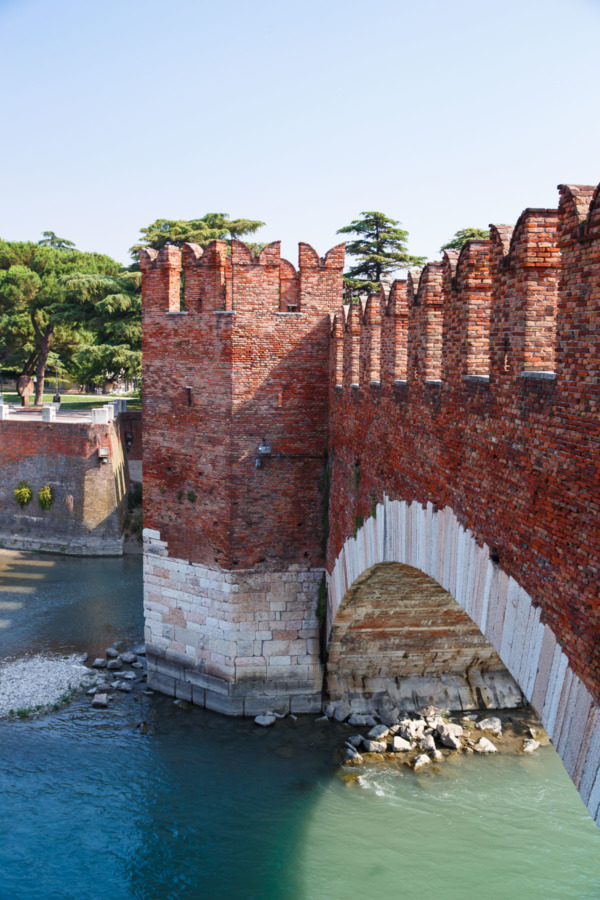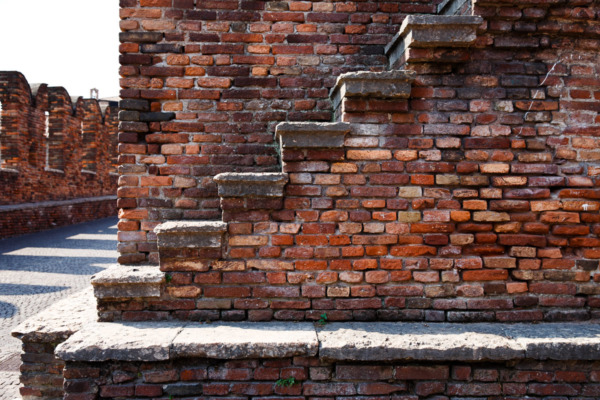 Opera Season in Verona
The Arena di Verona is one of the cities biggest draws, a 1st century Roman amphitheater that still hosts live concerts, large-scale operas, and other events seating upwards of 15,000 people (although compared to the 30,000 it originally held back when it was built, that seems like nothing). You can literally see the layers of history on the outside of the Arena, parts of the original outer façade still standing today. When it was first built, it could hold around 30,000 people; today it's more like 15,000, for safety reasons and to accommodate a full production stage.
We were lucky enough to have the opportunity to attend one of these operas (Aida, to be exact), performed in the open air in the center of this ancient amphitheater, it was an experience I'll never forget. I mean, talk about the ultimate venue in which to experience your first opera. I'm not sure I'll ever see another that tops it.
If you happen to be in Verona during opera season, or if there are any events scheduled at the Arena, I highly recommend adding an event there to your itinerary for the experience alone. You can also go into the arena during the day for a small fee (be sure to check the calendar as hours can vary depending on event/festival schedules).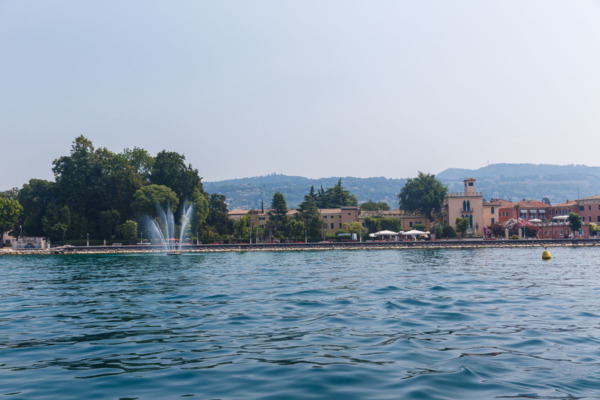 Day trip to Lake Garda
Lake Garda is the largest lake in Italy, not the more well-known Lake Como like some might think. Bardolino is a charming lakeside town an easy 40 minute drive from Verona, making it a perfect day trip, especially on a hot summer day.
Whether you charter a boat and go out on the water, relax and sunbathe on the shore, or just wander and explore the charming lakeside towns, it's a fabulous destination and worth the trip for the view alone.
Below are some of our favorite eats and sights in Verona from our short time there. Hopefully it is helpful to you in planning your own travels!
Food & Gelato Recommendations
La Stagione Del Gelato – One of our first gelato stops upon arriving, and certainly one of the best. My favorite flavor was the Craccantino, with cherries, hazelnuts, and amaretti cookies. (Google is giving me conflicting info, saying this place is permanently closed, which is a bummer for sure.)
Zeno Gelato and Chocolate – Right off the piazza in front of the Basilica, this small little shop is widely considered the best gelato in Verona.
Dolce Locanda – Pastries, confections and coffee from a 2-star Michelin chef in the heart of downtown Verona.
Pasticceria Flego – Ok, so the Pantone chart of macarons totally sold me. Maybe not the best macarons I've ever had (they were a tad dry) but the flavors were unique and fun and the macarons were downright gorgeous.
Come Una Volta – Organic, homemade gelato. This adorable little shop is right downtown, on a quiet street just blocks away from the bustling tourist areas.
Pizzeria du de Cope – A charming little pizzeria in the heart of the city. Reasonably priced and frequented by locals, this is a great option for a casual lunch or dinner.
Antica Bottega del Vino – A 16th century bottega that is widely considered the temple for wine experts. And if you happen to sneak a peak at their wine cellar, which houses 18,000 bottles of wine, including a 50,000 euro bottle of cognac.
Gastronomia Stella – Specializing in Italian gastronomic specialties, including cheeses, meats, wine and Italian-produced items. This would be a great spot if you're looking for some delicious Italian-made souvenirs, though you can also pick up some prepared foods for a quick and satisfying meal on the go.


Accommodations
Palazzo Victoria – This hotel was stunning and unique, contemporary and historic at the same time, with modern furnishings and even a display of ancient Roman ruins visible underneath the hotel itself. I very much enjoyed the lunch we had at the hotel restaurant, dining alfresco in the gorgeous 14th century courtyard, as well as the impressive breakfast spread every morning.
Sights & Activities
Arena di Verona – One of Verona's most impressive monuments, this first century Roman amphitheater still hosts live performances and large-scale operas today. If you happen to be in town when there's a show, I highly recommend going regardless of what is playing. The arena alone is worth seeing.
Basilica di San Zeno – Legend has it that the basilica's crypt was where Romeo and Juliet were actually married. It's about a 25 minute walk from downtown Verona, or an easy car or bus ride. Grab a gelato while you're there and enjoy the beautiful architecture.
Libreria Antiquaria Perini – I could have spent all day in this shop, browsing the stacks of rare books, antique prints and maps. We picked up a few tiny etchings of Verona to bring home with us, along with a vintage children's storybook cover as a gift for our nephew.
Piazza Erbe – Once an important gathering place for political and economic life during ancient times, this impressive square with its imposing tower and majestic fountain is the site of some of Verona's oldest buildings. The square itself often hosts craft and flea markets, so it's usually bustling any time of day.
Castelveccio – Originally built in the middle ages so the ruling family of Verona could easily escape North to Germany. Strolling across the bridge is free (and highly recommended for the unique views of the city and the Adige river) but there's also a reasonably priced museum filled with paintings, sculptures, weapons and more of the Medieval period from 1300 to 1700.
Casa di Giulietta – If you're in Verona, you might as well see this. It's free to enter the courtyard, just push your way through the crowds and catch a glimpse at the iconic balcony. Or you can pay a small entrance fee to tour the house and even stand on the balcony. The tunnel leading up to the courtyard is the most interesting part, in my opinion, covered with love notes written by visitors.
Lake Garda – If you're in Verona for more than a few days, a trip to Lake Garda (Italy's largest lake) is a perfect way to spend a free day.
Disclosure: Giovanni Rana® hosted us in Italy as part of their #DineWithRana campaign. As always, all opinions written are purely our own.