Turmeric is definitely one of those 'it' ingredients at the moment, though it's long been touted for its anti-inflammatory properties and other health benefits. It's what gives golden milk it's sunshine-yellow color (and name, obvs).
What is golden milk, you ask? It's basically warm milk (usually nut milk of some kind) steeped with turmeric and spices. It's definitely having its 15 minutes of fame, and, I'll be honest, sort of tastes like drinking a curry latte. Not that that's necessarily a bad thing… it's just… different.
Anyway, this is the smoothie version of golden milk, chilled and blended with bananas and ice for a thick, almost milkshake-like consistency. I go pretty light on the turmeric overall (because of that whole curry latte thing) and have found fresh turmeric to be a milder, more pleasant flavor overall.
Fresh turmeric looks a bit like ginger that spent too much time in the tanning booth. Flavorwise, it has some similar spicy, grassy notes as ginger, with undertones of Indian curry like you'd expect from dried stuff. But it's a much brighter flavor overall. Whole Foods carries it pretty consistently, but you can also use additional dried turmeric (1/2 to 1 teaspoon to taste) instead.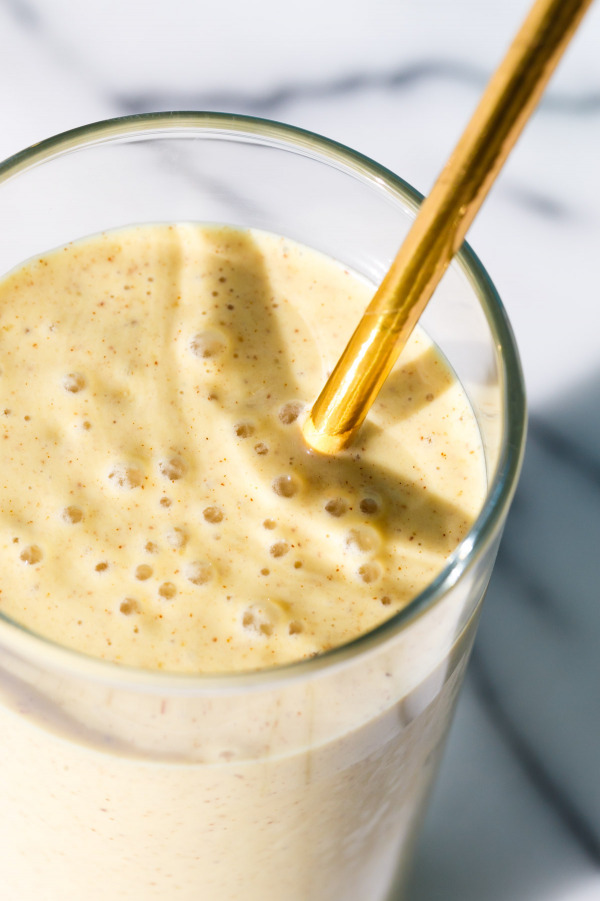 If you've whipped up a batch of homemade Golden Cashew Milk, that's a great place to start. You can follow this smoothie recipe as instructed but use less turmeric and cinnamon (to taste) since your milk already has some in it.
You can also leave out the turmeric entirely (I know it's a distinctive flavor that's not for everyone), and you'd end up with what is probably our favorite smoothie 'base' recipe, with bananas, almond butter, and nut milk comprising the bulk of the smoothie. Add whatever spices you like best, add oats or chia seeds, or heck, even a spoonful of cocoa powder would make a unique variation. Add a little protein powder and you have yourself a meal.
Golden Milk Smoothies
Enjoy the healthful properties of fresh turmeric in this satisfying smoothie recipe. Add protein powder (I like whey or collagen) to make it even more filling.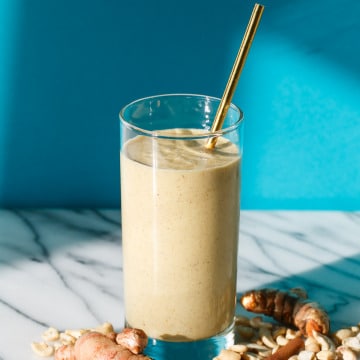 Ingredients:
2 ripe bananas
1 1/2 cups almond or cashew milk
1/4 cup almond butter
1″ piece fresh turmeric
3 dates, pitted and chopped
1 tablespoon honey
1/4 teaspoon ground cinnamon (or to taste)
1/4 teaspoon ground turmeric (or to taste)
protein powder, if desired
1 cup ice
Directions:
Combine all ingredients in a blender and process on high speed until smooth. If necessary, blend in more ice as needed to achieve desired consistency.
Pour into glasses and serve.
Did you make this recipe?
Let us know what you think!
Leave a Comment below or share a photo and tag me on Instagram with the hashtag #loveandoliveoil.