I'm on a mission to horchata all-the-things. I've done horchata ice cream and boba, and now, I guess, French toast.
The second I heard about a local joint here in Nashville that serves a horchata French toast, my brain started salivating. I immediately made brunch reservations, on the pretense of getting together with some friends (sorry friends, I was just using you for French toast).
Over the course of the next few weeks I built this thing up in my mind as something beyond amazing… unfortunately, when I finally took a bite, it was a little anti-climactic. Good French toast, I'll give them that, but it was missing the pronounced horchata flavor I was so looking forward to. In fact, if you hadn't told me there was horchata in there, I wouldn't have known.
Not satisfied and yet still not able to shake the idea, I set out to make my own version.
While homemade horchata would be ideal (if you have the time/foresight to make it ahead of time, of course), I found two pre-made horchata products to test for this recipe. One was a rice/almond/tiger nut blend from Califa Farms, sweetened and spiced with cinnamon. The other was a pure tiger nut milk (legit horchata like they serve in spain) that I was surprised and psyched to actually find. Both worked equally well and you can certainly use whatever brand you can find where you are. Or, heck, march on down to your local Mexican restaurant and order a cup of horchata to go.
The flavor of the tiger nut milk came through more in the end product, as it is a much more unique flavor to begin with, whereas the blended horchata was much more subtle (and if it weren't for the cinnamon, it'd probably taste like plain French toast). I added cinnamon in both cases, moreso for the tiger nut version as it didn't have any cinnamon in it to begin with. Based on whatever horchata you use and the level of cinnamony-ness you're going for, just adjust the recipe accordingly.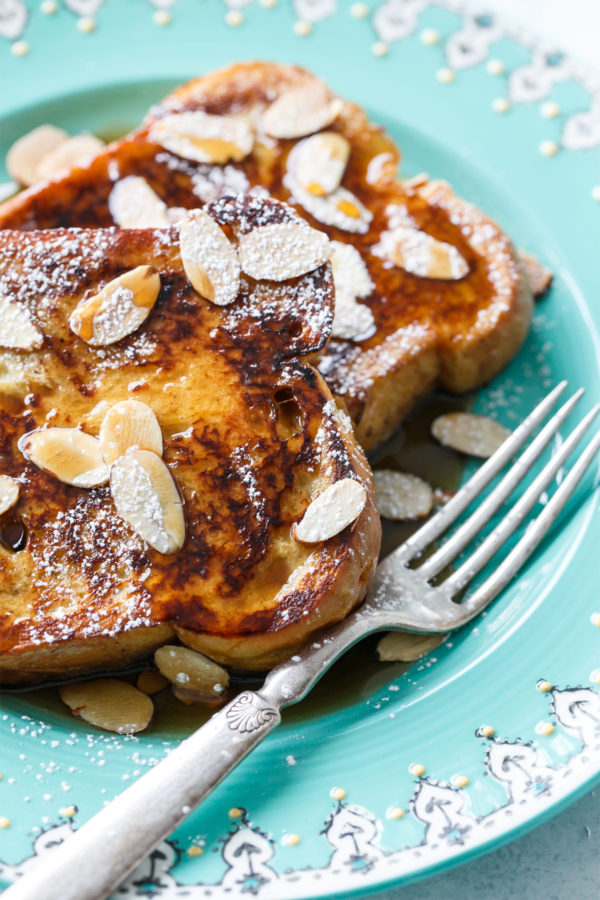 While I think this Cinnamon Cream Syrup would be amazing here, I didn't want to overpower the horchata flavor. So instead, I went with plain maple syrup, lightly toasted sliced almonds, and a dusting of cinnamon-spiked powdered sugar.
Breakfast of champions.
I can't talk about French toast without talking about the bread: because, let's face it, bread is 75% of the final equation. Good bread begets good French toast.
If you have a Trader Joe's near you, they recently came out with a Sliced French Brioche that is PERFECT (and I mean PERFECT) for French toast. Pre-sliced, perfectly buttery and dense, it was literally made for French toast.
If you don't have a Trader Joe's, try to find a good loaf of brioche or challah bread. Either is going to have a denser texture, with a higher fat-content thanks to lots of butter and eggs. Trust me, your French toast will benefit from the extra effort to find the right bread.
If you absolutely can't find anything remotely brioche-like, then go for French bread. Something not too light in texture, without a super-thick chewy crust. This won't produce quite as good of a French toast as brioche will, but it'll do in a pinch.
Horchata French Toast
Rich and delicious brioche French toast made with cinnamon-scented horchata for a unique twist.
Ingredients:
8 1-inch-thick slices brioche bread
1/2 cup sliced almonds
4 large eggs
1 cup horchata*
2 tablespoons sugar, plus more for sprinkling
1/2 teaspoon cinnamon (or to taste, more if using a horchata without any added cinnamon)
1/2 teaspoon vanilla extract
pinch salt
2 tablespoons butter, for cooking
1/4 cup confectioners' sugar
1/2 teaspoon cinnamon
maple syrup
Directions:
Preheat oven to 350 degrees F. Arrange bread slices on a foil-lined baking sheet in a single layer. Bake for 5 minutes or until bread is slightly dried out and toasted,  but not yet starting to brown.
Spread almonds in a single layer on a baking sheet. Bake for 2 to 3 minutes or until fragrant and just starting to darken (be careful as these suckers will be fine one second and burnt the next.) Set aside.
To prepare batter, whisk together eggs, horchata, sugar, cinnamon, vanilla, and salt. Pour into a shallow baking dish (a small-ish casserole dish is usually perfect for this).
Preheat a large non-stick skillet over medium-high heat.
Dip bread slices into batter, working one batch at a time (so if your pan can fit 2 slices, only dip 2 slices at once). Let soak for 10 to 15 seconds then flip and soak other side for another 10 to 15 seconds.
Add 1/2 tablespoon butter to skillet, it should sizzle upon hitting the pan (if it doesn't, the pan isn't hot enough).
Gently lift bread slices out of batter, letting excess drip off. Place into hot skillet. Cook for 2 to 3 minutes per side or until golden brown, then flip and cook for 2 to 3 minutes more. Transfer to a foil-lined baking sheet lightly sprayed with cooking spray. Repeat with remaining slices.
Once all slices are cooked, transfer baking pan to oven (still set to 350 degrees F) and cook for 5 to 10 minutes or until heated through.
In a small bowl, whisk powdered sugar with 1/4 teaspoon cinnamon.
Transfer slices to serving plates. Dust with cinnamon sugar, sprinkle with toasted almonds, and drizzle with maple syrup.
* I used store-bought horchata that I found at Whole Foods (Califa Farms brand). I also found some Tiger Nut milk, which is the base for traditional horchata in Spain. If you use the later (which has no cinnamon added), increase the cinnamon in the recipe to 1 teaspoon. You can also use homemade horchata, which would be simply divine (just remember to start making it the day before).
Did you make this recipe?
Let us know what you think!
Leave a Comment below or share a photo and tag me on Instagram with the hashtag #loveandoliveoil.