Nashville is a boba desert.
Unlike San Francisco, where boba joints dot the landscape like chicken pox.
Don't get me wrong, I love Nashville and all, but it would serve us well to take a cue from the city by the bay and embrace this delicious drink with the funny name.
I recently stumbled upon an article about boba places in San Francisco, which I promptly sent to my sister to file away for our next visit there. But something on that list caught my eye: a place called Boba Guys offered a horchata boba.
Um, WHAT?!
Since it'll be a while before I make it back to San Francisco to indulge in this brilliant concoction, and I am not quite so patient, I set about making my own version for instant gratification.
I've made homemade horchata before, and a few different versions of bubble tea, so combining the two was a breeze (and I'm mad at myself for not thinking of it sooner).
It's a boba revelation.
Taylor thinks it tastes like liquid cinnamon toast crunch, and he's not far off. The almond and rice base is light and creamy, with a hint of legit Mexican cinnamon (the differences between the true Mexican, or Ceylon cinnamon, and the more commonly available Cassia cinnamon are night and day). It's worth seeking out the thin, papery rolls of celyon cinnamon in the Mexican foods aisle of your favorite grocery store or at a Mexican/international food store if you have one. The sophisticated spice is not nearly as overpowering as the cassia variety and will result in a more authentic tasting horchata.
Normally, I add sugar when blending the horchata; while it doesn't need much, it does need a little sweetness for the flavors to truly shine. However, in this case, since the boba is already soaking in a raw sugar syrup, that's all the sweetness you need. When you spoon the onyx black pearls into your glass, add a few spoonfuls of the plain syrup to reach your desired sweetness.
My only qualm with boba recipes is I wish the pearls could be made ahead of time (unless anyone out there has any secrets you're not sharing with me). Unfortunately after a few hours time, even if they remain soaking in the sugar syrup, the pearls start to revert to their previously hard state; not ideal when you're expecting a smooth and jelly-like pearl throughout. While the horchata portion can be made a day or two ahead of time and refrigerated (it will separate, simply shake or stir before serving), but to ensure an ideal texture, start cooking the boba 30 minutes before you plan to serve your drinks. That's the perfect amount of time for the boba to simmer and soak in the sugar syrup, but not so long that it will start getting hard again.
Horchata Boba
Homemade horchata with a hint of cinnamon and sweet tapioca pearls make for a delicious mashup of East meets West.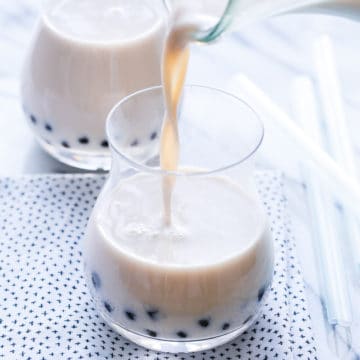 Ingredients:
For Horchata:
1 cup (5 ounces) raw almonds
1/2 cup long-grain white rice (such as basmati)
1 3-inch stick Ceylon cinnamon (also called Mexican cinnamon or canella)
For Boba:
1 cup boba pearls
1 cup raw or turbinado sugar
Directions:
Spread almonds in a single layer on a baking sheet; toast in a 350 degree F oven for 5 to 10 minutes or until fragrant and just barely darkened in color. Let cool. (Alternatively, if you prefer a smoother horchata, you can first blanch the almonds in boiling water for 30 seconds, then peel. Pat dry and then toast as instructed until lightly golden. However, I found this step to be unnecessary as most of the skin is strained out in step 4 anyway.)
In a spice grinder or a clean coffee grinder, pulverize rice and cinnamon stick until finely ground. Add ground rice to a large mason jar or bowl. Add almonds and cover with 2 cups filtered water. Cover and refrigerate 10-12 hours or overnight.
The next day, pour the contents of the jar into the canister of a blender along with 2 additional cups of filtered water. Blend on the highest speed for 1 to 2 minutes or until completely smooth.
Pour mixture through a fine mesh sieve lined with two layers of cheesecloth, or, a nut milk bag if you have one. Let most of the liquid drain through, then gather up the edges and squeeze the remaining pulp to force out as much liquid as you can. To increase yield, place leftover pulp back in the blender along with 1 more cup of filtered water; blend on high speed for 1 to minutes, then strain through nut milk bag again. Refrigerate until ready to serve (slight separation is normal, just stir or shake well prior to serving).
Bring 5 cups of water to a boil in a medium saucepan. Add boba pearls and boil for 5 minutes, then remove from heat and let sit for 10 minutes more.
While boba is cooking, combine 1/2 cup water and sugar in a small saucepan. Boil for 1 to 2 minutes or until sugar is completely dissolved. Remove from heat and transfer to a heat-proof bowl. Strain boba with a slotted spoon and place into sugar syrup. Let sit for 15 minutes.
To serve, divide boba among serving glasses along with a few spoonfuls of sugar syrup. Add horchata and stir to combine; add additional sugar syrup to taste.
Did you make this recipe?
Let us know what you think!
Leave a Comment below or share a photo and tag me on Instagram with the hashtag #loveandoliveoil.