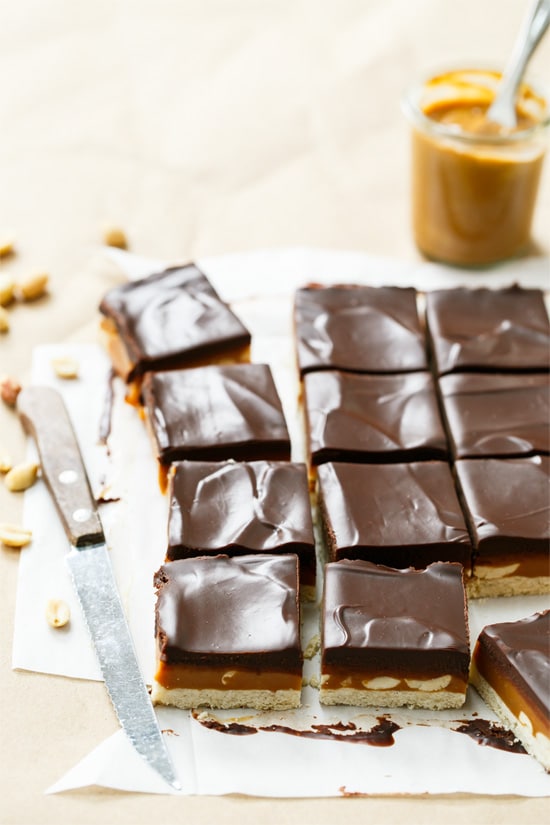 The only thing in this world better than chocolate and peanut butter… is chocolate, caramel and peanut butter.
And that's exactly what you get when you take a classic millionaire shortbread recipe and add a heaping scoop of peanut butter.
You'd think peanut butter caramel would be more of a thing, because the two go together so well. But when you add to that a layer of buttery, melt-in-your-mouth shortbread and top it all with a double thick layer of chocolate ganache? You get one one extremely happy girl.
It's pointless to reinvent the wheel, so I adapted the billionaire bar recipe we'd developed for the Cookie Dough Lover's Cookbook (billionaire because with the extra layer of cookie dough, they are so much richer than regular millionaire bars).
This version, in comparison, has a thicker caramel layer with added peanut butter, some salted peanuts for crunch, and a double layer of soft chocolate ganache layer in place of the chocolate glaze.
I wanted to try to make a caramel similar to the million other millionaire shortbread recipes out there: a sweetened condensed milk-based caramel (also known as dulce-de-leche), which most people seem to consider easier to make than traditional caramel.
Apparently I am not most people.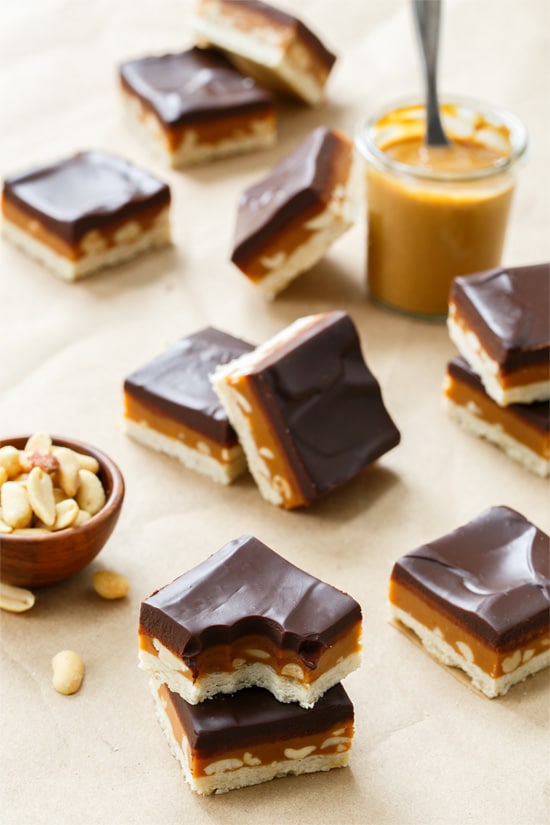 Here's the thing. I have no issues making legit caramel, and yet can't seem to make the shortcut kind to save my life.
I made 4 batches (FOUR!) of gross, grainy, separated caramel before I finally gave up. I'd rather make (and probably should have made) a real caramel, hot liquid sugar and all, than make another batch of that freaking stuff. No matter what I tried (stovetop/microwave, various heat levels, more/less butter, stirring like my life depended on it) it always seems to separate into a less-than-appetizing mess. And if I can't get it to work, well, no way I'm going to assume you will.
Once I had finally run out of sweetened condensed milk (and patience), I turned to plan C: the cheater's cheater caramel, and you'll be happy to hear it's even easier than the supposedly easy version, with pretty much zero chance of failure (I'm not saying definitively zero because I have no idea what kinds of shenanigans go on in your kitchen).
But basically, all you have to do is melt down some caramel bits, thin them out a bit, and pour it onto your shortbread. Soft caramel candies will also work, though it's a pain unwrapping them which is why I love the baking bits, despite their oddly bean-like appearance. Taylor seriously thought I was baking with garbanzo beans (ew) until I made him taste one to prove they were indeed caramel.
The ratio of caramel to peanut butter is important here, as, peanut butter being a very strong flavor, would easily overwhelm the caramel in no time. Three tablespoons is all it takes to give these bars just the right balance of peanut butter and caramel, so both flavors shine in perfect unison.
Peanut Butter Millionaire Shortbread Bars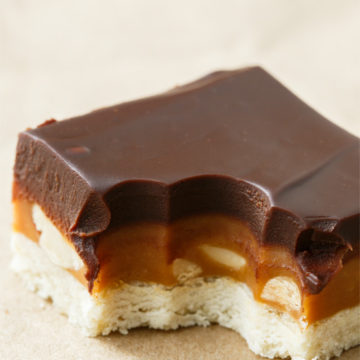 Ingredients:
For Shortbread:
1/3 cup unsalted butter, room temperature
1/3 cup granulated sugar
1/2 teaspoon vanilla
1 cup all-purpose flour
1/4 teaspoon salt
1 tablespoon whole milk
For Peanut Butter Caramel:
7 oz. caramel bits or soft caramel candies, unwrapped
2 tablespoons whole milk
2 tablespoons sweetened condensed milk
3 tablespoons creamy salted peanut butter
1/2 cup coarsely chopped peanuts
For Chocolate Ganache:
5 ounces dark or bittersweet chocolate, finely chopped
1/2 cup heavy cream
1 tablespoon corn syrup
Directions:
Preheat oven to 350 degrees F. Line an 8-by-8-inch square baking pan with parchment paper, leaving a 1-inch overhang on two sides.
In a mixing bowl, beat together butter and sugar until light and fluffy, 2 to 3 minutes. Add vanilla and salt and mix until combined. Mix until flour until incorporated; mixture will appear slightly crumbly. Add milk and mix until dough comes together. Press into prepared pan in a thin even layer, then prick all over the surface with a fork or a skewer. Bake for 18 to 22 minutes or until edges are lightly golden. Remove from oven and set on a wire rack to cool.
Meanwhile, unwrap caramel candies and place in a small saucepan set over medium heat. Add milk and sweetened condensed milk and stir until completely melted. Remove from heat and stir in peanut butter until smooth.
Sprinkle chopped peanuts over cooled shortbread, then pour hot caramel mixture over top, spreading to the edges and corners if necessary. Refrigerate until set, at least 30 minutes.
Place chopped chocolate in a bowl. Heat cream and corn syrup together in a small saucepan set over low heat until it just begins to bubble. Pour over chopped chocolate; let sit for 30 seconds and then gently whisk until smooth. Pour over caramel layer, spreading into a smooth layer with an offset spatula.
Chill until set, at least 30 minutes.
Using parchment paper, carefully lift the entire bar out of the baking pan. Cut into 2-inch squares. Squares will keep, refrigerated in an airtight container or or wrapped in aluminum foil, for up to 3 days.
Did you make this recipe?
Let us know what you think!
Leave a Comment below or share a photo and tag me on Instagram with the hashtag #loveandoliveoil.