The 4th Annual Great Food Blogger cookie Swap saw 566 participants ship over 20,000 cookies around the world, all while managing to raise a whopping $12,335 for Cookies For Kids' Cancer. Of course we couldn't have reached that impressive total without the help of our four generous brand partners: OXO, Dixie Crystals, Brownie Brittle, and California Olive Ranch, who each matched the donations we raised dollar for dollar.
I can't say it enough how much this event means to me; that a seed of an idea could have grown to such a scale, with bloggers from around the world sharing cookies with one another, all for a good cause. It makes my heart flutter. So truly, thank you to everyone who participated and made this years' event the best yet!
I originally planned to send something else to my swap matches; but severe procrastination and a lack of proper planning on my part (WHY everything isn't available on Amazon Prime I have no idea) led to a frenzied plan B. It worked out in the end, but let this be a lesson to all of you (and to my future self): check that you have all the ingredients a good week before you plan on baking. Don't assume anything.
Granted, these were probably the most fragile cookies I could possibly choose to make the cross country trek, short of maybe macarons. But with plenty of padding and proper packaging they made it safely to their destinations (in Minnesota, New York, and Michigan, respectively) in near-perfect condition.
Also known as Florentines, these crisp and caramelized cookies have a hint of almond and orange zest. Despite their fragility, they were actually perfect cookies for shipping. Unlike most cookies which dry out and get harder as they age, these do the opposite: they are delightfully crunchy the day they are made, and then slowly soften into a chewy texture that's different but equally as good.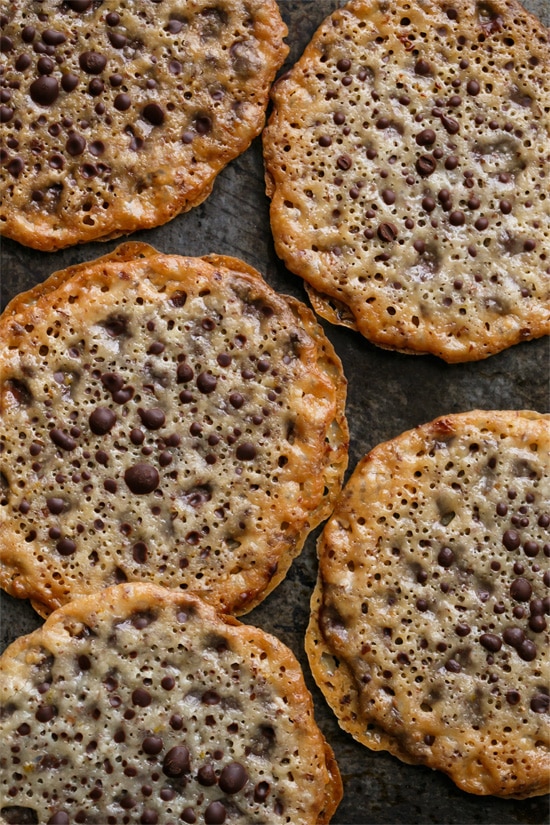 The delicate lace cookies are sandwiched with a thin layer of bittersweet chocolate; the melted chocolate bubbling through the lacy eyelets, an effect that's both alien and beautiful at the same time.
The batter is quite different from normal cookie batters, coming together more like a pâte à choux than a cookie dough. When you first mix the sugar and flour in with the melted butter, the batter will appear separated, with a clear, oil slick layer on top. Keep stirring until the batter homogenizes into a smooth, opaque paste before adding the almond flour, extract, and orange zest.

Once removed from heat, the batter it will cool into a smooth, silly putty-like paste. You should be able to scoop the dough into balls that relax into soft domes; if the batter spreads too flat, let the dough cool a few minutes more.
Be sure to keep a close eye on these cookies while they are baking, as they'll go from pale blond to golden brown to overcooked in a matter of 30 seconds. Baking time will also depend greatly on your baking sheet and baking surface; I used a thick, heavy baking sheet with a silpat. If you use parchment paper and/or thinner, darker baking sheets, your baking time will likely be much less. Watch the first batch closely to know exactly how long they need to bake in your specific circumstances.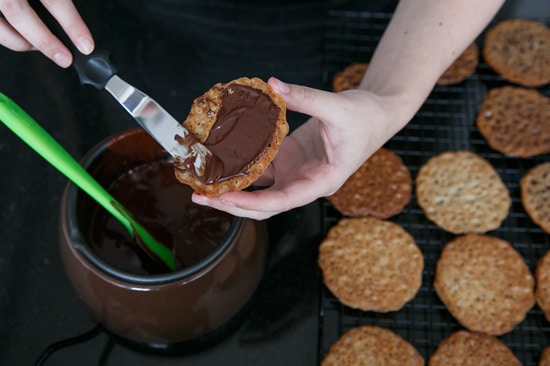 Once cooled, melt a few ounces of high-quality dark chocolate (I used some of the amazing 68% French Broad Chocolate I brought home from Asheville). Since the chocolate is really 75% of flavor of the final product, I highly recommend splurging on the good stuff; a thin layer goes a long way and you want to be sure the taste reflects that.
These are a dead ringer for Trader Joe's Chocolate Almond Lacey cookies, if you've ever tried those you'll know just how amazing they are. I know my mom is the one who first turned me on to them; she stores them in her freezer and savors them as long as they'll last (how she makes them last longer than a day, though, I have no idea). But this homemade version, with bittersweet chocolate, fragrant almond, and just a hint of orange zest, is near identical in flavor, taste, and texture.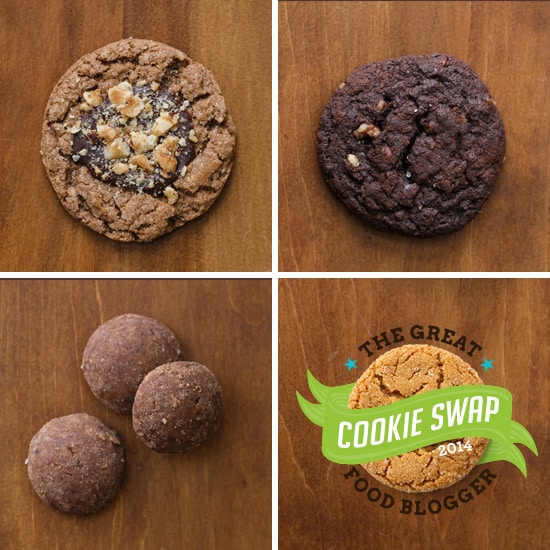 The cookies I received this year were nothing short of incredible. From top left: Nutella Hazelnut Blossoms from Simmer and Shoot, Chocolate Caramel Pecan Turtle Cookies from Sifting Focus, and Cocoa Brown Butter Cookies from The Sassy Life.
Finally, if you are a food blogger interested in participating in next year's swap, be sure to sign up for our notifications list. We will send an email blast to this list when sign ups open next October. And after seeing the amazing things that have come out of this year's swap, who knows what's in store for next year!
Almond Lace Sandwich Cookies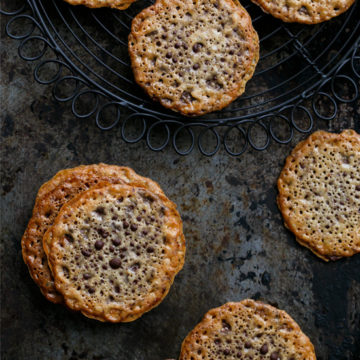 Ingredients:
1/2 cup unsalted butter
1/2 cup granulated sugar
1 tablespoon all purpose flour
1/4 teaspoon kosher salt
3/4 cup ground blanched almonds or almond meal
2 tablespoons whole milk
1 teaspoon almond extract
1 teaspoon finely grated orange zest
4 ounces semisweet chocolate, melted
Directions:
Preheat oven to 350*F. Line baking sheets with silicone mats.
Melt butter in skillet over medium heat. Add sugar, flour, and salt and whisk until sugar is dissolved and butter no longer appears separated, about 3 minutes. Whisk in almonds and milk and stir until smooth and slightly thickened. Remove from heat and stir in orange zest and almond extract. Let cool 5 to 10 minutes.
Drop batter by scant teaspoonfuls onto prepared baking sheets, leaving 3 inches of space between cookies. Bake for 5 to 7 minutes, until light golden brown around the edges, rotating the baking sheets half-way through baking. Let cool 3 minutes until no longer flexible, then carefully transfer to a wire cooling rack with a thin spatula. Repeat with remaining batter.
Using an offset spatula, spread melted chocolate on bottom of half the cookies, then top with remaining cookies to form sandwiches. Let sit or refrigerate until chocolate is set.
Did you make this recipe?
Let us know what you think!
Leave a Comment below or share a photo and tag me on Instagram with the hashtag #loveandoliveoil.