I bought these cherries with the intention of making a Cherry Garcia inspired milkshake, with chunks of fresh sweet cherries and flecks of chocolate chips.
But Taylor was eying my cherries, determined to get in on the #MilkshakeWeek action, and even joked that he was going to hack the blog and post his own milkshake recipe on Saturday.
When I heard his idea, though, I was sold, and decided that his contribution to Milkshake Week should be part of the official roster.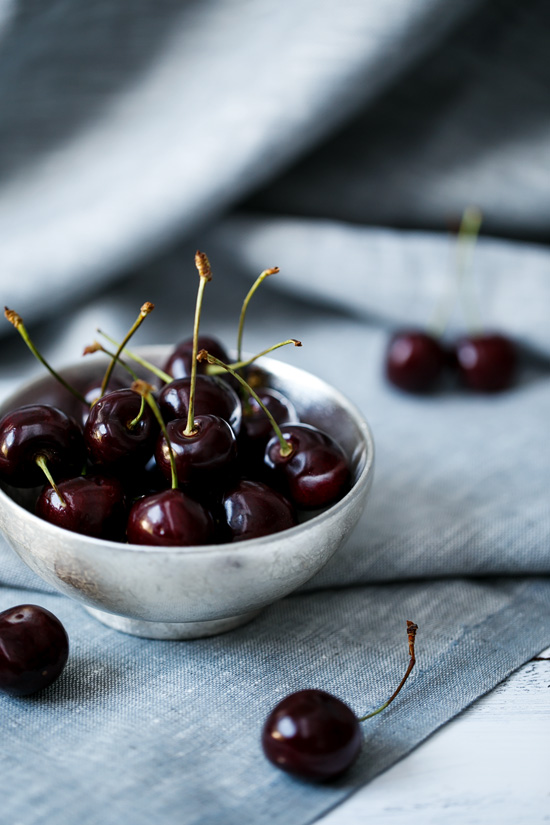 Inspired by his favorite sorbet at Jeni's, these Cherry Lambic milkshakes are so much more than just cherry. The lambic imparts a unique flavor and depth to these milkshakes that you can't quite put a finger on unless you know what's gone into them. It's cherry, but so much more. And that's due entirely to the lambic.
Even if you are not a beer lover (which I am most definitely not), you will find this milkshake appealing. A lambic is a belgian-style sour beer, fermented with wild yeast, aged in Sherry barrels, and blended to produce a dry, cidery beer with a sour aftertaste. Cherry (or Kriek) lambic is fermented a second time with sour morello cherries to add both sweetness and flavor. It is more fruity than most beers, decidedly so, and the small amount used in these milkshakes is not enough to make them taste like beer. Rather, it adds a unique sour note, almost like you added a splash of balsamic vinegar (and we all know how well balsamic goes with fruit). The tart fruit flavor makes the cherries taste even more like cherries, if that is even possible, with a delightful, effervescent fizz, essentially blurring the lines between a milkshake and a classic float.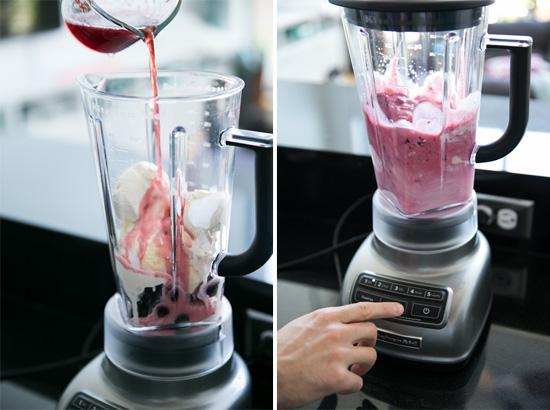 Surprisingly, milkshakes are the one thing where I prefer a standard blender over my Vitamix, like this gorgeous Diamond-series Blender from KitchenAid®. The Vitamix, while a total champ when it comes to purees and peanut butter, tends to create soupy milkshakes. Even with very little or even no milk, the pure friction that that beast of a blade creates turns a perfectly thick milkshake into a pathetically thin mess. I'd rather drink water.
The KitchenAid®, on the other hand, creates perfectly smooth, lusciously thick milkshakes. They should really rename it the Milkshake Master or something for that very reason.
To acheive that luscious, thick, soda-fountain consistency, use low or medium-low speed (so as not to create too much friction), and go easy on the milk. You can always add more, but once you've thinned it too much there's no going back (unless, of course, you add more ice cream).
If you'd like you can float a bit more lambic on top of the milkshakes just before serving, to give the milkshake it's own effervescent head, a perfectly defined layer of rose-colored bubbles. Serve in a snifter or beer glass for the full effect.
If only every week could be #MilkshakeWeek…
Cherry Lambic Milkshakes
Ingredients:
12 ounces vanilla ice cream
1/2 cup cherry lambic beer, plus more as needed
4 ounces dark sweet cherries, pitted
Directions:
To prepare milkshakes, scoop ice cream into the canister of a blender. Add lambic and cherries and blend on medium-low speed until smooth. Add more lambic as needed to acheive desired consistency.Divide among chilled serving glasses. If desired, float a few tablespoons of lambic on top of the milkshakes for some extra fizz.
Did you make this recipe?
Let us know what you think!
Leave a Comment below or share a photo and tag me on Instagram with the hashtag #loveandoliveoil.