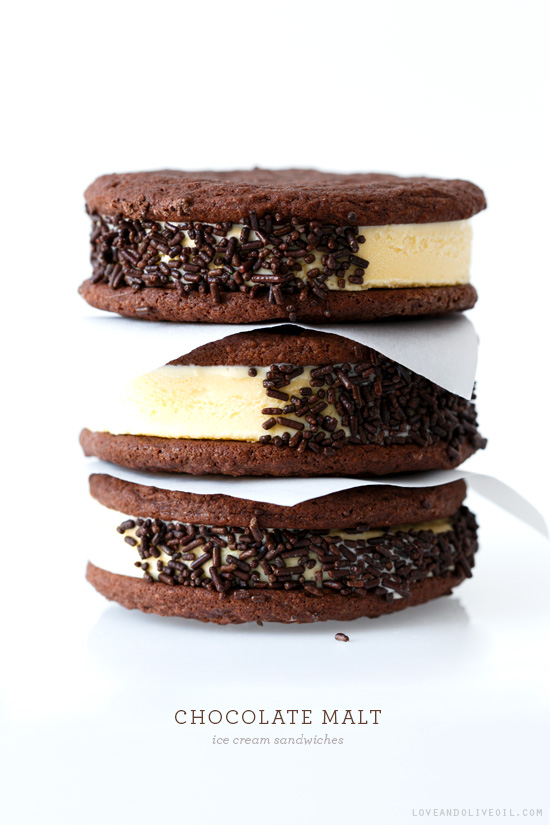 The perfect ice cream sandwich is:
Soft. Hard crunchy cookies need not apply.
Sweet and salty. Keyword: and. Not or. Like the yin and yang of ice cream sandwiches, one balances out the other.
Streamlined. Meaning, you shouldn't have to have a mouth the size of Steven Tyler's to eat it.
And, finally…
Sprinkled. Because everything is better with sprinkles.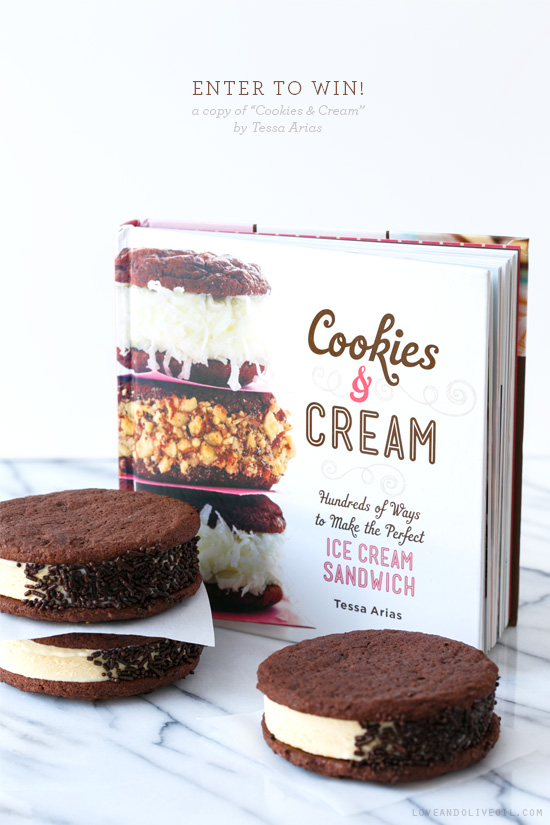 I'll tell you, folks, this sandwich has it all. Tessa Arias, author of Cookies & Cream: Hundreds of Ways to Make the Perfect Ice Cream Sandwich, did not make it easy on me. I spent weeks endlessly flipping through the book. Not for a lack of recipes but for sheer indecision on just which recipe (or mix and match combination) I was going to make. The entire book is filled with perfect ice cream sandwich after perfect ice cream sandwich, and this malted chocolate beauty is no different.
The cookies are soft and salty. The ice cream creamy and sweet.
She rolls hers in whoppers, but in conjunction with the last of my criterion for sandwich-ability above, sprinkles were definitely in order.
Granted, I probably made them a wee bit too big (think the diameter of a halved grapefruit). I say that like it's a bad thing. It's totally not.
I used the technique outlined here to make my sandwiches, the result being more uniform ice cream rounds than simply scooping and smushing. But you can certainly do that too.
Be sure to click through for the recipe and a chance to win a copy of this mouth-watering book!
Chocolate Malt Ice Cream Sandwiches
Ingredients:
Ice Cream:
1 1/2 cups whole milk
1 1/2 cups heavy cream
3/4 cup granulated sugar, divided
1/2 cup plain malted milk powder
1/4 teaspoon fine sea salt
1 teaspoon vanilla extract
4 large egg yolks
Cookies:
1 3/4 cups all-purpose flour
1/2 cup unsweetened dark or Dutch-process cocoa powder
1/3 cup plain malted milk powder
1 teaspoon baking soda
1/2 teaspoon fine sea salt
3/4 cup (1 1/2 sticks) unsalted butter, room temperature
1/2 cup granulated sugar
1/2 cup packed light brown sugar
1 large egg
1 1/2 teaspoons vanilla extract
2 tablespoons sour cream or plain yogurt
Directions:
Prepare an ice bath by setting a medium heatproof bowl inside a larger bowl of ice water. Place a fine mesh sieve on top and set aside.
In a saucepan, combine the milk, cream, 1/2 cup sugar, malted milk powder, salt, and vanilla. Cook gently over medium heat, stirring frequently, until sugar has dissolved and mixture starts to steam. Remove from heat.
In a small bowl, whisk egg yolks with remaining 1/4 cup sugar. Slowly whisk in some of the warm cream mixture, 1/3 cup at a time, until about half of the cream mixture has been incorporated and egg mixture is warm to the touch. (Be sure to gradually whisk in the warm cream; you want to temper the eggs, not cook them.) Pour egg mixture back into saucepan and return to medium heat, stirring constantly, until mixture thickens slightly and coats the back of a spatula, about 5 to 7 minutes, or until it reaches approximately 175ºF. Do not let it boil.
Pour mixture through a fine-mesh sieve into the ice bath. Stir until mixture is cool. Cover bowl with plastic wrap, carefully pressing it onto the surface of the cream mixture to prevent a skin from forming. Refrigerate until completely chilled, at least 3 hours or preferably overnight.

Line a quarter sheet pan or 9×9-inch baking pan with foil or parchment paper. Churn ice cream according to manufacturer's instructions. Spread ice cream into the prepared pan to desired thickness Cover with plastic wrap and freeze for at least 2-3 hours or until firm.

For cookies, preheat oven to 350 degrees F. Line a large baking sheet with parchment paper or a silicone mat.
In a medium bowl, sift together flour, cocoa powder, malted milk powder, baking soda, and salt.
In a large mixing bowl or the bowl of a stand mixer, beat butter, sugar, and brown sugar on high speed until light and fluffy, about 1 to 2 minutes. Mix in egg, followed by vanilla and sour cream. Add flour mixture and beat on low speed until incorporated.
Using a medium or large cookie scoop, drop dough by the heaping tablespoonful onto prepared baking sheet. Flatten to 1-inch thick disks with the palm of your hand. Bake for 10 to 12 minutes or until cookies are set. Let cool on baking sheet for minutes, then transfer to a wire rack to cool completely.
Freeze cookies for at least 1 hour before forming your sandwiches.
To assemble, remove block of ice cream from sheet pan using the parchment or foil to lift it out of the pan. Choose a cookie cutter approximately the same size as your cookies to cut out rounds of ice cream. Place one round on a cookie, then top with a second cookie, pressing to adhere. Roll edges in sprinkles or crushed malted milk ball candies, if desired. Freeze for at least 1 hour before serving.
Did you make this recipe?
Let us know what you think!
Leave a Comment below or share a photo and tag me on Instagram with the hashtag #loveandoliveoil.