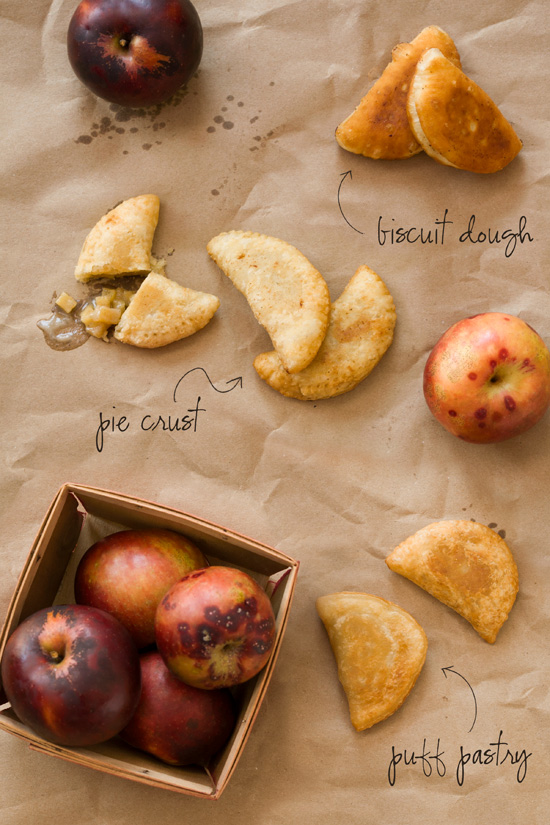 Be sure to pick up a copy of today's Tennessean, where this recipe for Tennessee Fried Apple Pies with Vanilla Bean and Bourbon (excerpted below) is featured in my monthly blogs column.
We've been reveling in local fruit this year. Having purchased a "fruit bond" from Stewart Orchard in Bells Bend, we arrive at the West Nashville farmers' market each Saturday to see what awaits us. I'll tell you, the Stewarts sure know what they are doing—their fruit is clearly grown with love. First it was the peaches: both white and gold, gorgeous, juicy peaches. Then we got two overflowing quarts of sweet blackberries (half of which, I have to admit, are still in our freezer still waiting to be used). And then, after a slight respite between the summer and fall growing seasons, the apples arrived. Golden Delicious, Rome, and finally, the last of the season, the Arkansas Blacks.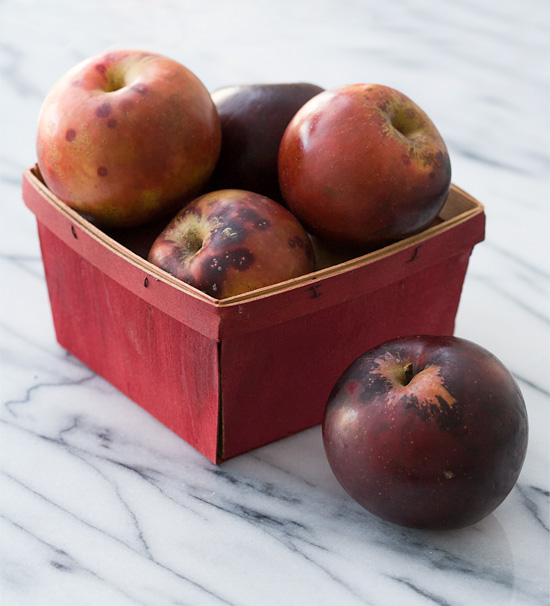 Maybe it's because I'm not from the South originally but this was a variety I had never seen before. They are truly beautiful to behold: mottled, dark red (dare I say, black) skins with speckles and spots of red, green, gold. But what was even more surprising was what was inside: crisp, sweet flesh with texture and bite reminiscent of a Granny Smith but without the unpleasant sourness.
And even though this variety of apple is known for it's stellar storage capabilities, after tasting them, we knew they wouldn't last long.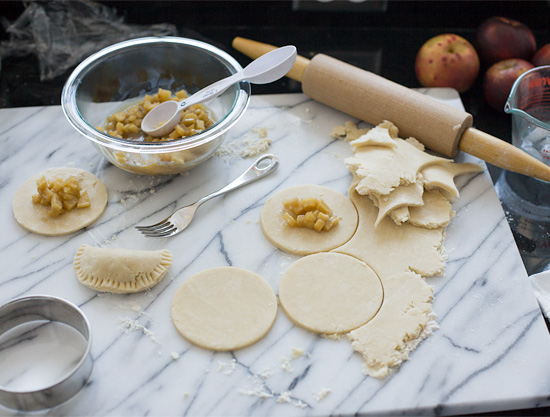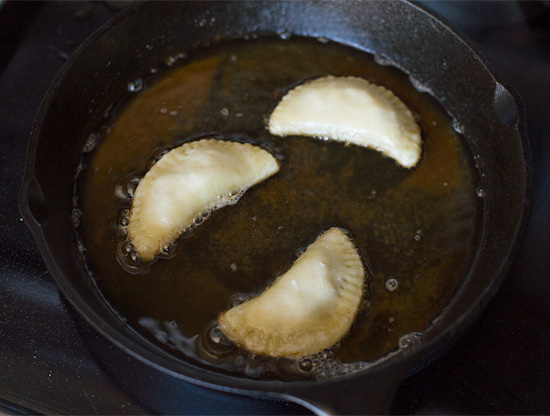 We wasted no time turning these gorgeous specimens into perfectly portioned fried apple pies. The filling is near perfection, spiked with vanilla bean and a splash of bourbon. It's everything apple pie yearns to be.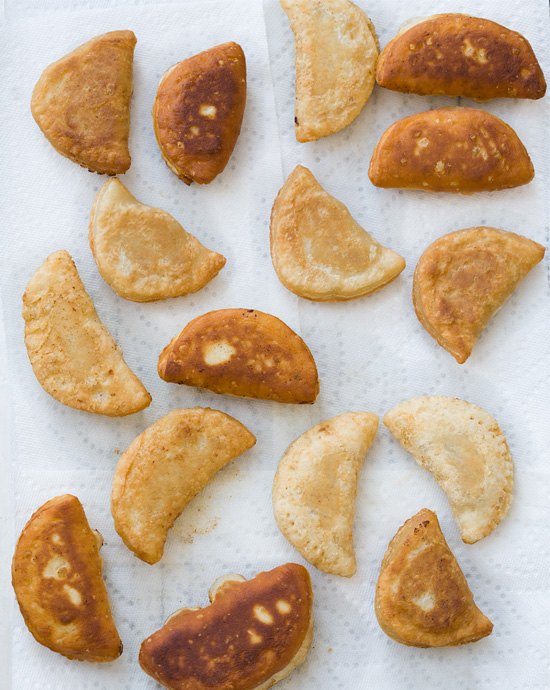 The crust is where varying tastes and preferences come into play. We tested it three ways, with pre-made puff pastry, refrigerated biscuit dough, and homemade pie crust. Me? I think the biscuit dough was the winner in my book: golden brown on the outside with a soft, pillowy inside reminiscent of a doughnut. My husband however, preferred the pie crust: buttery, flaky, and golden brown. The puff pastry fell somewhere in between, and is a good place to start if you can't decide whether you want fluffy or flaky.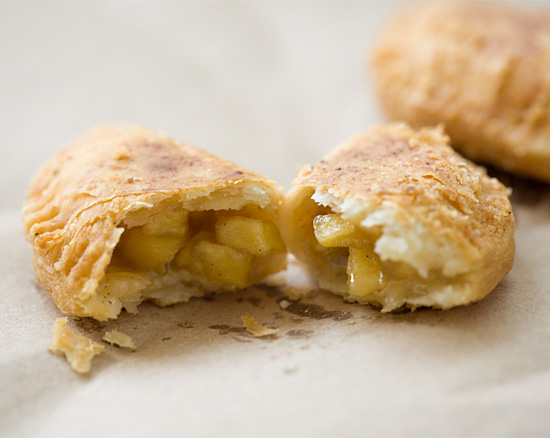 Whatever your preference, serve these with a heaping scoop of vanilla ice cream and you will be pleased as pie.
Fried Apple Pies with Vanilla Bean and Bourbon
Ingredients:
1/4 cup unsalted butter
1/4 cup light brown sugar, packed
1 vanilla bean, split and seeded
2 medium Arkansas Black or other firm, tart apples, peeled, cored and diced into 1/2-inch cubes
1 tablespoon bourbon or whiskey
1/2 cup flour, for rolling dough
1 cup lard or vegetable shortening, for frying
1 package refrigerated biscuit dough, frozen puff pastry or frozen pie crust
Directions:
Melt butter together with brown sugar in a saucepan over medium heat. Add vanilla bean seeds and stir to distribute. Stir in apples. Bring to a simmer and cook for about 15 minutes or until apples are beginning to soften and liquid is thickened and mostly reduced. Stir in bourbon and simmer for another 30 seconds more. Transfer to a heat-proof bowl, cover and refrigerate for at least 30 minutes or until completely cool.
On a floured surface, roll out your dough of choice into a thin sheet. Puff pastry sheets only need to be rolled slightly thinner than their original thickness. If using biscuits, roll them out as thin as you possibly can; they should be about the size and thickness of a small tortilla. Roll out your pie crust slightly thinner than you would if making a standard pie.
Cut out rounds of dough using a 3 1/2-inch circle cutter. Drop a heaping tablespoonful of filling into the center of each round. Lightly moisten the edges with your finger and some water, as this will help the dough stick to itself. Gently fold the round in half, encasing the filling, and press along the edges to seal. You can also use a fork to crimp the edges and further reinforce the seal. Place pies on a parchment-lined baking sheet and refrigerate until ready to fry (pies can be made up to 1 hour ahead of time).
In a cast iron or other heavy skillet, bring lard or shortening to a temperature of 350ºF over medium heat. Continue to monitor the temperature as you go and adjust heat as necessary.
Working in batches of three, carefully slide pies into the hot skillet. Cook for about 2 minutes per side (about 1 minute per side if using biscuit dough), then flip and cook until both sides are evenly golden brown. Transfer to a paper-towel lined baking sheet and let cool slightly before serving.
Did you make this recipe?
Let us know what you think!
Leave a Comment below or share a photo and tag me on Instagram with the hashtag #loveandoliveoil.