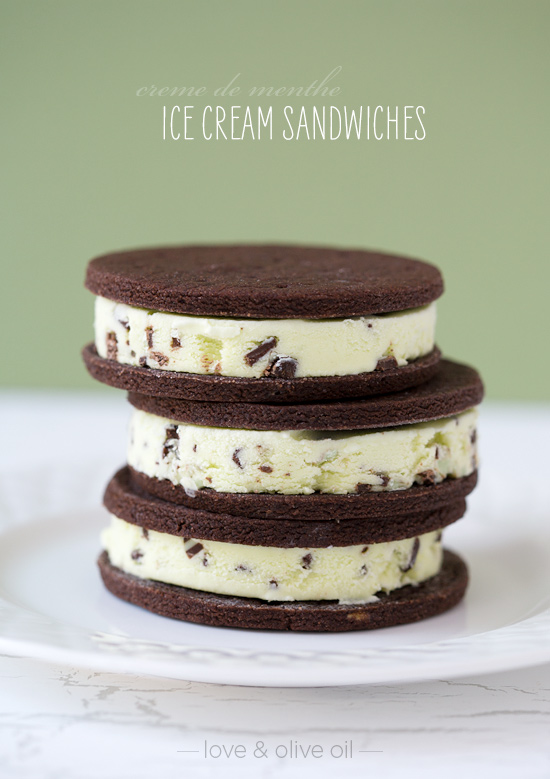 I told you I did something fantastic with that ice cream recipe from earlier this week.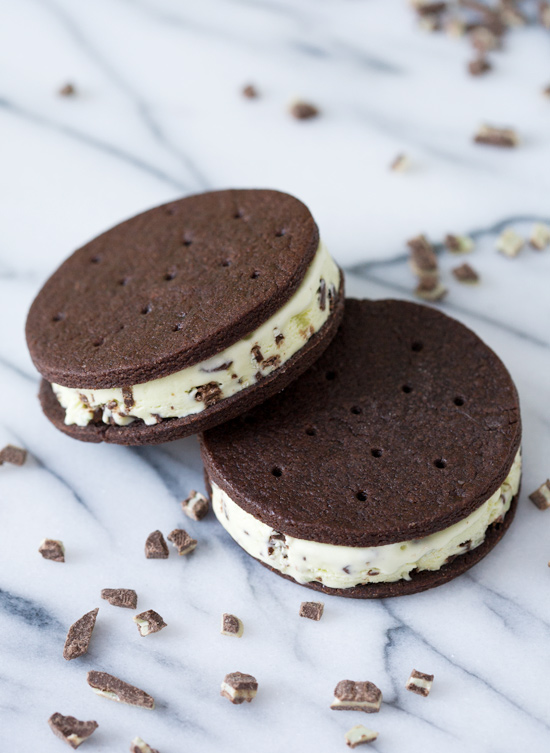 The cookies are straight from my book. While I always hesitate to pick favorites, if I HAD to choose, the Old-Fashioned Cookie Dough Ice Cream Sandwiches (seen on the cover) would probably be it. Something about the salty chocolate cookies and the rich homemade ice cream are just perfect together.
And while I'd argue that there are few things better than Cookie Dough Ice Cream, the recipe is ripe for adaptation. Indeed, you could sandwich just about any flavor of ice cream between these cookies and your tastebuds would be mighty pleased.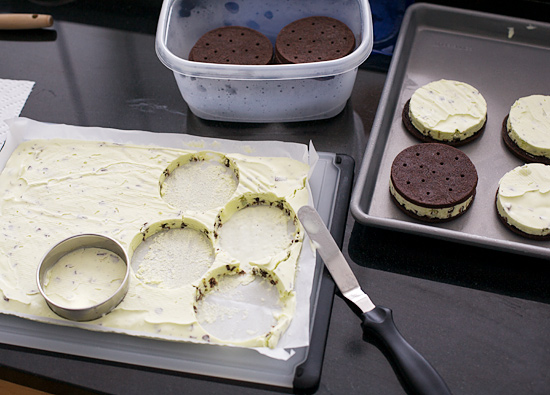 Making ice cream sandwiches is easier than you'd think. The key? Parchment paper and cookie cutters. Line your baking pan with parchment paper before you add the ice cream. You'll then be able to pull out the entire frozen block. Use the same cutter for your cookies as you do for the ice cream, and they'll fit perfectly together. You can also simply cut the cookies and ice cream into squares if you so desire.
I was feeling round this time.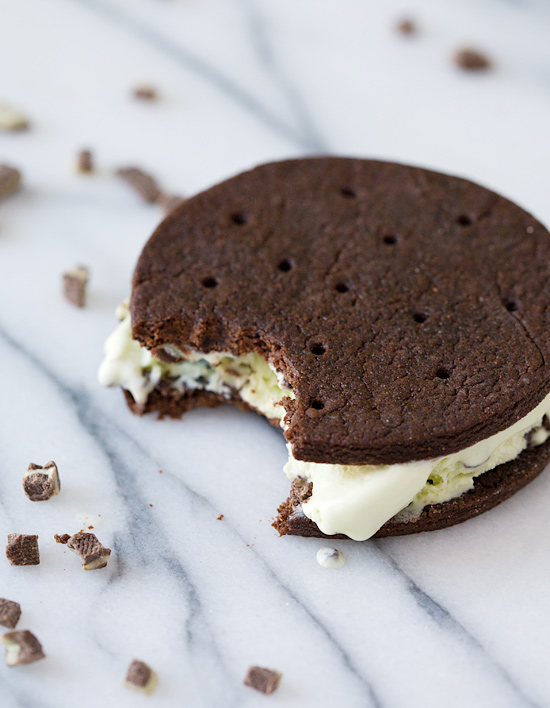 Use a skewer or a smooth chopstick to poke the holes. They have no purpose other than pure decoration so leave them off if you must, but I think they really give the sandwiches that classic look.
The cookie itself is the most important part of the recipe. It's somewhere between a chocolate sable and a sugar cookie: slightly crisp on the edges but soft and chewy on the inside, just soft enough so you can bite into them right out of the freezer. The hit of espresso powder is not necessarily discernible in the final product, it just helps to deepen the chocolate flavor. Don't skip it. And be sure to use a good, dark cocoa powder (might I suggest Cocao Barry Extra Brute?) and ample salt: otherwise it'd just be a bland cookie. And no one wants a bland cookie.
Creme de Menthe Ice Cream Sandwiches
Ingredients:
1 quart(ish) homemade Andes mint ice cream or store bought mint chip ice cream
1/2 cup vegetable shortening
1 1/4 cups light brown sugar, packed
1/2 teaspoon baking powder
3/4 teaspoon salt
1/2 cup dark or Dutch-processed cocoa powder, sifted
1/2 teaspoon instant espresso powder
1/2 teaspoon vanilla extract
2 cups all-purpose flour, divided
Directions:
Line a quarter sheet pan or 9×9-inch baking pan with foil or parchment paper. If using store bought ice cream, let it soften at room temperature until it is the consistency of soft-serve. If using homemade ice cream, churn ice cream according to manufacturer's instructions. Spread ice cream into the prepared pan to desired thickness (for these particular sandwiches, the ice cream is about 3/4-inch thick. In a quarter sheet pan I used about 2/3 of a quart. For a thicker layer, use an entire quart in a 9×9 baking pan). Cover with plastic wrap and freeze overnight or until firm.
Preheat oven to 350 degrees F.
In a large mixing bowl, beat together shortening and sugar with an electric mixer for 2 to 3 minutes. Add baking powder, salt, cocoa powder, espresso powder, and vanilla and mix until incorporated. Mix in 1 cup of the flour, followed by 2 tablespoons of water, and then add the remaining 1 cup flour and another 2 tablespoons of water, mixing well until no dry ingredients remain. Dough should be soft and pliable but not sticky; if necessary, add more water until dough comes together.
On a lightly floured surface, turn out half the dough and roll it to an even 1/4-inch thickness. Using a ruler and a rotary cutter or paring knife, cut dough into 3-inch squares. Alternatively, use a 3-inch round or novelty cookie cutter to cut out cookies.
Transfer cookies to a baking sheet lined with parchment paper or a silicone baking mat. Using a chopstick or skewer, poke an even pattern of holes on each cookie's surface. Roll out, cut, and poke remaining dough, rerolling scraps as you work. You should have just enough for 18 cookies. Place sheets of cookies in the freezer for 10 minutes before baking.
Bake 7 to 8 minutes, or until tops are matte and cookies are just set. Do not overbake. Remove from oven and let cookies cool 2 to 3 minutes on baking sheet. Transfer to cooling racks to cool to room temperature. Freeze cookies in an airtight container until ready to use.
To assemble sandwiches, use the edges of the parchment to carefully lift the block of firm ice cream from baking pan and place it on a cutting board. Using a large knife, cut ice cream into 9 equal squares. (If you used a shaped cutter for your cookies, use the same cutter for the ice cream.) Place 1 piece of ice cream between 2 chilled cookies and press cookies lightly to adhere. Freeze sandwiches until ready to serve.
Did you make this recipe?
Let us know what you think!
Leave a Comment below or share a photo and tag me on Instagram with the hashtag #loveandoliveoil.