Guess what? I have another something special for you. I'd like to welcome a very special guest, miss Maggie Battista of Eat Boutique. Yes, that Eat Boutique, the fabulous blog and purveyor of our favorite foodie gift boxes. Not only is she sharing a delicious summer dessert recipe, but don't miss the end of the post. You just might win an EB Summer Gift Box (also, a hearty congrats to Molly and Nichole, the lucky winners of the Nudo chocolate giveaway!). Take it away, Maggie!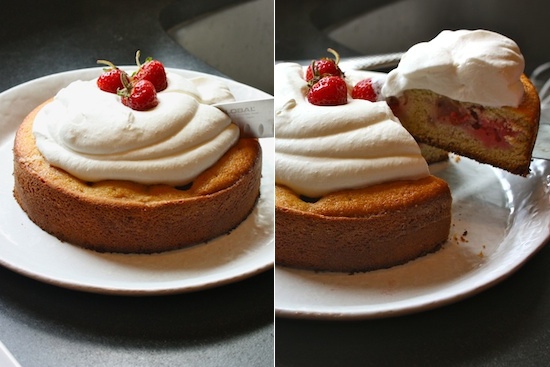 This happens to be a short story of two yeses, two recipes and a giveaway.
Let's start with the yeses. I've only known Lindsay since the start of this year, but I feel like she's a sweet, forever friend. We've built up our friendship over the course of two giveaways (here and here). Lindsay's a big supporter of my blog, Eat Boutique, where we share recipes and guides, spotlight food makers and sell homespun gift boxes. (Thanks, Lindsay!)
When I told Lindsay about Eat Boutique's summer gift box, a crafty box packed with food fit for a summer picnic, she said, "yes" to a summer box giveaway. (Don't you just love a giveaway?) And when she asked me to write the blog post, I couldn't help but get excited and say "yes" – though, of course, secretly stressing about what I might share with you all.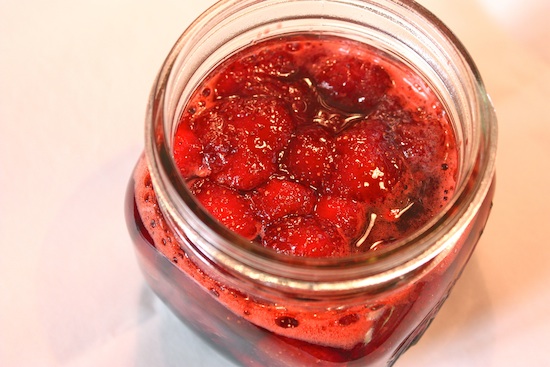 While I've been a food blogger for four years, baking for this crowd is a bit scary; you're all such great bakers! More so than baking, I love preserving. I've found my passion in homemade jams, vinegars, syrups and sweet cordials with whatever is in season. Our strawberry season is coming to a close in New England, but I managed to preserve several quarts, including this easy recipe for preserved whole strawberries.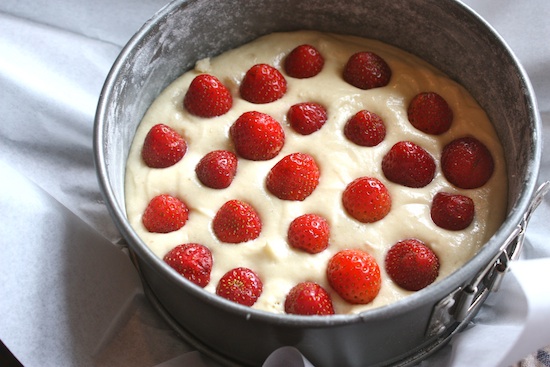 Since we're not preserving these strawberries to take us through to next year, the preparation is really easy. And let's be realistic, local strawberries don't last more than a few weeks in my house, whether freshly picked or preserved; they're just too delicious.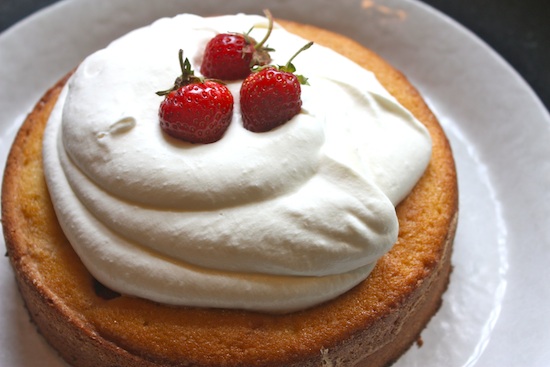 Keep in mind: You could add spices, like an adobe chile during cooking, or even liquor, like a few splashes of Campari just after the cooking, to the strawberries for some added flavor. (My oh my, Campari-flavored preserved strawberries make for a great Americano cocktail!) But I kept it simple, as this strawberry buttermilk cake doesn't need much to shine. Maybe just a touch of homemade whipped cream. And while the cake is perfect at room temperature, I actually loved the "ice box" nature of chilling it in the fridge for a bit before serving.
Strawberry Buttermilk Cake with Preserved Whole Strawberries
Ingredients:
For cake:
1 cup all-purpose flour
1/2 teaspoon baking powder
1/2 teaspoon baking soda
1/4 teaspoon salt
1/2 stick unsalted butter, softened
2/3 cup sugar
1 teaspoon homemade vanilla extract
1 teaspoon finely grated lemon zest
1 large egg
1/2 cup buttermilk
1 handful fresh strawberries
1 1/2 tablespoons lemon sugar (If you don't have lemon sugar on hand, there's a nice version in the Eat Boutique gift box, or just use plain sugar)
For preserved strawberries:
1 pound cleaned and hulled strawberries, but kept whole
1/2 cup sugar
1/2 a lemon, juiced
Directions:
Preheat oven to 400°F with rack in middle. Butter and flour an 8-inch spring form cake pan or a 9-inch regular metal cake pan. If using a spring form cake pan, cut a round piece of parchment paper to fit the bottom of the pan and place in the pan. (I got lazy and just placed a large sheet of parchment paper on the base and placed the spring form side right on top snugly.)
Whisk together flour, baking powder, baking soda, and salt and set aside. In a larger bowl, beat butter and sugar with an electric mixer at medium-high speed until pale and fluffy, then beat in vanilla and zest. Add the egg and beat well.
At low speed, mix in flour mixture in three batches, alternating with buttermilk, beginning and ending with flour, and mixing until just combined. Spoon batter into prepared cake pan, smoothing out the top. Scatter strawberries evenly over top, loading in as many as you would like. Sprinkle the top of the batter with the lemon sugar.
Bake until cake is golden and a wooden pick inserted into the center comes out clean, 20 to 25 minutes. Cool in the pan for 10 minutes, then remove the spring form or invert from your pan, and cool. Some prefer to serve this cake warm with a bit of vanilla ice cream. I opted to put mine in the fridge and serve it with freshly made whipped cream and preserved strawberries.
To make the preserved strawberries, place the strawberries in a heavy, medium-size pot with the sugar and the lemon juice. Bring to a boil over medium heat – as the fruit begins to juice, the sugar will melt. Reduce the heat to a simmer and cook for about 30 minutes, skimming off the foam, if you'd like. Stir it every 10 minutes or so – do so gently because you want the strawberries to stay intact. The strawberries are done when they've shrunken and the syrup has thickened a bit. Serve drizzled on top of the slices of the buttermilk cake and store any leftovers in the fridge for two to three weeks.
Did you make this recipe?
Let us know what you think!
Leave a Comment below or share a photo and tag me on Instagram with the hashtag #loveandoliveoil.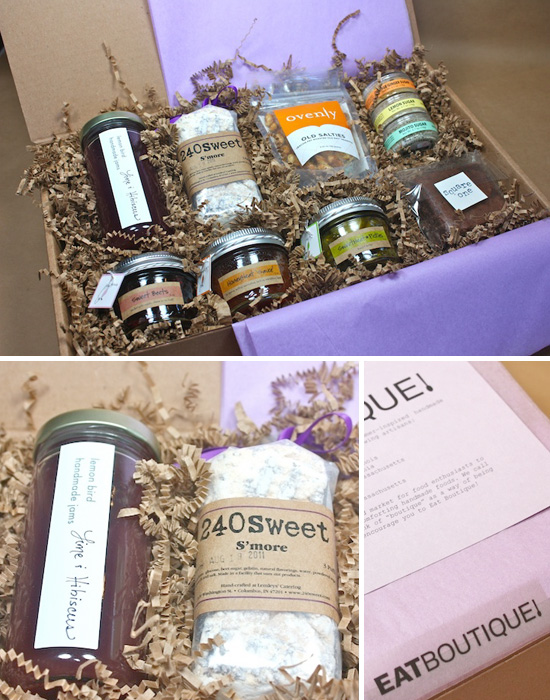 Now let's get to the good part. (Finally!) I am thrilled to be able to personally giveaway one of my Eat Boutique summer gift boxes. This summer box is filled with the following handmade food that I've personally sourced and tasted: lime & hibiscus syrup, s'mores marshmallows, a picnic set of preserved pickles, sweet beets and a sweet & spicy barbecue sauce, bacon fat roasted Old Bay peanuts, a trio of citrus sugars, and, perhaps, the best brownie I've ever tasted.
Just enter your comment below, per Lindsay's directions, and one lucky winner will get this box shipped directly to them or, if they'd like, shipped to a friend (with a personal hand-written gift message). And because I am so in love with this site, all Love and Olive Oil readers will get free shipping on their summer gift box order by using the code "LAOO" at check out.  Happy summer!
***GIVEAWAY IS NOW CLOSED***
To Enter:
Simply leave a comment on this post with the answer to this question:
What artisan treat from the summer Eat Boutique gift box would you most like to try?
Entries open through Tuesday, July 12 at 11:59 CST. Winner will be selected using a random number generator on the morning of Wednesday, July 13th. Prize will be shipped to the winner directly from Eat Boutique (to either you, or the recipient of your choice). Due to the perishable nature of this product this giveaway is open to residents of the continental United States ONLY.
Want Extra Entries?
Increase your odds of winning! In addition to the main entry comment, leave a separate comment for each bonus entry.
1. Follow @loveandoliveoil on twitter and tweet the following:
I just entered to win a gourmet gift box from @eatboutique and @loveandoliveoil! Enter here: http://bit.ly/mWaVJb
Leave a comment here with a link to the tweet and/or your twitter handle.
2. Like Love & Olive Oil on Facebook (or if you are already a fan just say so!). Leave a comment here with your first name and last initial so I can stalk verify you.
Be sure you enter a valid email address, because if your name is drawn and I can't get a hold of you within 48 hours, I will choose an alternate winner. You may also want to add me to your address book (lindsay AT loveandoliveoil DOT com), as I'd hate for your congratulatory email to end up in the spam folder.