And we're off! Off to Italy, that is! We've been planning this trip for months (though planning is maybe an overstatement, considering we just booked our hotels a few days ago. Oops!) It's the ultimate trip for a pair of foodies, and we plan on eating our way through the country. But don't worry, I've got a few posts written and scheduled to publish while we're away, so you won't go through withdrawals or anything. I can't say the same for myself, however, since we are going to be technology-less for the entire time. Yep, that's right, no computer, no smart phone, no email, no twitter. Oh, the horror! At least I'll have some delicious food to distract me. I'm sure we'll have a lot to share when we return.
(Oh, and I know some of you may have gotten a sneak peek of this post… apparently once you accidentally click publish there's no turning back. That's what I get for trying to plan ahead, oops. Sorry for the tease!)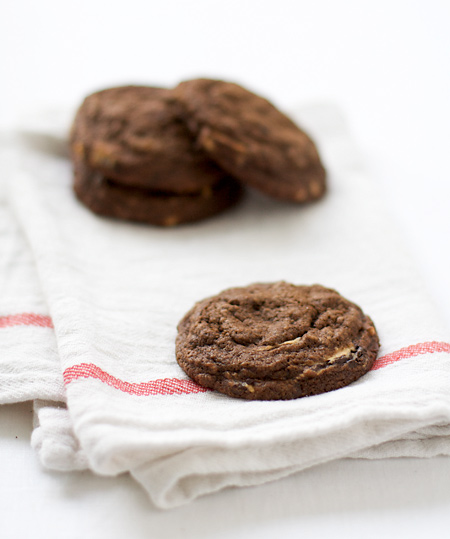 I woke up one morning with peanut butter cups on my mind. The previous week, I had picked up a container of the best peanut butter cups I have ever had, a title previously held by Trader Joe's milk chocolate peanut butter cups. These new bites, however, overtook the old favorites in a single bite. Trader Joe's dark chocolate peanut butter cups, oh how I love thy salty goodness.
In hindsight, and as delicious as these cookies are, if I had known that the dark chocolate cups would be gone from the store the very next week, I would have cherished each and every one of them instead of chopping them to bits and throwing them into some cookie dough. Hindsight. Whatever.
The cookies themselves are a rich chocolately version of your typical chocolate chip cookie. With more chocolate chips. And then the chopped up dark chocolate peanut butter cups. I also think they'd be good with peanut butter chips and/or chopped peanuts as well. A veritable kitchen sink of a cookie.
Which makes sense, considering the original recipe I borrowed called for chopped up heath bars, pecans, and vanilla chips. So I'd say it's flexible. Go nuts. (Or go chips, go candy, whatever).
Dark Chocolate Peanut Butter Cup Cookies
Ingredients:
2 1/4 cups all-purpose flour
2/3 cup unsweetened cocoa powder
1 teaspoon baking soda
1 teaspoon salt
1 1/3 cups (2 2/3 sticks) unsalted butter, softened
1 cup sugar
2/3 cup firmly packed light brown sugar
2 large eggs, at room temperature
3 tablespoons milk
2 teaspoons vanilla extract
1 cup coarsely chopped peanut butter cups (about 12-15 bite size cups)
1 cup bittersweet chocolate morsels
Directions:
Preheat the oven to 350 degrees F.
In a large bowl, combine the flour, cocoa powder, baking soda, and salt. Set aside.
In the bowl of a stand mixer or another large bowl, cream the butter and the sugars until smooth and fluffy, about 3 minutes. Add the eggs and mix well. Add the milk and vanilla. Add the flour mixture a little bit at a time and beat thoroughly. Stir in the peanut butter cups and chocolate chips.
Drop by rounded spoonfuls onto ungreased cookie sheets, leaving several inches in between to allow for spreading. Bake for 10-12 minutes. Cool on sheets for 1 minute, then remove to racks and allow to cool completely.
Did you make this recipe?
Let us know what you think!
Leave a Comment below or share a photo and tag me on Instagram with the hashtag #loveandoliveoil.