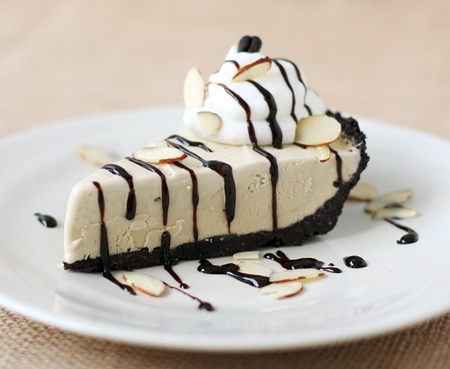 You know what I find ridiculous? That no one out there sells decaf coffee ice cream. I mean, doesn't it seem obvious? Coffee ice cream is usually something you eat at night, not exactly a time when you want caffeine rushing through your system. Or, maybe they do sell it, seeing as I haven't actually bought real ice cream (for myself) in 3 years, guess I could be behind the times a bit.
So I did what any foodie would do.
I made my own.
Backup. Lindsay? Eating ice cream? Like, real, ice cream? But I thought you didn't eat that stuff. Sure, yea, you posted about those mini cheesecakes you made a while back, but I thought you didn't eat dairy?
Turns out, it's all in my head. Lactose shmacktose. Well, it may have had something to do with it (I promise you if I drank a glass of milk right now I would not be a happy camper), but I've slowly been incorporating more and more dairy back into my diet. So far, so good.
This dessert actually came from one of Taylor's random cravings. It's called Mud Pie, and out of the blue a few weeks back, Taylor starts salivating over the thought of it. And I was right along with him. For those of you who haven't heard of this perfection that is Mud Pie, it's basically a coffee ice cream pie in a chocolate cookie crust, topped with whipped cream, fudge sauce, and almonds. This simple combination of seemingly ordinary ingredients becomes something that is as decadent as it is delectable.
If you wanted to make this really quick, you could skip the whole homemade ice cream debacle and simply use a quart of purchased coffee ice cream… heck at that point you may as well use a pre-made oreo pie crust too. Allow the ice cream to soften for just a bit, then spread it into the crust. Refreeze, and about 30 minutes later, you'd have a delicious dessert.
But I probably don't have to tell you that homemade ice cream really takes the cake (excuse me, pie) here. And the fact that it's decaf? Well, eat up! No need to worry about this dessert keeping you up at night.
Mud Pie with Homemade Decaf Coffee Ice Cream
Makes one 9″ pie (about 8 servings).
Ice cream recipe adapted from Simply Recipes.
Ingredients:
Ice Cream:
1 1/2 cups whole milk
3/4 cup sugar
1 1/2 cups whole decaf coffee beans
Pinch of salt
1 1/2 cups heavy cream
5 large egg yolks
1/4 teaspoon vanilla extract
1/4 teaspoon finely ground coffee
Crust:
1/4 cup almonds, finely ground
6oz. chocolate wafer or oreo cookies
3 tablespoons butter, melted
Garnish:
Chocolate sauce
Sliced almonds, lightly toasted
Whipped cream
Directions:
To prepare ice cream, heat the milk, sugar, whole coffee beans, salt, and 1/2 cup of the cream in a medium saucepan until it is quite warm and steamy, but not boiling. Once the mixture is warm, cover, remove from the heat, and let steep at room temperature for 1 hour.
Pour the remaining 1 cup of cream into a medium size metal bowl, set on ice over a larger bowl. Set a mesh strainer on top of the bowls. Set aside.
Reheat the milk and coffee mixture, on medium heat, until again hot and steamy (not boiling!). In a separate bowl, whisk the egg yolks together. Slowly pour the heated milk and coffee mixture into the egg yolks, whisking constantly so that the egg yolks are tempered by the warm milk, but not cooked by it. Scrape the warmed egg yolks back into the saucepan.
Stir the mixture constantly over medium heat with a heatproof, flat-bottomed spatula, scraping the bottom as you stir, until the mixture thickens and coats the spatula so that you can run your finger across the coating and have the coating not run, about 10 minutes.
Pour the custard through the strainer and stir it into the cream. Press on the coffee beans in the strainer to extract as much of the coffee flavor as possible. Then discard the beans. Mix in the vanilla and finely ground coffee, and stir until cool.
Chill the mixture overnight in the refrigerator, then freeze it in your ice cream maker according to the manufacturer's instructions.
While ice cream is churning, prepare the crust. Combine almonds and cookies in a food processor, and pulse until finely ground. Add melted butter and stir until combined. Mixture should be the consistency of wet sand. Dump into a 9″ pie dish and firmly press into bottom and sides.
As soon as your ice cream is the consistency of soft serve, remove from ice cream maker and spread into crust. Cover and freeze until firm (at least 4 hours).
When ready to serve, run a knife under hot water for 30 seconds (it'll make cutting much easier) before cutting. Drizzle with fudge sauce, and top with a dollop of whipped cream and sliced almonds.
Did you make this recipe?
Let us know what you think!
Leave a Comment below or share a photo and tag me on Instagram with the hashtag #loveandoliveoil.