First of all, can I just reiterate how much you all rock? Seriously. Not only did you massively support my Blood Orange Cupcakes in the February Cupcake Hero (Whoohoo! We won the vote! Now cross your fingers my cupcakes hold their own in the throwdown!), but you also wrote some of the nicest, most heartwarming things in response to our 3rd birthday post last week. I've read each and every one of your comments… and I swear I'll have to print them out and save them all for a day when I'm feeling down. It's the reason I do this and the reason it brings joy to my life. Thank you so much for your kind words. Truly going to do my best to live up to your expectations. :)
Would you believe that this is the first weekend that I did NOT bake anything? Ok, maybe I baked a box of brownies for Taylor. But that doesn't count.
But I have an excuse, I promise:
His name is Sgt. Pepper… the newest addition to our family. We adopted him this past week (as those of you who follow me on Twitter are well aware), and needless to say he has stolen our hearts (and our full attention). I'm sure he'll grow into those ears eventually.
I've got a couple recipes in the backlog I'll post for you guys this week, and I promise, next weekend I'll get back to baking, whip up something good. :)
Anyway… I'm sure you're all wondering WHO won the adorable cupcake notebooks. Well, a HUGE congratulations goes out to Rebecca and Rebecca (yes, what are the chances that both winners would be named Rebecca?), each of whom will be receiving a set of two (one large, one small) cupcake notebooks.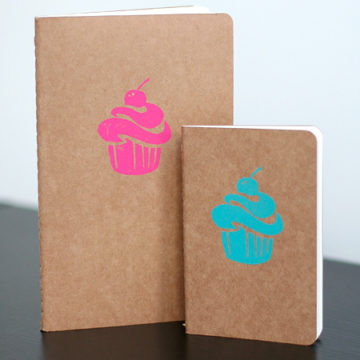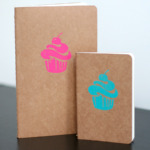 Didn't win? Because the response to this giveaway was so positive, I've decided to go ahead and offer a limited run of these notebooks for sale. Only $12 for a set of two (plus $3 for shipping within the US, international folks email me for a shipping estimate). If you're interested, please get in touch with your shipping info, paypal email address, and color choices (hot pink or turquoise, or one of each). First-come, first-serve, as I only have a limited number of blank notebooks on hand. I'll likely be offering them for sale again – whether it be through an Etsy store or just here on the blog, and hopefully expand to include a few more 'sweet' designs and color options as well.
Thank you to everyone who entered the giveaway! I will tell you now I have another giveaway lined up in the coming weeks that you're sure to love, so stay tuned!