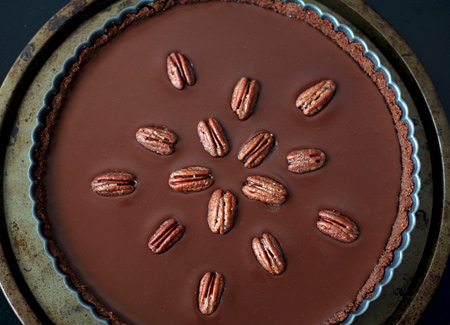 It's no secret that I enjoy the sweet and spicy combination of chocolate and chili. I've made cupcakes, hoarded chocolate, and loved every second of my sweet and spicy adventures. To me, the addition of spice only intensifies the rich decadence of the chocolate. It's a match made in heaven.
So, while browsing dessert recipes in search of something special to follow our lovely Christmas dinner for two, as soon as I saw the title of this one, I knew my search was over.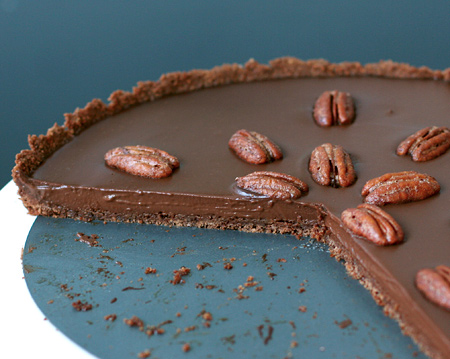 This tart, if you'd like to call it that, is basically a soft ganache in a cookie crust. With a kick. And it is to die for. We still have half in the fridge and have been enjoying a small slice of it every night.
Has anyone else had trouble finding chocolate wafer cookies? We went to three different stores before we gave up. Plenty of vanilla wafers, oreos, chocolate teddy grahams… but no chocolate wafers. Instead, I used a box of slightly-stale graham crackers I had been hoarding with the intention of making smores cupcakes, but never did. Added a few tablespoons of cocoa powder to simulate the chocolate, and voila. A delicious crust in a pinch.
I also thought that this would be a perfect recipe to use the Olive & Sinclair Mexican Style Cinnamon Chili chocolate bar, but, alas, we unselfishly sent the few bars we were able to purchase (those babies are hard to come by in this town!) to family and friends. And I have no idea what a 'disk' of Mexican chocolate looks like let alone where to buy it. Instead, we used twice the amount of regular bittersweet chocolate, and just added a pinch of cayenne for kick.
And a kick was exactly what we got. But not too much, just enough to excite the tastebuds and make you want to eat another slice. And another. And then another for breakfast. In other words, this recipe is definitely a keeper.
Mexican Chocolate Tart with Cinnamon-Spiced Pecans
Ingredients:
Pecans
Nonstick vegetable oil spray
1 large egg white
2 tablespoons sugar
1 tablespoon golden brown sugar
1 teaspoon ground cinnamon
1/4 teaspoon salt
1/8 teaspoon cayenne pepper
1 1/2 cups pecan halves
Crust
1 cup chocolate wafer cookie crumbs, finely ground, OR 1 cup graham cracker crumbs ground with 3 tablespoons cocoa powder
1/4 cup sugar
1/2 teaspoon ground cinnamon
1/8 teaspoon salt
5 tablespoons unsalted butter, melted
Filling
1 cup heavy whipping cream or soy creamer
4 ounces bittersweet or semisweet chocolate, chopped
1 (3.1-ounce) disk Mexican chocolate (such as Ibarra), chopped OR another 3 ounces of bittersweet chocolate
1/4 cup (1/2 stick) unsalted butter, cut into 4 pieces, room temperature
2 teaspoons vanilla extract
1 teaspoon ground cinnamon
1/8 teaspoon cayenne (if not using Mexican chocolate)
1/4 teaspoon salt
Directions:
For pecans:
Preheat oven to 350°F. Spray rimmed baking sheet with nonstick spray. Whisk all ingredients except pecans in medium bowl. Stir in pecans. Spread in single layer on sheet, rounded side up. Bake until just browned and dry, about 30 minutes. Cool on sheet. Separate nuts, removing excess coating. DO AHEAD Can be made 2 days ahead. Store airtight at room temperature.
For crust:
Preheat oven to 350°F. Blend first 4 ingredients in processor. Add melted butter; process until crumbs are moistened. Press crumbs into 9-inch-diameter tart pan with removable bottom, to within 1/8 inch of top. Bake until set, about 20 minutes. Cool on rack.
For filling:
Bring cream to simmer in medium saucepan. Remove from heat. Add chocolates; whisk until melted. Add butter, 1 piece at a time; whisk until smooth. Whisk in vanilla, cinnamon, cayenne (if using), and salt. Pour filling into crust. Chill until filling begins to set, about 15 to 20 minutes.
Arrange nuts in concentric circles atop tart. Chill until set, about 4 hours. DO AHEAD Can be made 1 day ahead. Cover loosely with foil and keep chilled. Serve tart with whipped cream.
Did you make this recipe?
Let us know what you think!
Leave a Comment below or share a photo and tag me on Instagram with the hashtag #loveandoliveoil.