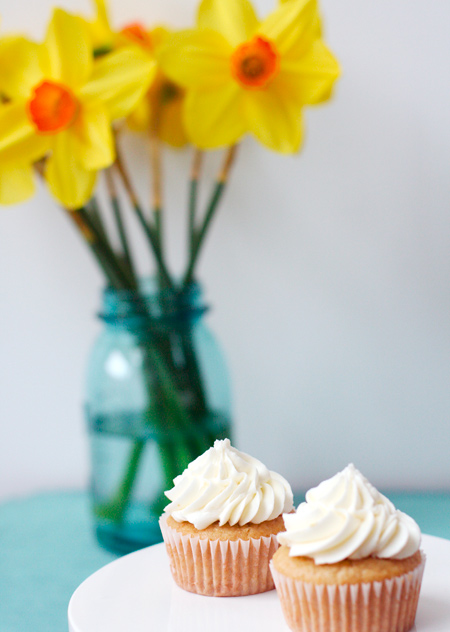 I've been meaning to try another variation on the Strawberry Lemonade cupcakes for some time now. You see, those cupcakes are unbelievable. But the pink frosting? Well, it kind of clashes with our wedding color combo. So I've been pondering how to get the same delicious flavors without all the pastel color.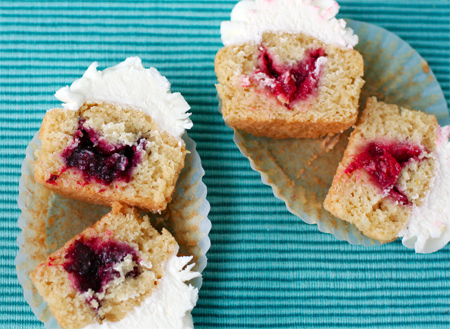 The end result of that pondering was a dozen seemingly color-less cupcakes, discreetly filled with homemade fruit preserves. I made two fillings, half strawberry, half blackberry, both of which I thought went excellently with the moist lemon cake and frosting. Ultimately we'll probably go with the strawberry, as the blackberries presented a peculiar problem of too many seeds, another step in the process that we don't really want to deal with. So strawberry it is, I guess?
Never filled a cupcake before? No problem. Simply cut out a 'cone-shaped' piece from the top of each cupcake. Resist the urge to snack on these bite sized bits (I had to stop Taylor from nabbing a few), as you'll need them again later. Spoon the filling into the gaping holes, and then replace the bits where they belong. They'll look a little funny and stick up a bit, but that's what frosting is for, right? Once you've got a gorgeous swirl of lemony fluff piped on top, no one will be the wiser as to what's hidden inside.
Disclaimer: I am not a lemon lover. So these are on the light side of the lemon spectrum. Both the cake and the frosting have an ever so slightly lemon tang, apparent but not so sour that it overwhelms the sweetness. True lemonhead? Add some more juice and zest to both the cake and the frosting (where you might need a bit more sugar to compensate for the extra liquid). Don't like lemon at all? Omit it completely and call it a perfectly tasty vanilla cupcake.
Yum.
Fruit-Filled Lemony Cupcakes with Sweet Lemon Buttercream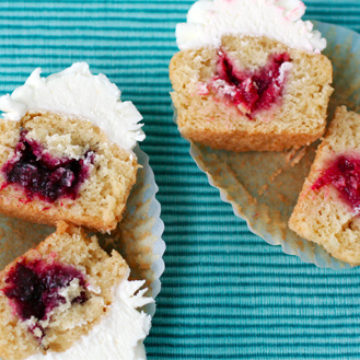 Ingredients:
Cupcakes:
1 1/4 cups all-purpose flour
1 teaspoon baking powder
1/4 teaspoon baking soda
1/2 teaspoon salt
1/2 cup granulated sugar
1/4 cup brown sugar, packed
1/3 cup oil
1 cup full fat coconut milk
2 teaspoons vanilla extract
1 teaspoon finely grated lemon zest
1 teaspoon lemon juice
Fruit Preserves:
1 pint fruit (strawberries, blackberries, or other berry)
2/3 cup sugar
1/8 – 1/4 cup lemon juice, to taste
1 teaspoon lemon zest
Lemon Buttercream:
1/2 cup (1 stick) butter or margarine, room temperature
3 cups confectioners' sugar
2 tablespoons lemon juice (or more to taste)
1 teaspoon lemon zest
1 tablespoon soy creamer or heavy cream
Directions:
Preheat oven to 350 degrees F.
In a large bowl, sift together flour, baking powder, baking soda, and salt. Add sugar and brown sugar and mix. Whisk together oil, coconut milk, lemon zest, lemon juice, and vanilla. Make a well in the center of the dry ingredients and pour in the wet ingredients. Mix until relatively smooth. Fill cupcake liners with a scant 1/4 cup of batter (should be just under 2/3 of the way full). Bake for 20-25 minutes or until golden, and toothpick inserted in the center comes out clean. Transfer to cooling rack and allow to cool completely.
To make fruit preserves, add berries to medium heavy saucepan along with sugar, lemon juice, and zest. Lightly mash berries and bring to a simmer, stirring constantly. Cook over low heat for 20 minutes or until preserves coat the back of a spoon. They will seem a bit runny. Remove from heat, transfer to a heat-safe container, and allow to cool at room temperature for 15 minutes. Move to refrigerator and chill for 1 hour or until set.
For frosting, cream butter in electric mixer for 1-2 minutes until fluffy. Slowly add confectioners' sugar, 1/2 cup at a time, until mixture is smooth. Add lemon juice and zest and mix until combined. Add creamer and mix at medium-high speed until light and fluffy (2-3 minutes).
To assemble, cut a cone-shaped piece out of the tops of cooled cupcakes, approximately 3/4″ in diameter and set aside. Fill cavities with chilled preserves, and replace tops of cupcakes. Pipe on frosting, being sure to cover the seams.
Did you make this recipe?
Let us know what you think!
Leave a Comment below or share a photo and tag me on Instagram with the hashtag #loveandoliveoil.