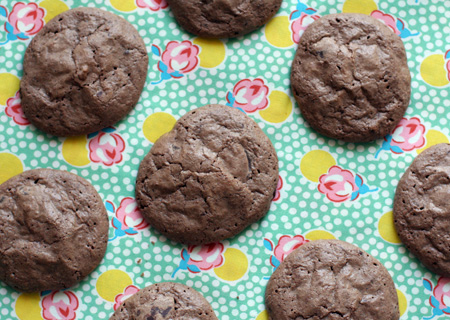 Lately I've been craving more than just chocolate. I've been craving chocolate combined with either almond or peanut butter. And while the peanut butter fudge brownies were awfully tempting, I wanted to try something new. I had a half a can of almond paste leftover from some cupcakes I made when my sister was here. I couldn't very well let that go to waste!
I know that macarons are all the rage right now, meaning those cute little pastel colored sandwich cookies (though I've never actually had one). I am always confused as to the difference between macaroons and macarons, if there is any save an extra letter. I always thought of macaroons as dry coconut cookies that I didn't have any desire to eat, though I now believe a macaron/macaroon is any almond and egg white based cookie, sandwiched with buttercream, coconut, or otherwise. I could be way off base, of course, but these cookies, whatever they are, are quite tasty. Lighter than your typical cookie (as their 'body' comes from egg white rather than flour/baking soda), and full of that almondy flavor I crave so much. Think of your standard chocolate chip cookie crossed with a fluffy meringue, that's what the texture of this cookie is like.
Double Chocolate Almond Macaroons

Makes 18-20 cookies. Recipe from GourmetSleuth.

Ingredients
1 10oz. can Almond Paste (different than marzipan)
3/4 cup granulated sugar
4 ounces bittersweet chocolate, melted
3 egg yolks
1 teaspoon vanilla extract
4 ounces bittersweet chocolate chopped into pieces (or chocolate chips)
3 egg whites
pinch salt

Directions
Preheat the oven to 300ºF. Line 2 baking sheets with parchment paper.

Beat the almond paste and ½ cup of the sugar in the bowl of a mixer with paddle until broken up, about 2 minutes. Pour in the melted chocolate and mix to blend for another minute. Scrape down the bowl then add the egg yolks and vanilla extract. Beat until smooth. Add the chopped chocolate chunks.

In a separate bowl, beat the egg whites and salt until soft peaks form. Gradually add the remaining ¼ cup of sugar and beat until the egg whites are stiff but not dry.

Stir one third of the whipped whites into the chocolate mixture, scraping the bowl well. Then fold in the remaining whites mixing just until the whites are blended. The batter will be fairly stiff. You may even want to work in the egg whites gently between your fingers.

Drop the batter by tablespoons onto the parchment-lined baking sheets or use a small portion scoop. Bake the cookies until set and lightly browned, about 20 to 25 minutes. Rotate the baking sheets after 15 minutes to bake evenly.

Allow the cookies to cool completely then remove them from the parchment with a spatula. Stored in an airtight container at room temperature, these cookies will keep fresh for 3 to 5 days.