Problem: Solved.
Before: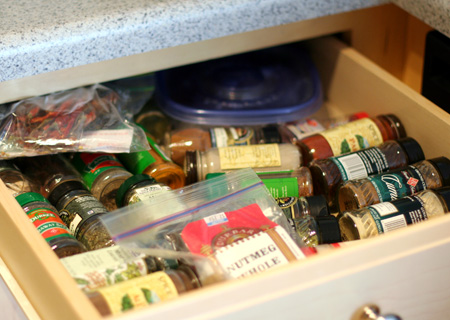 After: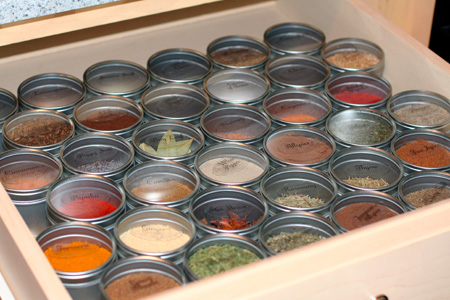 Pretty big difference, eh?
I probably spent about 5 hours scouring the internet for spice containers. Granted, there are some pretty nice spice racks out there. But I'm cheap, and knowing just how many spices we had to deal with, paying $3-$4 per container or $50 for a 16-spice rack was just not reasonable. And then I found these. At just $.68 a piece, the price was right. We bought some of the 8oz ones as well, for some of our bulkier spices, and they are stacked nicely in the cabinet. The 4oz container is the perfect size for your typical spice jar, there were only a few abnormally large jars whose contents didn't quite fit. I don't know how well these would work if you wanted to do one of those fancy magnetic racks – the lid just slips on and I wouldn't trust it to stay on when positioned horizontally. They are probably not as airtight as they could be either – but they are just too pretty in that drawer!
I made up some pretty labels for all the spices we had, and got some clear stickers to print them on. An hour or so later a voila! No more spices gone wild!
I'd love to start purchasing better quality spices, preferably that come in bags instead of bottles, since I'll just be dumping them into these containers anyway. Anyone know of a good online source for reasonably priced spices?