Yesterday was Taylor's birthday. And at 8:00 at night I decided he needed birthday cupcakes.
Cut to tonight, a mere 24 hours later… there are 2, count them 2, cupcakes left. Out of a batch of a dozen. While I would like to blame the kitchen elves for this, or the kitty, I know that we, just the two of us, are solely responsible for the extinction of this batch of oh-so-rich chocolate cupcakes.
That should tell you something about the amount of deliciousness we're talking about here.
I knew I had made something good when Taylor marched into the office at 8:15 am this morning, with a cupcake in hand, saying, "It's my birthday. I can have a cupcake at 8 in the morning if I darn well please!". Me, well, I waited until at least 10 to have my morning cupcake. :)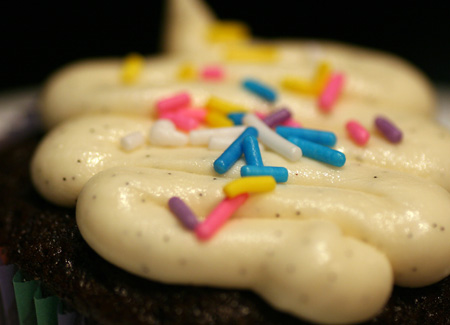 Rich and chocolaty, with a smooth and not too sweet frosting speckled with vanilla, topped with a few sprinkles… yes these cupcakes beat a birthday cake any day, hands down.
Rich Chocolate Cupcakes with Vanilla Bean Frosting

Makes 11-12 cupcakes.
Recipe from Vegan Cupcakes Take Over the World.

Ingredients
Cupcakes:
1 cup soy milk
1 teaspoon apple cider vinegar
1/3 cup canola oil
1 teaspoon vanilla extract
1/2 teaspoon almond extract
3/4 cup sugar
1 cup all-purpose flour
1/3 cup cocoa powder, Dutch processed or regular
3/4 teaspoon baking soda
1/2 teaspoon baking powder
1/4 teaspoon salt

Vanilla Bean Frosting:
1/4 cup margarine (or butter), softened
1/4 cup tofutti (or regular) cream cheese, softened
2 cups confectioners' sugar
1 vanilla bean, split and seeds scraped out, or 1 teaspoon vanilla extract

Directions
Preheat oven to 350 degrees F. Line muffin pan with paper liners.

Whisk together the soymilk and vinegar in a large bowl, and set aside for a few minutes to curdle. Add the sugar, oil, and vanilla extract to the soy milk mixture and beat till foamy. In a separate bowl, sift together the flour, cocoa powder, baking soda, baking powder, and salt. Add in two batches to wet ingredients and beat until no lumps remain (or very few remain).

Pour into liners, filling each with 1/4 cup of batter. Bake 18-20 minutes, until a toothpick inserted into the center comes out clean. Transfer to a cooling rack and let cool completely.

For frosting, cream together margarine and cream cheese until just combined. Add confectioners' sugar 1/2 cup at a time, mixing each addition until smooth and creamy. Add vanilla, and beat until fluffy and smooth. Keep tightly covered and refrigerated until ready to use, then pipe/spread onto fully cooled cupcakes. Add sprinkles and don't blink or they'll all be gone.