Almond lovers, this one's for you! With a tender, almond-scented cake and a sultry amaretto-infused ganache glaze, this almond bundt cake is stunning inside and out.
Bundt cakes are always a fan favorite, both easy and impressive and no finicky layers or frosting to deal with. This almond-flavored masterpiece is finished with a simple dark chocolate ganache spiked with amaretto (because almond and chocolate are a delectable combination).
Cakes are some of the hardest recipes to develop, in my opinion. It's usually a battle (that I don't always win… there are more cake recipes in my 'scrap' pile than I care to admit).
The texture of a cake, moreso than flavor, is really hard to get right. Especially with yellow cakes like this one (for whatever reason chocolate cakes don't have this same problem). While oil-based cakes may have a better texture, there's no denying butter-based cakes win on flavor. And without any chocolate in there, flavor is everything.
The thing is, this cake tastes amazing. If you're a fan of anything almond you'll love this cake. The sweet notes of almond are enhanced by fragrant amaretto, and complemented by a bit of citrus zest (I used Meyer lemon, but orange would be lovely here too). The dark chocolate glaze provides a rich and slightly bitter contrast that makes for a beautifully well-rounded flavor.
And the texture is lovely in its own right; quite possibly it's just that it's a bit different from the vision of this cake in my head and that's why I'm disappointed in it? Taylor sure seemed to think so (as evidenced by his enthusiastic consumption of not one but TWO full slices last night).
The final (for now) iteration of this cake has what I'd call a cottony texture: lighter than a pound cake, somehow both dense and soft at the same time, almost like memory foam (really winning with words here, folks). It's not as spongy or springy as some cakes are, rather the delicate, velvety crumb yields under your fork in sweet, sweet surrender.
The glaze is a simple dark chocolate ganache spiked with amaretto. I should've let it cool a few more minutes but, well, I got impatient. A slightly thicker glaze would give you more dramatic drips. Just don't let it cool too much, it should still be pourable.
But even if your glaze ends up on the thin side like mine, just scrape the overflow and serve it on the side. You know, for those who want a little extra chocolate (because let's face it, the bites with the most chocolate are really the best ones).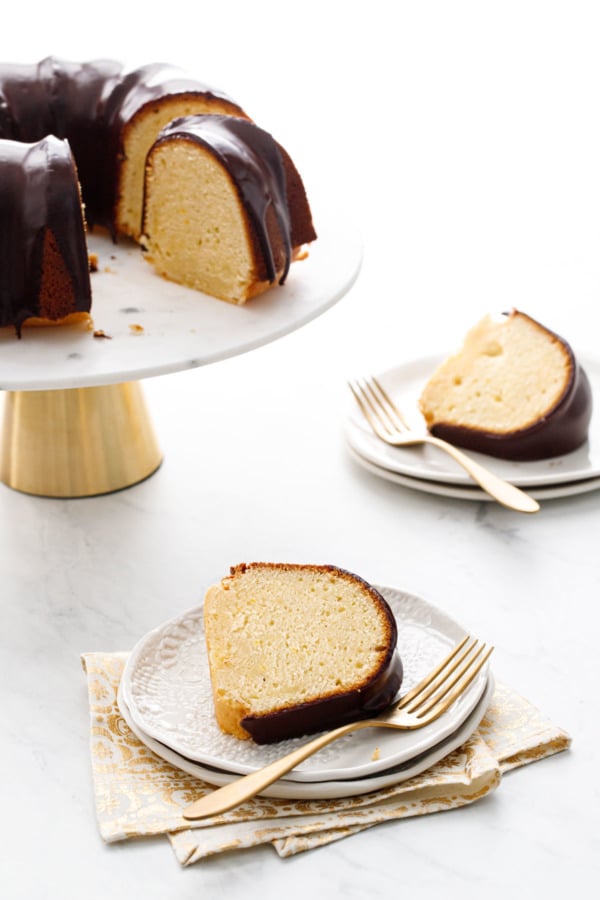 This is one of those recipes that I could just keep tweaking and tweaking, with no end in sight. But that doesn't do y'all any good, does it? Be honest, would you rather have a recipe like this one that is good as is but still could be better? Or would you rather wait a few weeks between recipes while I test, test, and test some more until it reaches my (admittedly too high) standards of perfection?
I'm posting this as is (done is better than perfect, right?) but I still may revisit it at some point in the future. For now though, I'm fresh out of almond paste and am frankly tired of testing a single recipe so many times. Is this the best cake I've ever made? No (though doubtful any non-chocolate cake will ever get that honor) but it's still darn good. If you're an almond lover like me, you'll be pleased, indeed.
I'd like to try increasing the fat, by way of an egg yolk or two, more sour cream, or even some added oil which I think may add some extra succulence to the cake itself. I'm also curious how adjusting the leavening and/or the baking temperature may help even out that bundt bump that's not very visually appealing.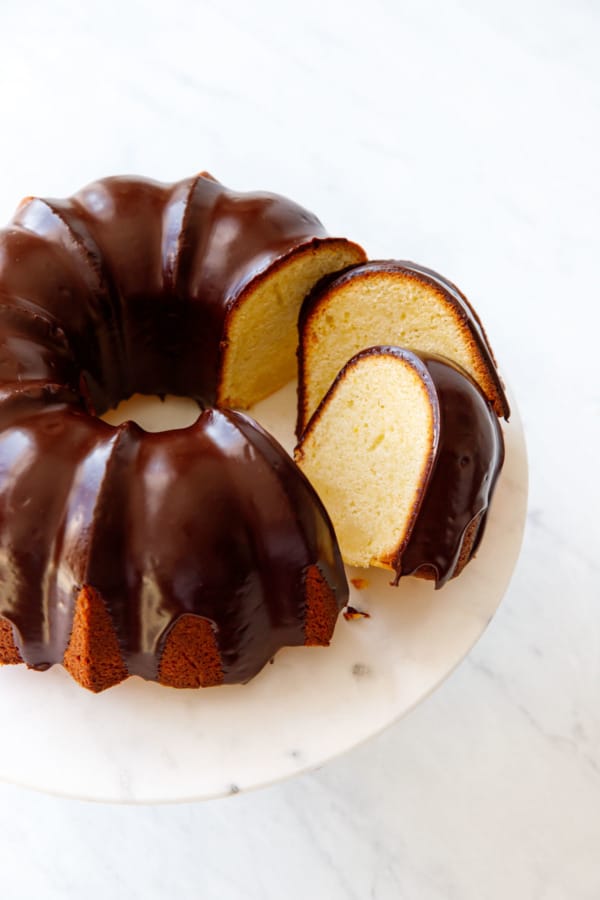 I'd also love to figure out how to get rid of that bundt bump. Bundts, especially ones like this that are served inverted, always look a bit silly when they have a domed bottom like that. Strangely that same cracked peak is the ideal when baking a loaf; so maybe I just used the wrong pan for this recipe (who knows at this point). I did not test a version without leavening (like a classic pound cake), which may eliminate the bump but at the expense of lightness of texture, which I'm not sure is something I'm willing to sacrifice for appearance's sake.
If the bump bothers you, just take a long serrated knife to it and slice off the uneven bump before inverting onto your cake stand and glazing.



The cake gets its moistness from the addition of sour cream, a trick I've used in cakes before.
Sour cream has, of late, become one of the most-used ingredients in our kitchen (as evidenced by the fact that the 4 most recent recipes I've posted all contain sour cream). It really does improve almost everything it touches, both sweet and savory.
Because I'm sure someone will ask, yogurt is not really a suitable replacement for sour cream. While yes, it'll technically work (it's not going to cause the cake to explode like a volcano or anything), but the final result will not be nearly as moist or tender. Yogurt, even full-fat Greek yogurt, just doesn't have the high fat percentage of sour cream (same reason I don't recommend low fat sour cream either). It's that fat, in addition to the cultured tang, that really makes all the difference here and is why sour cream makes for such fabulous cakes.
Moisture also comes in the form of sugar, sugar being hygroscopic by nature, which means it attracts water molecules. While you might think that cutting the sugar in this recipe wouldn't make a difference, you'd be surprised just how much of the moisture and mouthfeel of this cake is a result of the sugar. For that reason I do not recommend reducing sugar in this recipe.
I like little bundts and I cannot lie.
Can we come to some sort of agreement about smaller scale bundt pans? Because a standard size bundt pan (10 to 12 cups, typically) is really quite massive, and far from practical in most situations. In fact, that much batter was almost too much for my 5-quart mixer.
I started testing this cake with this little 6 cupper, and it was such a perfect size. Not to mention the smaller cake size resulted in a better chocolate-to-cake ratio, in my honest opinion.
I considered writing the recipe for the half-sized bundt pan, but in an effort to make my recipes as approachable as possible I didn't want to call for a pan size that very few people had on hand.
That said, if you happen to have a 6-cup bundt pan (yay you!), simply halve this recipe (both the cake and the glaze). Bake for about 40 minutes and voila! A perfect cake for a small group.
Temperature Matters!
For cakes like this, I can't stress enough how important ingredient temperature is. If you've ever experienced a curdled looking batter, or a cake that bakes up with a coarser crumb with large, uneven holes… chances are your butter or your eggs were too cold.
I'm dead serious when I say stick a thermometer in your stick of butter. Same for the eggs too. Ideally the two should be the same temperature, around 70 degrees or so. This will allow them to fully emulsify, producing a light, fluffy batter and a gorgeous, finely-textured crumb.
If your kitchen tends to run cold, your ingredients may never reach this temperature on their own, even if they've been sitting out for hours. You can carefully microwave them, ever so gently to bring the temperature up. you can also put everything on a plate in the oven with the light on (just please, put a big old sign over the ON button so you don't accidentally turn it on to preheat with the stuff still in there).
The sour cream and milk should be at room temperature too, although that's not quite as critical as the butter and eggs.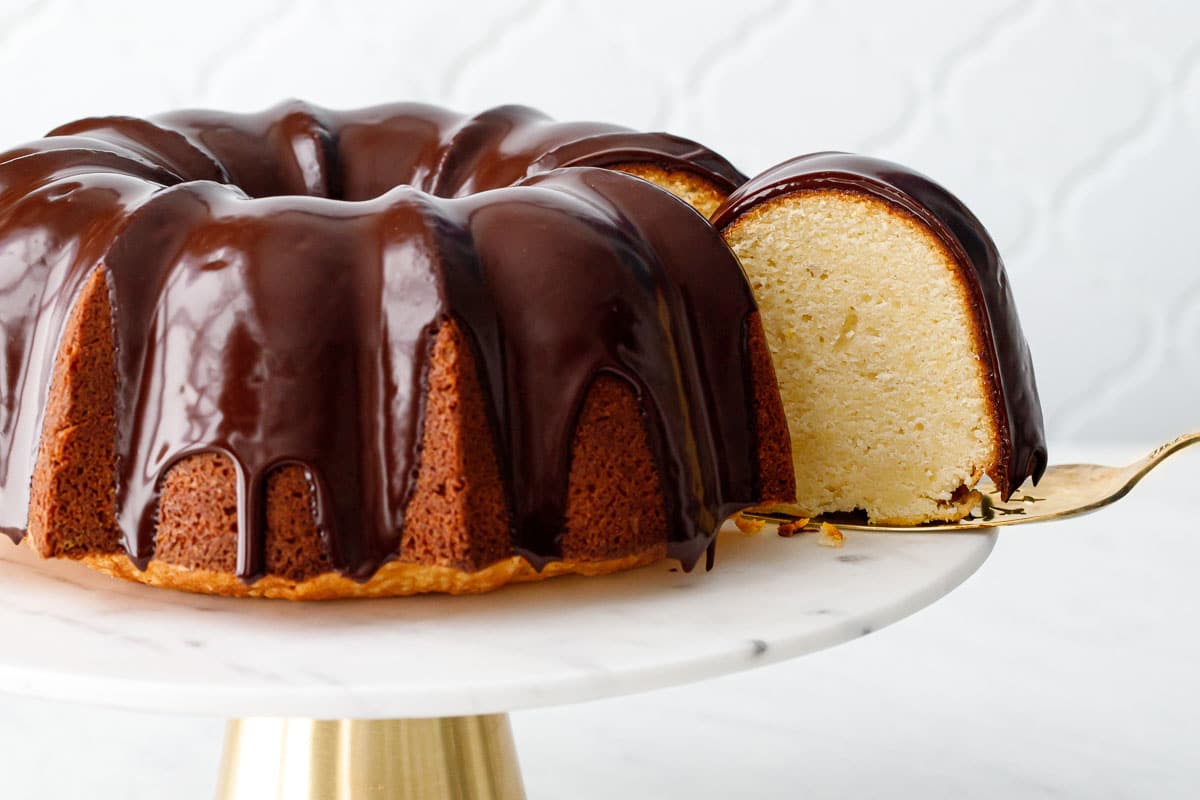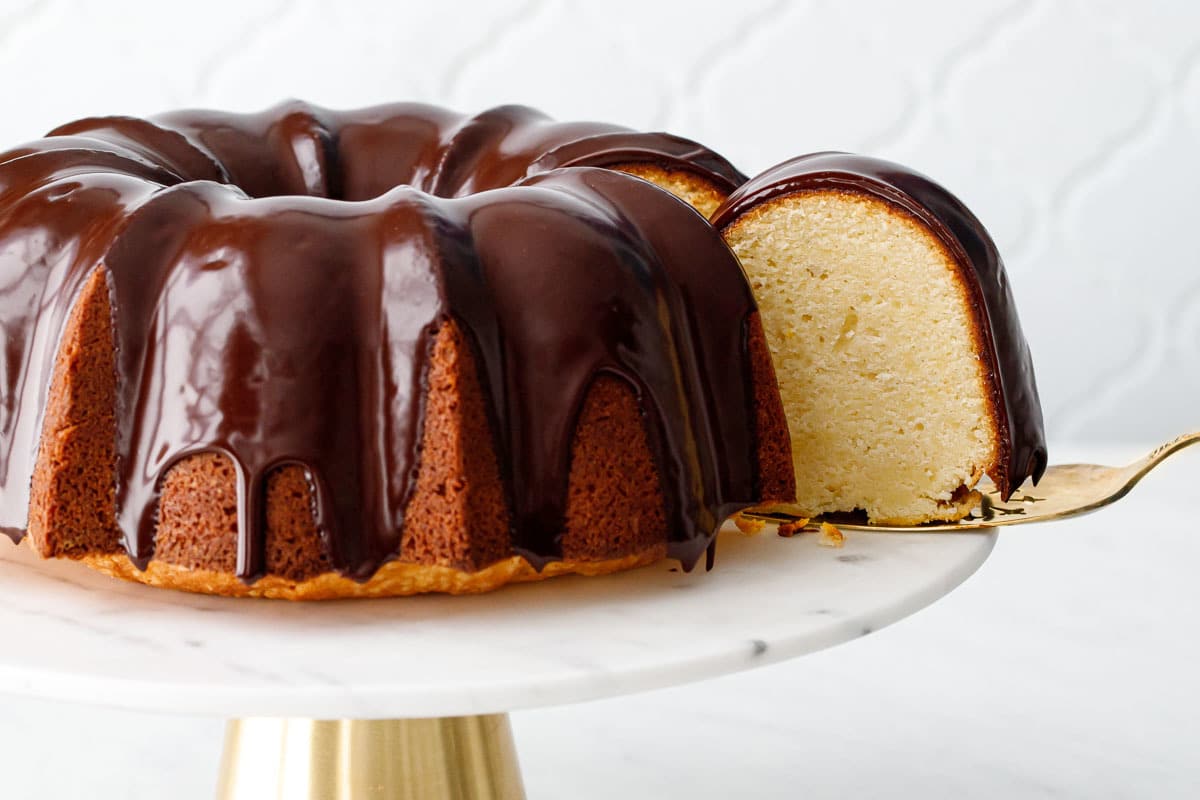 Almond Bundt Cake with Amaretto Ganache
Almond lovers, this one's for you! With a tender, almond-scented cake and a sultry amaretto-infused ganache glaze, this almond bundt cake is stunning inside and out.
Ingredients
For Cake:
2 ¼

cups

/

450

g

granulated sugar

8

oz

/

226

g

almond paste

2

teaspoons

finely chopped Meyer lemon or orange zest

1

cup

/

226

g

(2 sticks) unsalted butter

,

at room temperature

4

large eggs

,

at room temperature

3

tablespoons

/

45

g

amaretto liqueur

¼

teaspoon

almond extract

2 ½

cups

/

312

g

all-purpose flour

¾

teaspoon

baking powder

½

teaspoon

fine sea salt

⅔

cup

/

162

g

whole milk

,

at room temperature

½

cup

/

120

g

sour cream

,

at room temperature
For Amaretto Ganache:
6

oz

/

170

g

good quality dark chocolate

,

finely chopped

⅔

cup

/

160

g

heavy cream

1

tablespoon

/

15

g

amaretto liqueur
Instructions
Preheat oven to 350 degrees F, with the baking rack positioned in the lower third of the oven. Grease a 10 to 12-cup capacity bundt pan with baking spray.

In a mixing bowl or the bowl of a stand mixer, combine sugar, almond paste, and lemon zest, mixing until paste is broken up into pea-sized pieces (use your hands if necessary or if your almond paste is on the hard side; you can also do this in a food processor).

Add butter and beat until light and fluffy, 3 to 5 minutes.

Add the eggs, one at a time, beating well after each addition and scraping down the sides of the bowl once or twice as you go. After you've added the final egg, increase the mixer to high and beat for 3 minutes. Add almond extract and amaretto and mix to combine.

In a small bowl, whisk together flour, baking powder, and salt. In another small bowl or a 2-cup capacity measuring cup with spout, whisk together milk and sour cream.

With the mixer running on low, add half of flour mixture until almost incorporated. Mix in half of milk mixture, followed by remaining flour, mixing until just combined. Scrape down the bowl as needed. Finally add the rest of the liquid and mix on low until just incorporated. The batter will be quite thick, but smooth.

Spoon or scoop dollops batter into the greased bundt pan, distributing it evenly around the pan. Place the bundt pan on a baking sheet (just in case) and bake for 50 to 60 minutes or until top is light golden brown and a long, thin skewer inserted in the thickest part comes out with just a few moist crumbs attached, no gooey batter.

Remove from the oven and place on a wire cooling rack for 15 to 20 minutes, then gently invert the cake onto a wire rack. It should come out cleanly. Let cool completely before glazing.

To make the ganache, place chopped chocolate in a heat-proof bowl or a 2-cup glass measuring cup with a spout for easy pouring.

In a small saucepan, heat cream over medium heat until it just starts to bubble and steam. Pour over chopped chocolate. Let sit for 30 seconds, then gently whisk, starting in the center and moving out in concentric circles, until chocolate is fully melted and smooth. Whisk in amaretto. Let cool for 15 to 20 minutes, stirring occasionally, until glaze has thickened slightly (it should still be pourable, but shouldn't totally run down the sides).

Set cooled cake on wire rack inside a baking sheet (to catch any overflow). Pour glaze over top of cake, letting it drizzle down the sides. Let set for a few minutes before slicing and serving. Any overflow ganache can be scraped off the cookie sheet and used for something else, or served alongside the sliced cake for those who want extra chocolate.

Store leftover cake in an airtight container at room temperature for up to 2 days. You can also freeze the unglazed cake, wrapped tightly in plastic wrap and/or in an airtight bag, for up to 1 month. Let thaw completely before glazing.
All images and text ©
for Love & Olive Oil.
Did you make this recipe?
Let us know what you think! Leave a Review below or share a photo and tag me on Instagram with the hashtag #loveandoliveoil.