Our trip to Portugal this past fall was simply unforgettable; the country is brimming with vibrant color and oozing with charm. I left wishing we had booked a longer trip.
We concentrated most of our time in Porto and Lisbon, with a day trip to Sintra (and I plan to do separate posts for each of these stops as well as our layover day in Amsterdam soon).
This trip really began with a killer airfare deal to Amsterdam (when you see flights from Nashville to Amsterdam for $450 you don't think, you just buy and work out the details later). While the Netherlands is definitely one of my bucket list places to visit, fall tends to be quite rainy there, so we searched around for somewhere a bit sunnier that would be a cheap and easy flight from Amsterdam.
I've wanted to go to Portugal for some time now, hearing nothing but amazing things from friends and acquaintances who'd been there (and I'll admit, the lure of the Portuguese egg tarts was strong). And flights from Amsterdam to Portugal were direct and under $200 — it seemed like a no brainer to me. All in all we spent under $700/each for our airfare doing it this way; booking a flight directly from Nashville would have easily cost us $1,200-$1,400. I call that a win.
(We'll definitely go back to Amsterdam at some point in the future, ideally in springtime. But this trip we opted to just spend a night on each end. I may post about our long layover at some point, as it's a gorgeous city and I got some amazing photos despite being there less than 36 hours.)
Anyways. After a full day of exploring in Amsterdam, we hopped a flight and landed in Porto that evening, and spent the next two days and two nights eating, imbibing and exploring.


Portugal's second-largest city after Lisbon, Porto (also called Oporto) lies along the Duoro river, its historical center (dating back to 300BC) was named an official UNESCO world heritage site in 1996.
Porto is best known for the fortified wine that bears its name (if you didn't know that Port wine was born in Porto, here's your lightbulb moment for the day), but this slightly grungy, endearingly charming city is so much more than that. Indeed Porto has a character that is all its own.
Wandering through the historic streets, at first glance all you see is color: gorgeous ceramic tiles in rich blues and greens, colorful doors and bold, expressive street art. But look a bit closer and you can't help but notice the dilapidated buildings and crumbling facades. It's the sort of beautiful decay that makes for stunning photos, sure, but it also leaves you feeling a bit melancholy. The numerous abandoned buildings are mainly a result of historically strict laws regarding rent control and historic preservation that meant landlords chose to abandon the buildings entirely rather than invest in any repairs or renovations. Additionally, Porto has faced a struggling economy that, unfortunately, cannot be bolstered by Port wine alone. Tourism certainly helps, but it also means that any renovations that are happening to these historic buildings are being done for tourists and short-term rentals rather than locals. Increasingly more and more people are leaving the city, lured by the cheap rents of the surrounding suburbs, and to larger and more vibrant cities like Lisbon.
Still, the fact that the historic city hasn't experienced the same surge in redevelopment as many other major European cities isn't all bad: as it means that the history is still intact, the public faces of the buildings still colorfully tiled even if the inside of the building is little more than a ruin. Incessantly optimistic graffiti and street art surprises you around every corner, turning the abandoned buildings into colorful canvases for original art.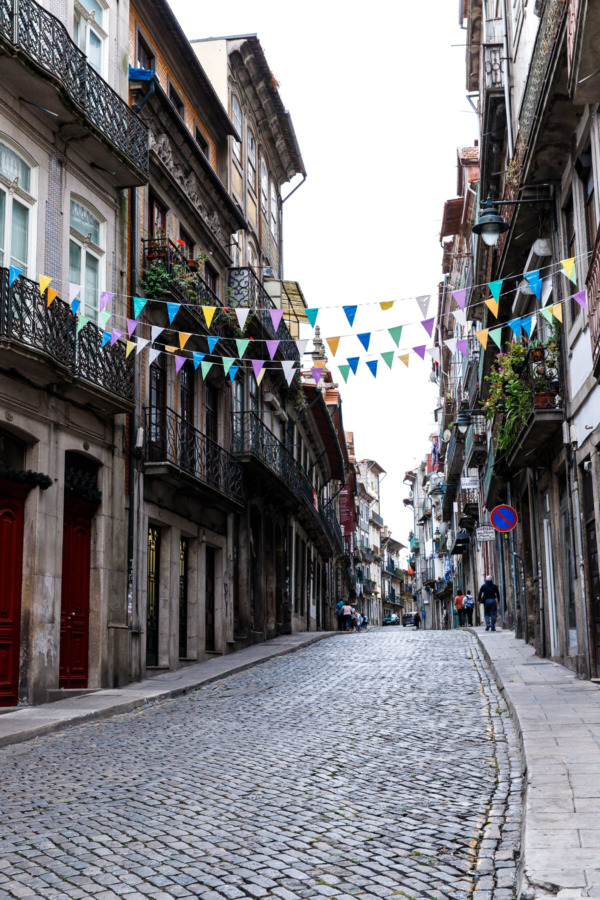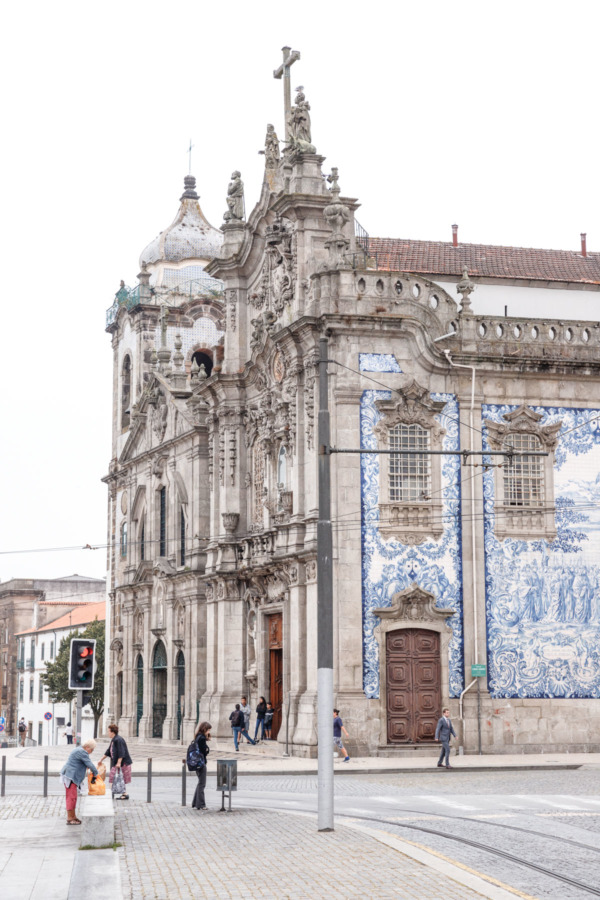 The iconic blue and white tiles that adorn many of Porto's most ornate buildings are called azulejos, and have been gracing the buildings of Porto and other cities in Portugal for centuries. They were first introduced to Portugal by King Manuel I in the early 1500s after returning from a trip to Seville, Spain; they've been an iconic part of Portugal's history and architecture ever since.
While many residential buildings feature more geometric patterns, Porto's churches, train stations and other public buildings often feature ornate scenes depicting stories from the bible and other tales from Portugal's history. They're both ornamental and functional, helping regulate the temperature of buildings as well as aiding with the upkeep of the building, requiring just a simple cleaning every so often instead of an entirely new paint job.




One of the highlights of our time in Porto was a food tour we booked with Taste of Porto. I've said it before and I'll say it again, we've found food tours to be one of the most worthwhile uses of our travel budget. We've lucked out with some pretty awesome and memorable food tours in Venice and Barcelona, and our Porto tour was no different.
The daytime tour took us around downtown Porto, stopping for sweets and meats and wine, sharing informational bites of Porto's history and culture along the way.
One of the critical discoveries for us on this food tour was… remarkably… canned sardines. They are everywhere in Portugal (there are entire shops filled with nothing but canned fish), and boy are they delicious. We took home a few tins of the sardines we sampled on the tour (Georgette was the brand, sadly we have yet to find a source to purchase them in the US), but nearly every shop had its own assortment of gorgeously packaged tinned fish.
So much better (and tastier!) than a postcard.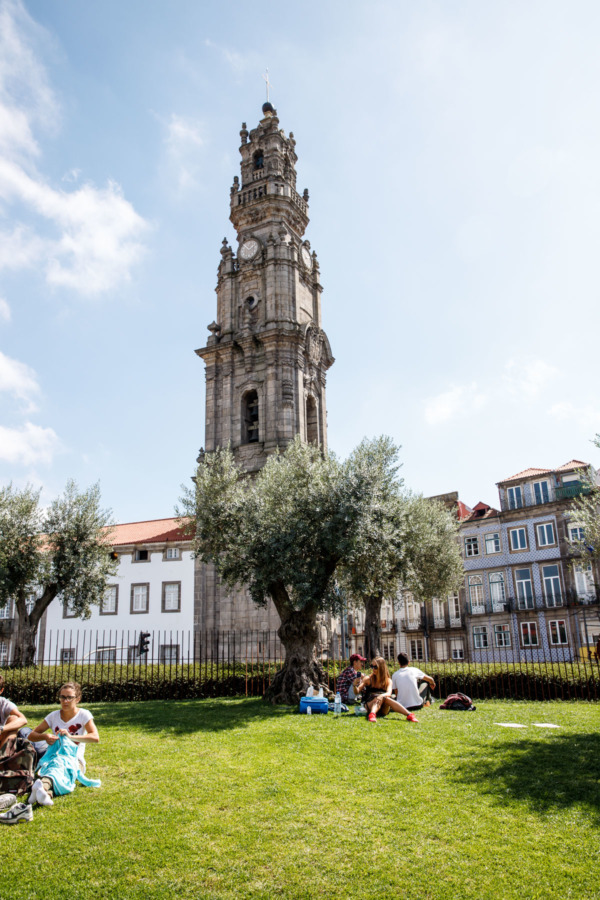 The food tour ended near the Clérigos Tower atop a hill in the center of the city. We figured, since we were there, why not climb to the top and take in the view. What started as a dreary day had transformed into blue skies and sunshine, burning away the last of the fog and saturating the city's vibrant colors even more.
It was a precarious climb to the top, the narrow stone steps spiraling around the baroque tower with barely room for two people to pass. But once at the top we were in for a treat: a 360 degree view of the entire city that took your breath away.
One of my favorite ways to take in European cities is from the top of a tower, the sea of red roofs periodically punctuated by a turret or spire, the natural hills and valleys giving you an entirely new perspective than just walking down below.
I think this would be an especially stunning view right around sunset, if you're so inclined.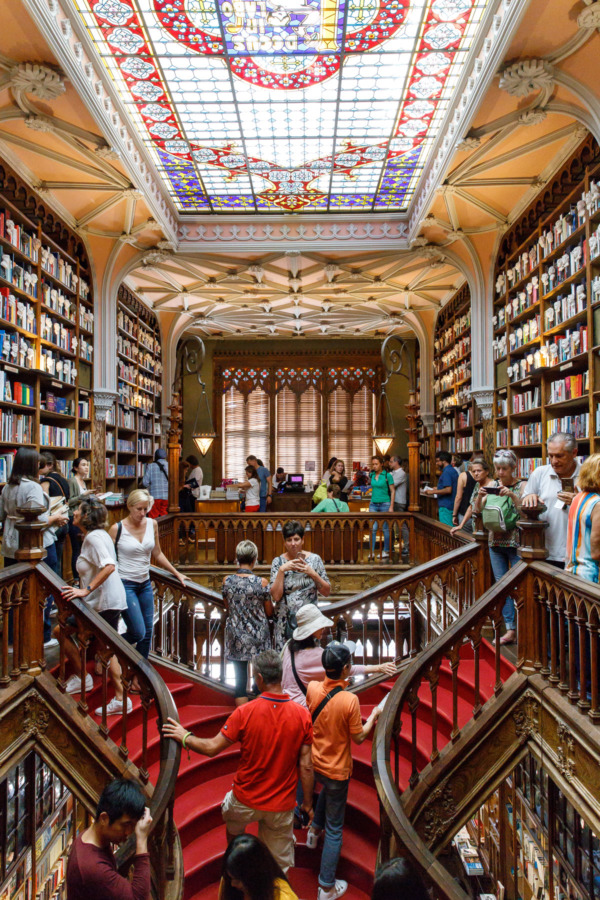 Kitty corner to the tower is the famous Livraria Lello bookstore. When we walked by earlier in the day we noticed a line outside an ornate building, and stopped to ask what they were waiting for.
Why would people wait in line for a bookstore, you ask? Well, this isn't just any bookstore: this is perhaps the oldest bookstore in Portugal, and one of the most beautiful in the world, with ornate woodwork, a stained glass ceiling, and a gorgeous blood red forked staircase in the center of it all. Needless to say it attracts bibliophiles from all over the world.
The store supposedly inspired JK Rowling's depictions of Hogwarts, Rowling having been a loyal customer and frequent visitor when she lived in Porto in the 90s. (And perhaps this is the real reason for its fame… and the resulting lines).
Needless to say if you want to visit this bookstore, be prepared to wait in line. You first have to visit the gift shop a few doors down (yes, the bookstore has its own separate gift shop) and buy an entry ticket. Then wait in line to get into the bookstore itself. (Good news is you get store credit for the value of the entry ticket should you want to purchase any books). It's definitely crowded inside, filled with book lovers and Harry Potter fans alike, all trying to get their pictures on the iconic staircase.
Still, crowds aside, it was a downright gorgeous store and, while I probably wouldn't have waited if the line was longer, I'm still glad we were able to see it.


The following day, we made our way down to the riverfront and across the bridge to the Vila Nova de Gaia neighborhood, where the majority of the city's Port wine producers have set up shop.
We figured, when in Porto… it'd be an travesty not to visit at least one port wine producer, even though we're not big wine people. There are so many clustered on the south bank of the river you could easily spend an entire week bopping from tasting room to tasting room. So if you're into port, well, you really need to visit Porto.
The Duoro valley, where most of the grapes for the port are grown, is an easy day trip from the city as well, so its no wonder Porto has become such a destination for wine lovers.
We opted to just visit one, and, not surprisingly, chose Taylor Fladgate (yes, we did pick up some branded souvenirs because Taylor always gets a kick out having his name on things, from guitars to golf clubs and now port wine branded tote bags and wine openers, lol.)
The self-guided audio tour was about an hour long and surprisingly informative, even for wine-novices like ourselves. I learned far more than I ever imagined I'd know about port wine.
The tour ended with a tasting, with both a white and a red port (did you know there were white ports? I had no idea!) Tawny ports are actually red ports that have been aged upwards of 30 or 40 years in oak casks until their color lightens to the signature tawny hue.




Planning your own trip to Porto? If not, you really should because it's an incredible place to see. I've compiled a few of our favorite spots here for easy reference.
Where to Eat in Porto
Bolhão Market – The ultimate foodie destination, featuring fresh meat, seafood and produce as well as other local foodstuffs, flowers, handcrafts and food vendors. Note that the original market building is currently undergoing renovations, so the market has temporarily moved a few blocks away until the project's completion in 2020.
A loja does Pasteis de Chaves – Known for their savory pastries (pasteis de chaves), with a savory meat or veggie filling in a flaky, almost phyllo-like crust.
Flor dos Congregados – Stop in this cave-like restaurant for a Terylene (a rustic sandwich featuring little more than roasted pork, prosciutto and cheese on soft bread), or make reservations for a full traditional Portuguese meal.
Cafe Guarany – One of the oldest cafes in Porto, this gorgeous, light-filled cafe is a perfect place to stop for an afternoon pick me up or a full meal.
Gelateria Portuense – This modern gelato shop in the heart of downtown porto features unique flavors like Tawny Port (duh), as well as Earl Gray and Chestnut, among others. They also serve a variety of coffee, tea and pastries.
Confeitaria do Bolhão – An historic pastry shop in the heart of Porto filled with locals and tourists alike. You can grab an authentic pastry or slam an espresso at the front counter, or have a seat in the restaurant in the back for a more leisurely meal.
7groasters – A hip coffee shop on the south bank of the Duoro, featuring specialty house-roasted coffees and light fare. We stopped by for a satisfying breakfast before heading up the hill to indulge in some port tastings.
All in Porto – Eclectic wine and tapas bar. A great place to sample some local Portuguese wines and tasty snacks to go with it.
Taste of Porto Food Tour – We did the Downtown food tour, which took us to a number of spots in central Porto, including the Bolhao market (in its temporary location). Many of the spots listed above were from this tour.
What to Do and Where to Stay
Taylor Fladgate Cellars – Just one of the many port cellars in Porto. Taylor has a very thorough and informative self-guided audio tour that takes you through the entire port production process, as well as a tasting at the end.
Clérigos Tower – One of the highest points in Porto, from the top of the bell tower you are treated to amazing 360 degree views of the city. It's only 5euro for entry into both the church and the bell tower, although you've got to be prepared for a few stairs (225 to be exact).
Livraria Lello – One of Portugal's oldest and most beautiful bookstores, supposedly the one that inspired JK Rowling's depictions of Hogwarts. It costs 4euro for an entry ticket (purchased at the gift shop a few doors up the street), which you'll get in credit should you purchase any books from the store.
B The Guest – Great location near the Bolhao market and a few doors down from the Confeitaria do Bolhao pastry shop, this cute guest house was a great value. Breakfast included!
*****
And now, onward to Lisboa!