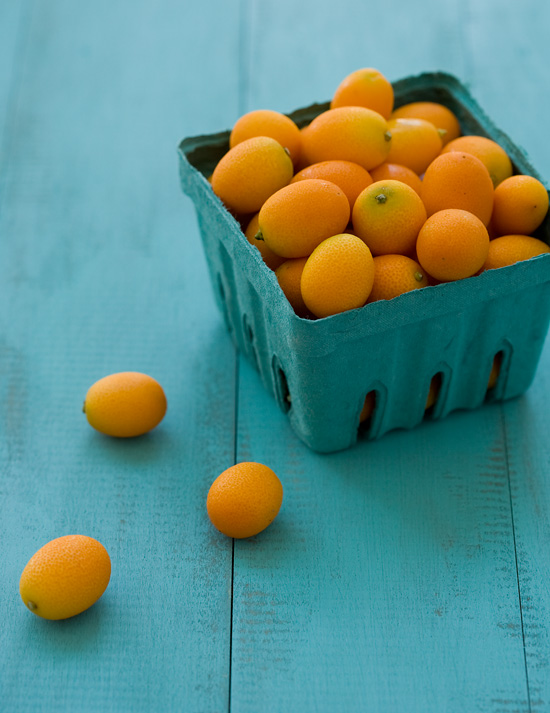 I love using texture in my photos. Whether it be a rough burlap fabric or a distressed piece of wood, it adds so much depth and character to an image. And for those of us who aren't blessed with a beautiful rustic wood tabletop, we have to resort to drastic measures.
Or not so drastic ones.
My first attempt at a distressed wood background involved getting a long piece of beadboard cut into 2′ lengths, gluing them together, and then painting it white. It worked, but I didn't love the double grooves of the beadboard. They were too strong and took away focus from the subject. I wanted something a bit more subtle.
On our next trip to the home improvement store, I scoped out some better materials. Lucky for us we went to a different store than our regular one, and there I found some "Pine Board Scants" or "Craft Boards" (signs were conflicting – I don't know what they were actually called). Basically, it is a 3 1/2″ wide board like normal lumber, but it is only 1/4″ thick. And since my puny little arms are going to have to lift this thing on a regular basis, thinner boards were exactly what I was looking for. They had a variety of different widths, so you could get wider or thinner boards based on your preference. I found these particular boards at Lowes. Home Depot (at least the one we usually go to) didn't have anything comparable.
This same process can definitely be done with standard 3/4″ thick wood, but your final product will be a lot more bulky, especially if you do the double layer for a reversible background.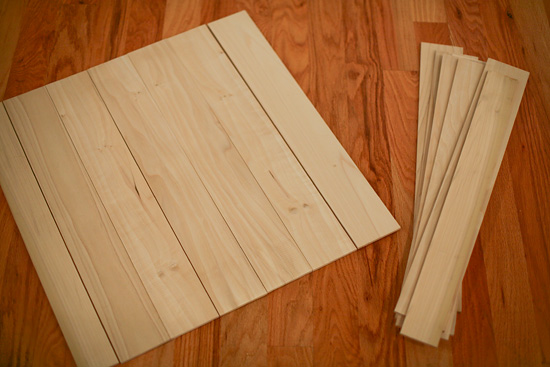 For this specific background you will need twelve 3.5″ wide, 2′ long boards, plus two 2.5″ wide boards to make a perfect square. Arrange half of the boards in one direction, and tape in place. I wanted a very small but still distinguishable gap between the boards, the tape helped keep it in place while I glued.
Next, lay the other half of the boards in the opposite direction, gluing in place with wood glue, carefully positioning boards so the gaps are to your liking. Careful not to put too much glue, you don't want it to ooze through the gabs (or, er, glue it to your floor…)
When the boards are glued in place, put a flat, heavy weight (like an upside down coffee table or a whole lot of books) on top and let dry overnight. You could also use wood clamps if you have them, but basically you just want something that will hold the pieces firmly together until the glue is dry.
Now it's ready to paint!
For my paint, I simply picked up a few sample containers of paint. $2/a piece, and more than enough paint to cover my little 2×2′ background. One sort of a medium greenish brown color (called Truffle), white, and then two shades of turquoise. My plan was to make use of both sides of the board, have one painted basic white, and the other a pretty bright turquoise.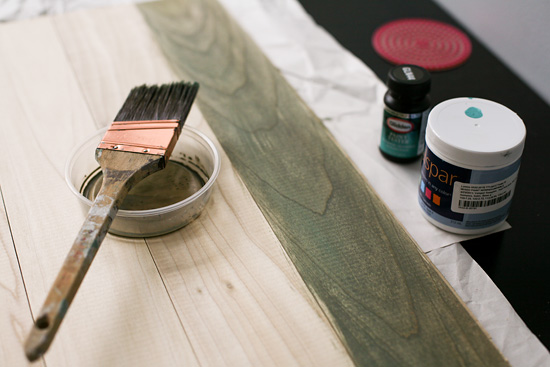 I wanted the wood to look old, not new. Old wood is dark, and I wanted some of that darkness to show through.
Start by watering down your brown paint. I used probably 50/50 water to paint. But I suggest (and this is what I did) testing your finishes first. I started with the end board, since I knew it wouldn't show too much in the photographs, and then when I was happy with that finish I repeated the same process for the rest of the board.
Water down your paint, and then brush a coat onto each board, one a time. You want full coverage with this layer. Then take a cloth or paper towel and, while the paint is still wet, wipe it off. This will make the paint act more like a stain than a paint. You can see that the overall color is darker, but the wood grain still shows through. Let this layer dry completely before continuing (or if you're impatient like me, grab the hair dryer).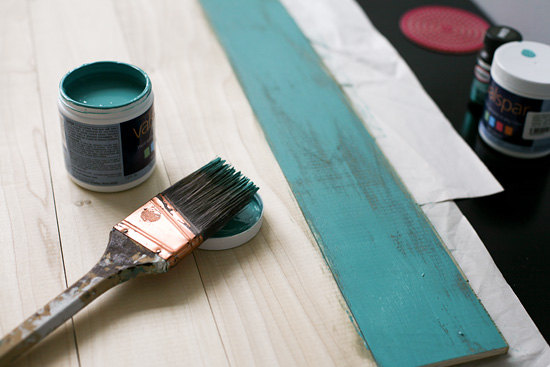 Next, time for color. I decided to use two shades of turquoise for added depth. I started with the darker one. Using a fairly dry brush, lightly brush on the color. You don't want a ton of paint on your brush; spotty coverage and missed spots are good. Brush strokes are good. Rough is good. Move quickly, and don't overthink it. You can always add more paint, but you can't take it off. Again, let this layer dry completely.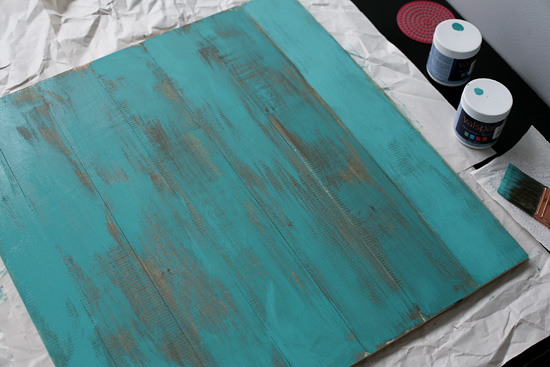 You can then add the second shade if you have one. I used a lighter turquoise, and you can see the difference between the 1st coat and the second. Similar technique, again, you don't want a solid coat, you want some of that dark brown wood and the darker turquoise underneath to show through.
When all was done and dry, my board had a bit too much sheen to it (samples only came in satin, not eggshell or flat). Easy fix, I just took some fine grain sandpaper to it to dull and further roughen the finish. You can see the final result in the kumquat picture above.
Initially, the plan was to repeat the same process on the back but paint it white. But I was kind of digging the dark stain all by itself, and decided to leave it that way… at least for now. Who knows, I may come back later and continue with the white. Or I may just make a second one altogether.
And there you have it! For about $40, you have a portable, reversible wood backdrop for your photos! Spiffy!
(On a related note, for those of you interested in food photography, you must must MUST check out the new book, Plate to Pixel, by Helene Dujardin of Tartelette. I was lucky enough to meet Helene last month in Orlando, and she is as lovely in person as she seems on her blog. Plate to Pixel is full of uber-helpful information, whether you are just starting out with food photography or already comfortable behind the lens. Do it!)