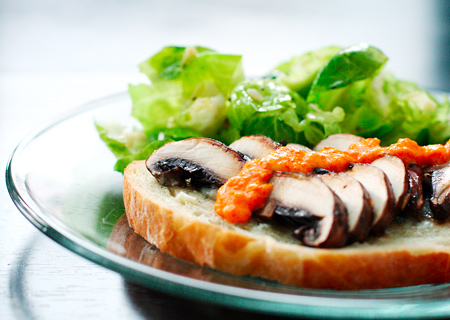 I didn't quite realize this until browsing through the pictures that I haven't posted yet (yes, I realize I'm behind – I've got a half dozen new meals to post and just haven't had the time to do it, I'll be better, I promise!), but in a matter of 4 days, we unknowingly cooked two almost identical meals.
Meal 1 (above): Portobello "Steak" Sandwiches with Gorgonzola Butter and Red Pepper Vinaigrette.
Meal 2 (below): Portobello Burgers with Red Pepper Mayonnaise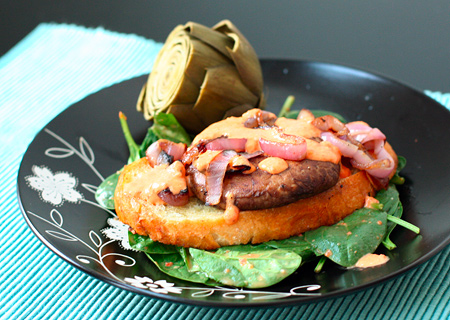 I figured you'd all think I was crazy if I made two posts out of these, and it would make my backlog of posts a more manageable if I combined them into one. So here we are.
Honestly, they were both good. The roasted red pepper and earthy portobello is an excellent combination however you make it. But, the addition of the Gorgonzola cheese probably puts the first recipe over the top. That, and I think the mayonnaise we used for the other might have been a bit past it's prime… nothing happened, of course, but seeing the date on the jar afterwords may have skewed our perception of it just a bit.
(If you are interested though, the Portobello Burgers with Red Pepper Mayonnaise recipe can be found here).
Portobello Burgers with Red Pepper Mayonnaise
Ingredients:
For marinade
5 tablespoons balsamic vinegar
6 large garlic cloves, minced
2 tablespoons chopped fresh thyme leaves or 2 teaspoons dried thyme, crumbled
1/2 cup olive oil
1 1/2 pounds fresh Portobello mushrooms, stems trimmed
For Gorgonzola butter
2 ounces Gorgonzola cheese (about 1/4 cup) at room temperature
1 tablespoon unsalted butter, softened
For red pepper vinaigrette
1 red bell pepper, roasted (procedure follows), or 1/3 cup chopped drained bottled roasted red peppers
1 tablespoon white-wine vinegar
1 tablespoon water
2 tablespoons extra-virgin olive oil
four 1/2-inch-thick slices crusty bread, cut diagonally
Garnish: fresh thyme leaves
Directions:
Make marinade:
In a small bowl whisk together marinade ingredients. Put half of mushroom caps and half of marinade in each of 2 large sealable plastic bags, arranging mushroom caps in one layer, and seal bags, pressing out excess air. Marinate mushrooms at room temperature, turning bags over several times, at least 1 and up to 2 hours.
Make Gorgonzola butter while mushrooms are marinating:
On a plate with a fork mash Gorgonzola and butter together until blended well.
Make red pepper vinaigrette:
In a blender blend vinaigrette ingredients with salt and pepper to taste until smooth and emulsified.
Prepare grill.
Grill one side of bread on a rack set 5 to 6 inches over glowing coals until golden, about 1 minute. (Alternatively, bread may be grilled in a hot well-seasoned ridged grill pan over moderately high heat.) Divide bread, toasted sides down, among 4 plates. Spread soft side of bread with Gorgonzola butter.
Remove mushrooms from marinade and grill 2 to 3 minutes on each side, or until tender. (Alternatively, mushrooms may be grilled in a hot well-seasoned ridged grill pan over moderately high heat.) Transfer mushrooms with tongs to a cutting board and slice thin.
Arrange warm mushrooms on toasts and spoon vinaigrette over each open-faced sandwich. Garnish sandwiches with thyme.
To roast peppers:
Using a long-handled fork char peppers over an open flame, turning, until skins are blackened, 2 to 3 minutes. (Or broil peppers on rack of a broiler pan under a preheated broiler about 2 inches from heat, turning every 5 minutes, until skins are blistered and charred, 15 to 25 minutes.) Transfer peppers to a bowl and let stand, covered, until cool enough to handle. Keeping peppers whole, peel them, starting at blossom end. Cut off tops and discard seeds and ribs. (Wear rubber gloves when handling chilies.)
Did you make this recipe?
Let us know what you think!
Leave a Comment below or share a photo and tag me on Instagram with the hashtag #loveandoliveoil.